Ubica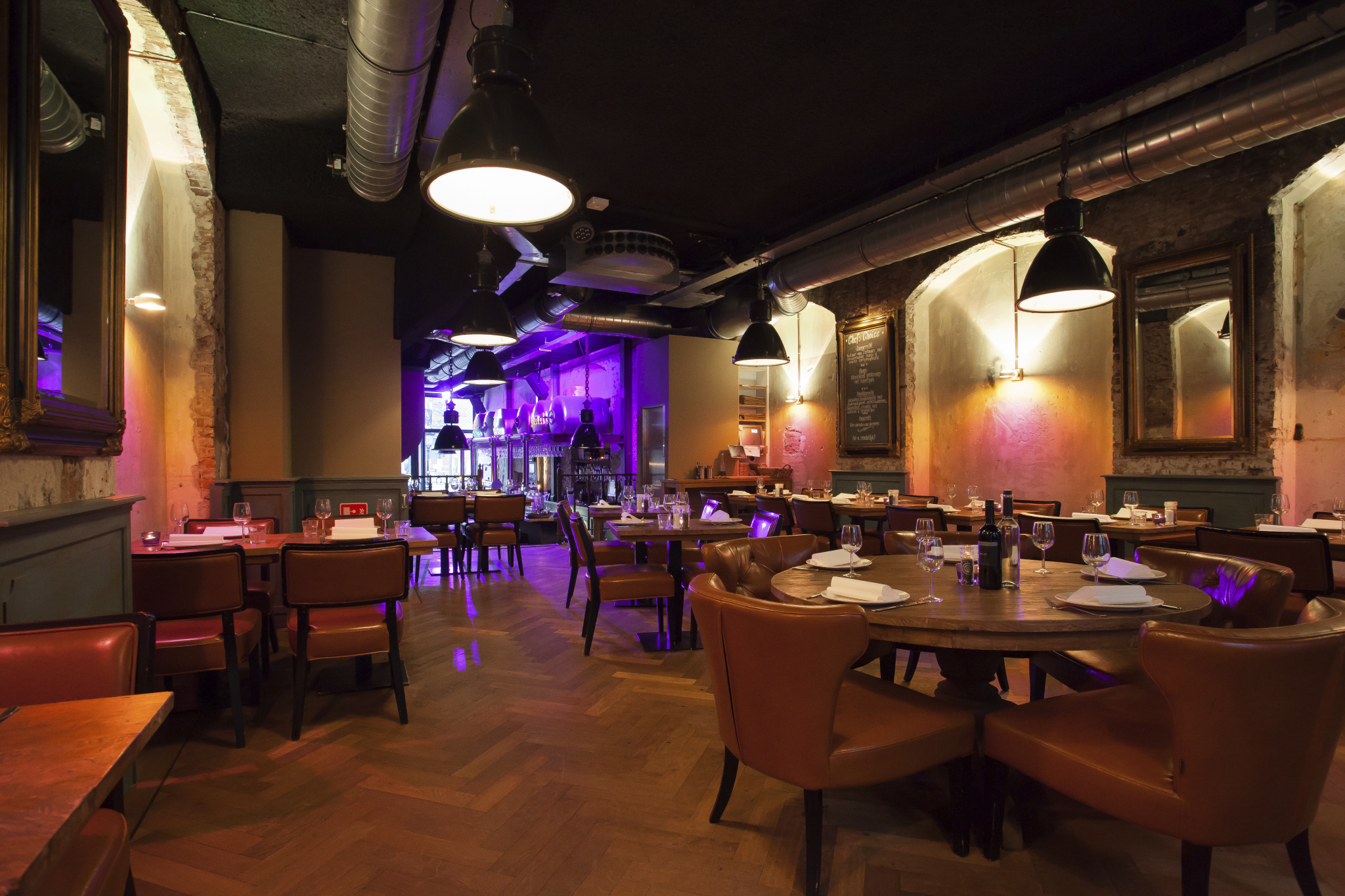 Historic hospitality in Utrecht
TEXT: CHARLOTTE VAN HEK | PHOTO © UBICA
Nestled between the iconic narrow streets of Utrecht, with a stunning view of the city's most important landmark, lies Ubica. This café and restaurant carries a unique history, a vibrant present, and promising future.

Embodying a historic and atmospheric ambiance, Ubica has already earned many hospitality stripes in Utrecht, despite only opening its doors in August 2014. The five-storey building is home to a hotel, café and restaurant, destined to be the destination for romantic dinners, sunny Friday afternoon drinks, and cosy nights in candlelit corners.
An interesting history
Ubica's historic building proudly lies on the Ganzenmarkt (Geese Market), a vivacious area within the centre of Utrecht. Being a stone's throw away from the iconic Oudegracht (Old Canal) and located opposite the Dom, the tallest church tower in the Netherlands, the building perfectly captures the traditional Dutch allure that one finds here.
The building has an interesting history, originally being a 'city castle' with foundations originating from 1302. "They may not look like typical castles, but they definitely are," Stefan Elvers, owner of Ubica, explains. "The buildings were the first big houses in the city of Utrecht." Ubica is spread over two adjacent premises (no. 24 and no. 26), widely known as the 'Ubica Houses'. Both are recognised for their greatness, with no. 24 being a national monument and no. 26 a municipal monument.
Having served as a residential premise for centuries, in 1931 the building was bought by Ubica, an Utrecht mattress manufacturer. Fate struck however in 1989, when a major fire caused severe damage to the building. After the fire, hardly any repairs were carried out and the houses were left empty and uninhabitable. In early 1992, the buildings were overtaken by squatters who fixed the place up relatively and lived there until 2012.
In 2013, the renovations started and Ubica's story was given a new life. "Naturally we wanted to maintain the beautiful, traditional and historic characteristics, and combine that with modern elements." Also an important keeper was Ubica's iconic name. "Say Ubica, and every man or woman in Utrecht will be filled with recognition," Elvers enthuses.
A 'je ne sais quoi' cuisine
As promising and interesting as the outside is Ubica's interior. The front of the restaurant has the feeling of a pub where you can enjoy sundowners, while the back has the allure of a stylish restaurant. The terrace is the lovely cherry on the cake, perfect for when the sun is out.
Ubica serves authentic French cuisine, with mouthwatering mains such as swordfish with zucchini, or lamb rack with purple carrot. Favourite desserts are naturally the crème brûlée and the cheeses. "Ubica stands for high-quality food prepared by experienced chefs," according to Elvers. When asked about the classic, Elvers laughs: "I guess that is still our hamburger: perfect in its simplicity. Ubica is, besides high dining, also made for people needing a pit stop after shopping or sightseeing." The menu changes every two months to reflect the season's delicacies.
Wash away the food with one of Ubica's ten premium gins, or one of the 50 beers adorning the menu, ranging from a trusted Heineken to specialty beers such as a Brugse Zot. Not a fan of beer? "One of the cornerstones of French cuisine is of course wine," Elvers says. Ubica serves 31 kinds of wines, most of them available per glass, so there is something to suit every dish.
Celebrate good times
Serving approximately 120 people for dinner on a busy night, Ubica knows how to throw a party. You do not even have to go home after your meal. Because the café is separated from the restaurant, it is the perfect spot for people to have drinks until the late (or early) hours.
The pub quiz, which is held every last Tuesday of the month, is already a beloved evening in the city as well as other events such as a beer walk or a wine evening. These provide the people of Utrecht with the perfect mix of gastronomy and entertainment. Prefer to throw a party yourself? The scenic conservatory offers room for up to 90 people, perfect for weddings, birthdays, or office drinks and parties. A wonderful space for intimate events is Ubica's wine cellar, which can host up to 20 people and is perfect for cosy and private dining – being served by the chef himself.
The best is yet to come for Ubica. "We are astounded by the number of people we welcome every night. People feel at home at Ubica, they know they will meet friendly faces, eat exquisite food, drink good wines, and leave happy."
Subscribe to Our Newsletter
Receive our monthly newsletter by email