Toasting the NEXT chapter
TEXT: PAOLA WESTBEEK | PHOTOS: NEXT
A decade after opening Pllek (Amsterdam's largest green restaurant), entrepreneurs Sjoerd Steenbeek and Michiel de Vries decided it was time to tell the 'next' story – literally. Located just 300 metres from its sister restaurant, NEXT goes beyond excellent food and drink.
Since October 2022, there's a new and exciting incentive to hop aboard the free ferry from Central Station and make your way to Amsterdam-North. Upon arriving at the NDSM Wharf, it's hard to miss the modern, glass-clad building housing NEXT, beckoning you to discover a place where people from every corner of the world can come together to share good times. Sure, you're still very much in the Dutch capital, yet upon entering, it's highly likely you'll feel transported to London or perhaps even New York. NEXT's distinctly global appeal is very much in sync with Amsterdam's multicultural character, an aspect that founder Sjoerd Steenbeek wanted to empahsise. "I thought that the city was missing a place where like-minded people from different social bubbles and cultural backgrounds could experience inspirational encounters," he explains. "NEXT was created with the same level of passion and love as Pllek, but it tells a completely new story."
Urban vibes, laid-back atmosphere
That new story is a multifaceted one, not only in what it offers, but also in the way it unfolds. According to Steenbeek, NEXT – which is open for everything from breakfast or reading the paper with a cup of coffee, to dinner followed by late-night cocktails – can best be described as more than a modern grand-café. The spacious, 600-square-metre interior is spread out over three levels spanning up to nine feet in height and divided into four areas: living room, lounge, restaurant/brasserie and a monumental (not to mention deliciously attractive) cocktail bar. "The bar is the heartbeat and central energy of NEXT," Steenbeek says. "This is the place where you start and end an evening. It immediately entices you to truly spoil yourself and celebrate life."
With a varied drinks list that includes mixology cocktails (well-crafted and sans pompous theatricality), fine European wines, apéritifs and a range of liqueurs from every corner of the globe (including unique absinthes), clinking glasses is encouraged. Those who would rather opt for an alcohol-free alternative, have a selection of mocktails to choose from, as well as post-mix soft-drinks, a sustainable option for bottled sodas.
NEXT's decor is contemporary and inviting, with seating for up to 250 people and spaces where you can gather with others or revel in a moment of solitude. Singles will feel as much at ease having a meal on their own as a couple enjoying a romantic night out. Despite the spaciousness, NEXT manages to retain a welcoming, cosy ambience and feeling of intimacy.
On Friday and Saturday evenings, when DJs crank up some awesome beats, the exceptional sound won't go unnoticed – NEXT's specially made walls means that it boasts some of the best acoustics in the city. Another important element that adds to the level of enjoyment when it comes to music is the fact that it isn't the standard stuff everyone knows. "In our music, we also want to create stories and convey an element of surprise," Steenbeek points out.
Though the indoor setting and atmosphere are utterly impressive, when the weather allows, the terrace is equally appealing. Overlooking the IJ River and with a splendid view of Amsterdam, it's the perfect place to engage in the art of people-watching, or bathe in the glow of a splendid summer night's sunset.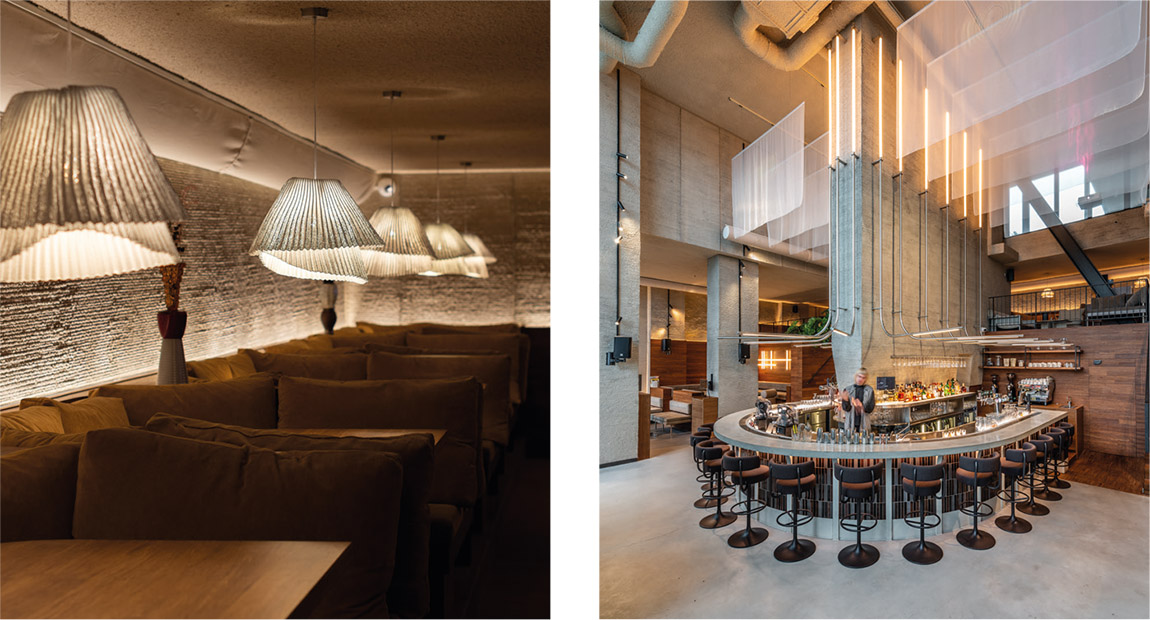 Gastronomic offerings
NEXT's international atmosphere is mirrored in its regularly changing dinner menu, consisting of small dishes (sharing optional) that tempt you to savour a variety of tastes and textures. Chef Sander Louwerens cleverly manages to add a personal twist to well-known classics and even transforms humble vegetables such as brussels sprouts – seasoned with Nigerian suya spice – into a flavour sensation. The breakfast and lunch menus include healthy options such as juices, salad, soup or the all-time popular avocado toast, but also an irresistible babka or Korean pancakes with kimchi and popcorn chicken, in case you're in the mood to indulge. Drinks can be paired with an appetising bar bites menu that features gyoza, Punjabi samosas, oysters and Iberico ham.
While the food and drink offerings at NEXT are certainly enough to merit a trip across the IJ River, it's the cosmopolitan vibes and that unparalleled element of social synergy that sets it apart from the rest.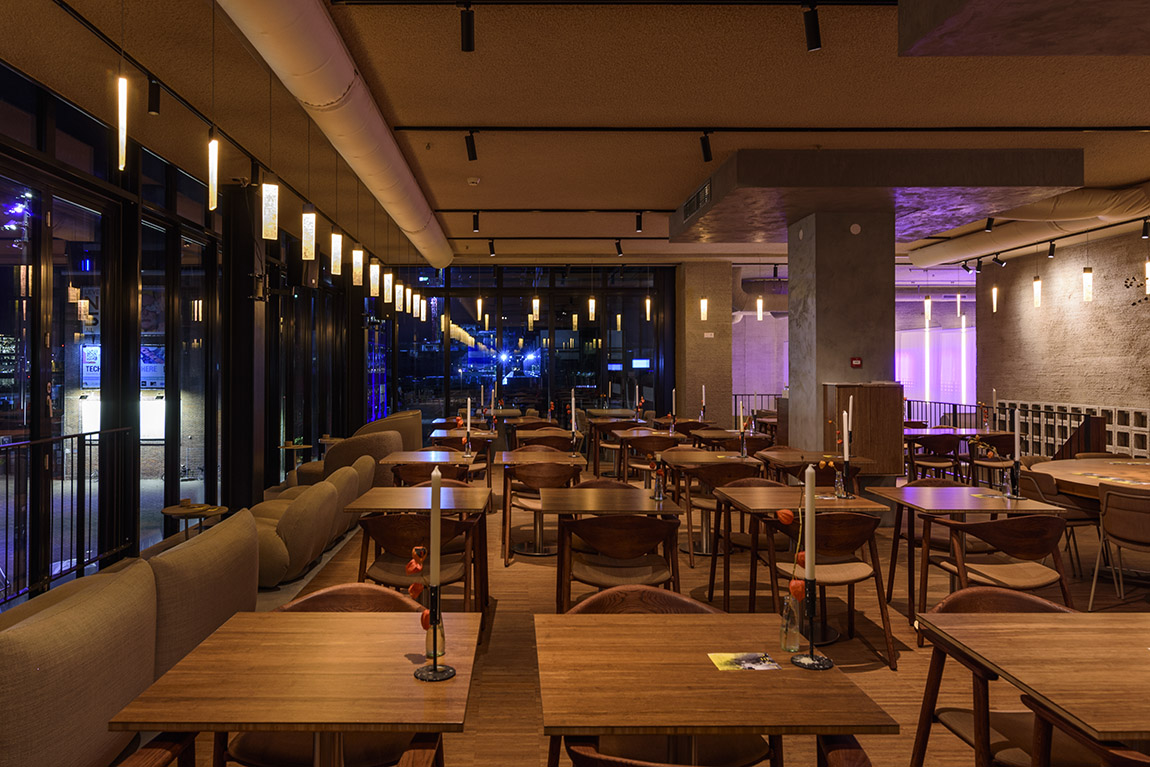 Web: www.nextndsm.nl
Subscribe to Our Newsletter
Receive our monthly newsletter by email