The Harbour Club: Gourmet refinement in iconic surroundings
Text: Paola Westbeek | Photos: The Harbour Club
V isiting The Harbour Club means stepping into a world of unparalleled culinary refinement effortlessly paired with a generous dash of glamour and plenty of international allure. This year, the Rotterdam-based restaurant is raising a glass to a decade of delighting the senses with everything from its exceptional location to its tempting dishes.
Housed in a monumental villa at the city's lush Euromast Park, The Harbour Club's address alone couldn't have been more spectacular. From its exquisite terrace, where tables are carefully set with white linens and circular booths add to the convivial atmosphere, diners can revel in the iconic surroundings while enjoying a superb level of hospitality and exceptionally prepared cuisine. But the magic doesn't end there. Inside, the first thing to capture one's attention is the large, swanky bar decked out with a cheeky touch of graffiti and graced by a hovering golden shark. It's the ultimate place to kick off an unforgettable evening with great cocktails or some freshly shucked oysters and a glass of one of The Harbour Club's many elegant Champagnes.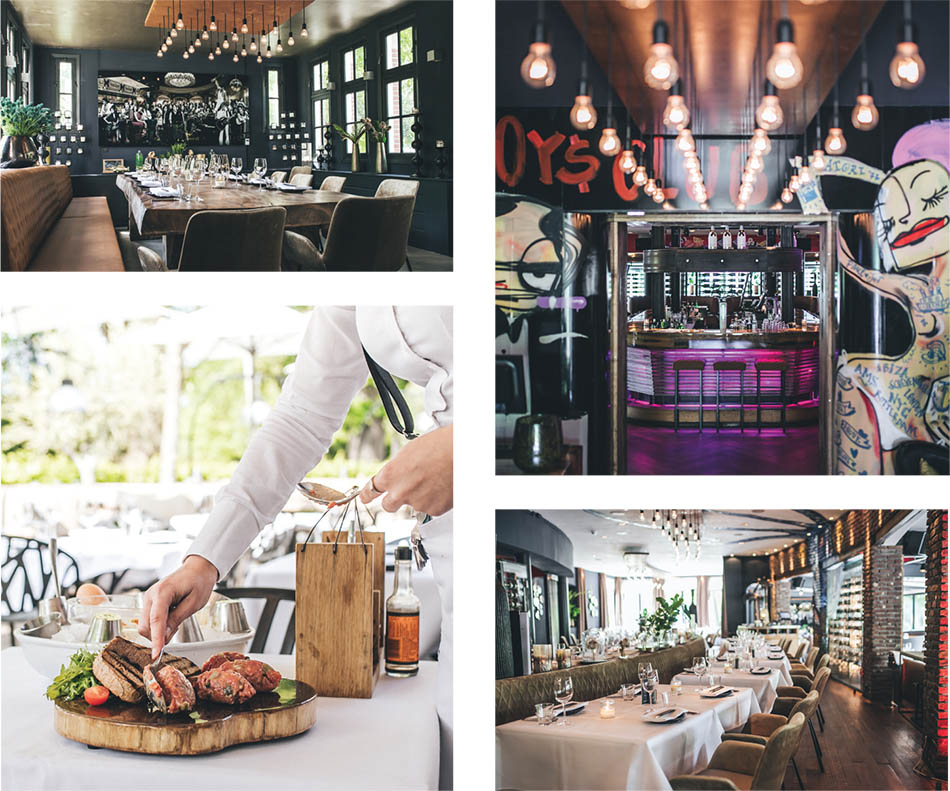 The menu offers a stunning variety of culinary classics made with only the best ingredients. You'll find towering platters of sumptuous fruits de mer, excellent fish and lobster, beautifully grilled steaks, and even a fine selection of sushi and sashimi. "One of our signature dishes is the steak-tartare, which we always prepare at the guest's table according to their personal taste," says manager Koen Schipper. Another example of the restaurant's gourmet artistry is its crispy fried oysters topped with stir-fried wild spinach and a velvety hollandaise sauce. Wine connoisseurs will certainly be spoilt for choice with an extensive list that includes exceptional Burgundies from renowned houses and some of the top names in Champagne, among them Moët & Chandon and Dom Perignon.
It shouldn't come as a surprise that the restaurant's motto is 'where true food meets glamour', a guiding principle The Harbour Club has proudly managed to uphold for the last ten years. "This is a special anniversary," says Schipper. "It's great to see that we are still so popular, and we will celebrate this in style on 8 March," he adds.
If you're looking for a restaurant that merges gustatory excellence with the most agreeable of surroundings and attention for even the finest details, The Harbour Club is definitely an excellent choice when visiting Rotterdam.
www.theharbourclub.com/rotterdam
Subscribe to Our Newsletter
Receive our monthly newsletter by email