THE ENTOURAGE GROUP: Revolutionising high-end hospitality
Text: Arne Adriaenssens | Photos: The Entourage Group
When on the lookout for a unique dining experience in Amsterdam, try one of THE ENTOURAGE GROUP's exciting restaurant concepts. As one of Europe's leading hospitality empires, it never fails to bring the next big thing to Amsterdam and innovate the already-exciting culinary scene of the city. While each of its restaurants serves you a different part of the world, its infallible sense for detail and holistic vision on eating out makes an evening at one of THE ENTOURAGE GROUP's venues a night to remember.

Amsterdam is a Walhalla for tourists. The streets adjoining the picturesque canals are must-strolls for avid city trippers and behind many a door, exciting urban surprises await you. In the last decade, however, the Dutch capital grew out to become a culinary paradise, as well. Alongside the many restaurants who serve the finger licking-good traditional dishes and sweet indulgences, the city now is a melting pot of international flavours and exotic scents. And for that, Amsterdam can partially thank THE ENTOURAGE GROUP.
A humble start
While a small imperium today, THE ENTOURAGE GROUP kicked off as a humble business endeavour in 2008 when young hospitality entrepreneurs Yossi Eliyahoo and Liran Wizman met each other in London and decided to join forces and open a restaurant in Amsterdam. "We didn't have a ten-year plan back then. Just a shared hunger to start something," says Yossi, co-founder and co-owner of THE ENTOURAGE GROUP. "It was a new and exciting city for us and we considered that a great challenge. We just wanted to run one restaurant here. We didn't think any bigger than that."
That first restaurant was MOMO, a panAsian, fine-dining place with a contemporary and metropolitan vibe. "While the Netherlands – and Amsterdam in particular – have had a soft spot for Asian food for decades already, a modern concept like this was nowhere around at that time. And we believed that it should be."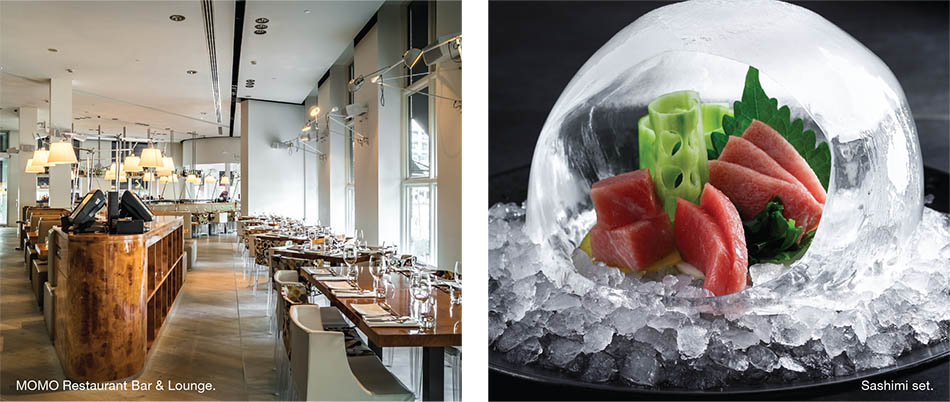 Non-formal fine-dining
And they couldn't be more right! The opening of MOMO preluded a new era in Amsterdam's culinary scene. "What sets us apart from other fine-dining restaurants is our non formal atmosphere and our focus on creating experiences. An evening at MOMO is about more than just the food. From the flavours and service to the music and interior, all is streamlined to tell the same story. It is a place of fun and quality, not of protocol and pretentiousness."
On the plates, the focus lies on mixing and matching. Every dish is an explosion of interesting flavour combinations from all corners of the Asian continent. From snow crab and beluga caviar sushi to duck and foie gras, grilled aubergine with karashi-su miso or roasted cauliflower with green jalapeno and dry miso. Don't worry if these descriptions don't mean anything to you. MOMO is not reserved for connoisseurs alone but is a discovery laboratory for the masses. "The restaurant and the menu are family orientated and the staff is happy to help you make an educated choice." That same notion applies to the drinks list. With a global selection of wines, great cocktails and some appealing sakes on offer, the bar is just as eclectic as the kitchen. "But our food and drinks share a philosophy. They speak the same language and, therefore, match wonderfully."
Nikkei cuisine
After the success of MOMO, it was merely a matter of time before Yossi and Liran would found their second restaurant. In 2012, they opened IZAKAYA; a Japanese restaurant like no other. "An 'izakaya' is an informal, Japanese pub," explains Yossi. "We wanted to take its classic, casual atmosphere and turn it into something very contemporary – both in design and food." This, they achieved by serving Nikkei food, an interesting combination of traditional Peruvian ingredients with Japanese cooking techniques. On the menu are delicious creations like unagi and honeycomb roll sushi or sole in shiso salsa. "Most of our dishes are things that people don't cook at home. The ingredients and equipment can't be found in every kitchen and the preparation of the plates requires very specialised skills. A lunch or dinner at IZAKAYA is, therefore, always exciting."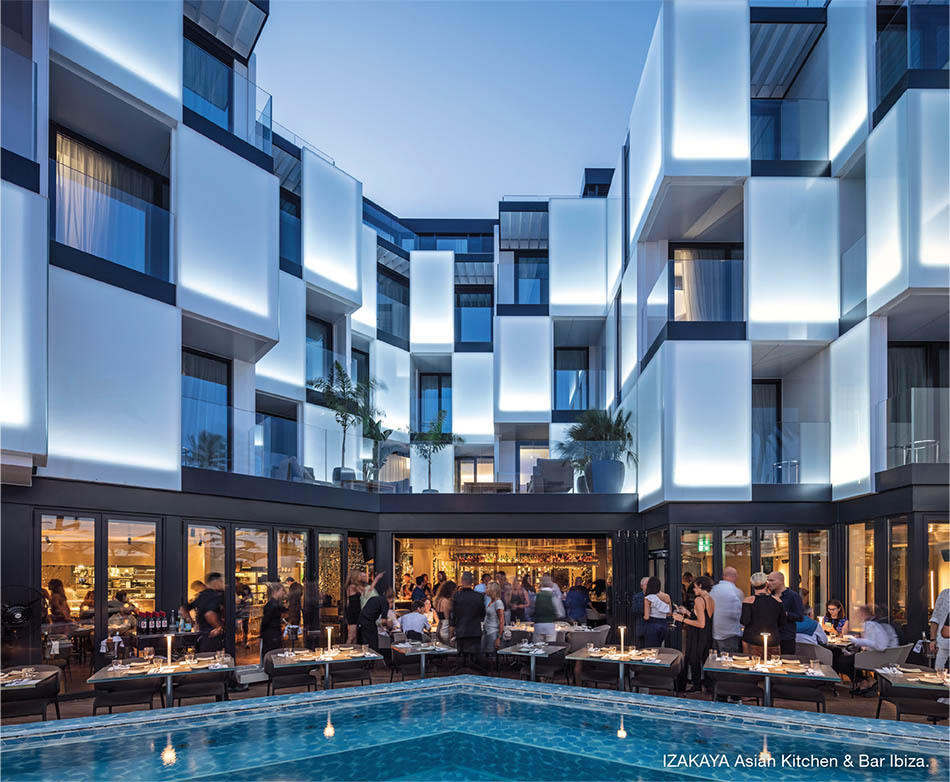 Upon popular demand, IZAKAYA has spread its wings and opened restaurants in two other European cities: Munich and Ibiza. "Scaling this restaurant was not our initial purpose as it is very difficult to do. People often think that we copy-paste our concepts, but that isn't so. To open a second branch of a restaurant, you need amazing, like-minded people, for a start. You also want the restaurant to fit the city. So, while the core DNA remains the same, you have to make sure that the restaurant blends in in the city."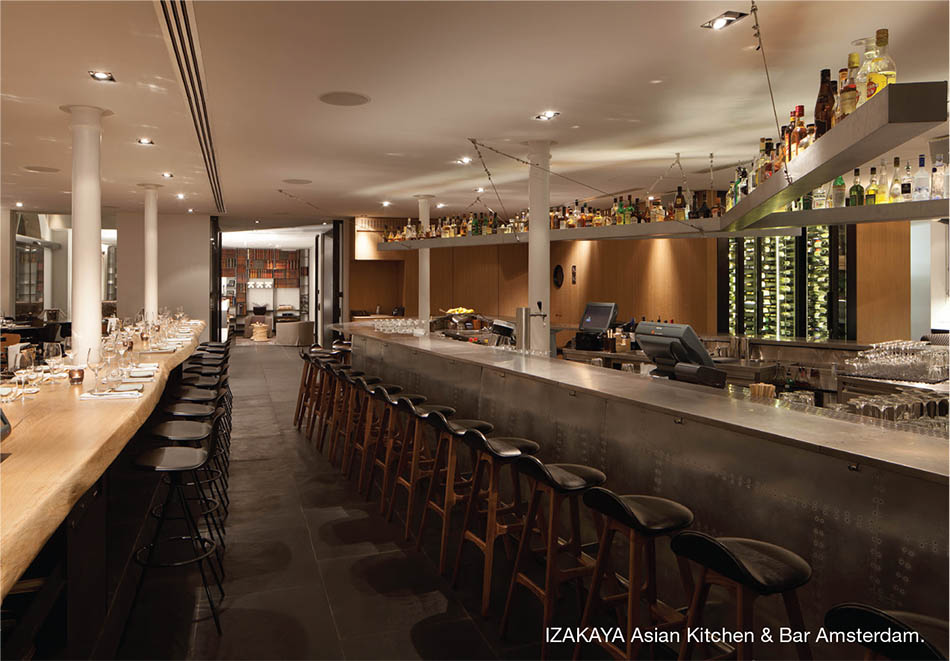 Sharing and enjoying meals together
Back in Amsterdam, THE ENTOURAGE GROUP runs two diverse restaurants within the walls of the prestigious W Hotel: MR PORTER – a modern, fine-dining steakhouse; and THE DUCHESS – an elegant, Michelin-star restaurant. "While we call MR PORTER a contemporary steakhouse, it is all but your average chophouse," explains Yossi. "It has an interesting and diverse menu with seafood and vegetarian dishes, as well as carnivorous delicacies. It is about sharing and enjoying a meal together. Our clientele usually doesn't come for a one-kilogramme steak with chips. Yet, if they do, we will happily serve it, as well."
Settled at the top floor of the building, MR PORTER offers a meal with a view. Surrounded by giant windows on all sides, the restaurant is bathed in natural light. The eye-catcher of the interior is the beautiful 360-degree bar. "That is a feature that we have in all our restaurants. It is the social heart of our businesses. It is the stage of the bartender and a spot for people to get to know each other." Recently, MR PORTER went international, with a second branch in sunny Barcelona.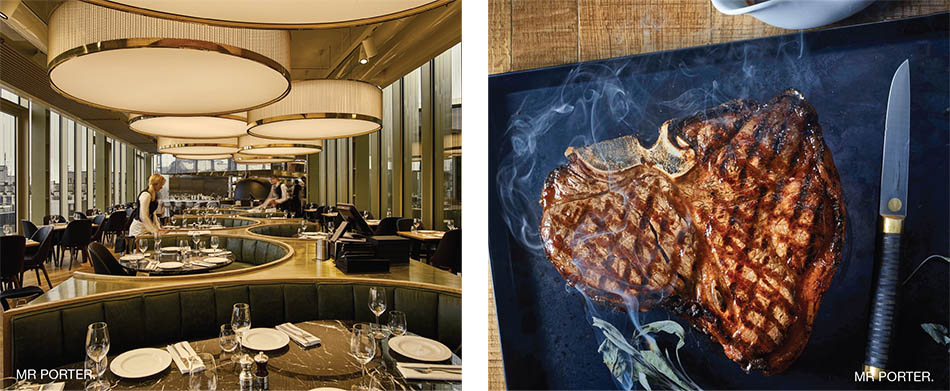 An atypical Michelin-star restaurant
A stone's throw away, you enter THE DUCHESS, serving with a regal twist. "While creating THE DUCHESS, we were inspired by the building itself. It is monumental and impressive, with a high, stained-glass ceiling and mirrors against the walls." On the sizeable menu, you will find contemporary dishes which are deeply rooted in the French and Italian cuisine. King crab and langoustine tortellini, for example. Or courgette blossom with goat cheese and honey.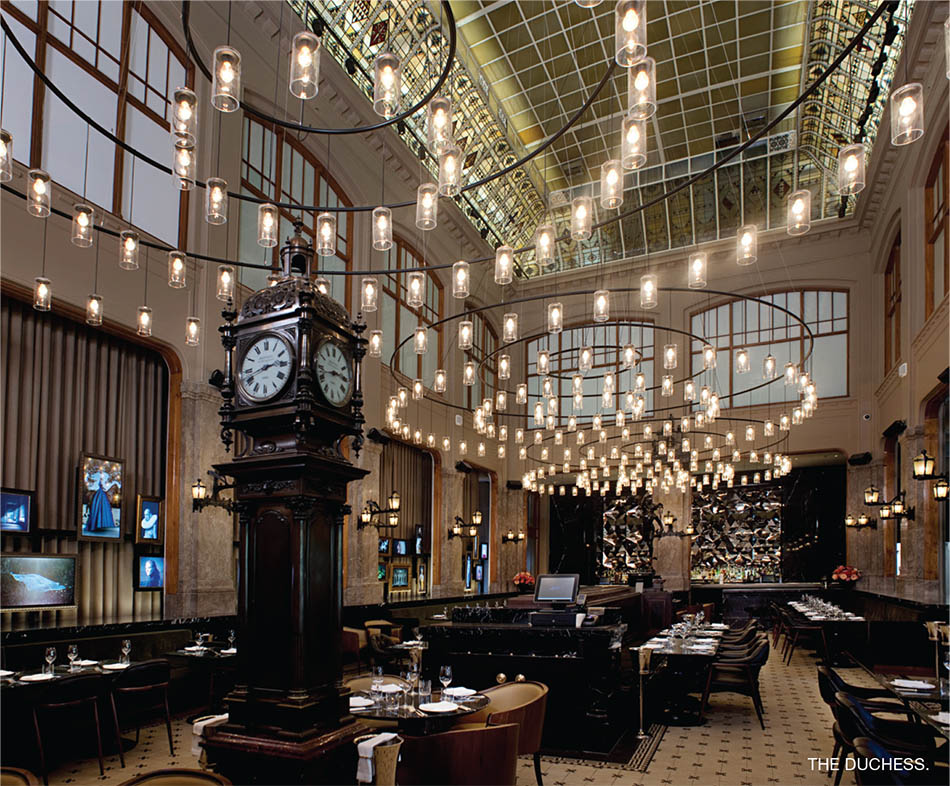 As in most of THE ENTOURAGE GROUP's restaurants, you are welcome at almost any time of the day – from your late-morning coffee until your (one-to-) last nightcap. You can even head to THE DUCHESS for a traditional afternoon tea with fresh sandwiches, warm scones and hand-made macarons.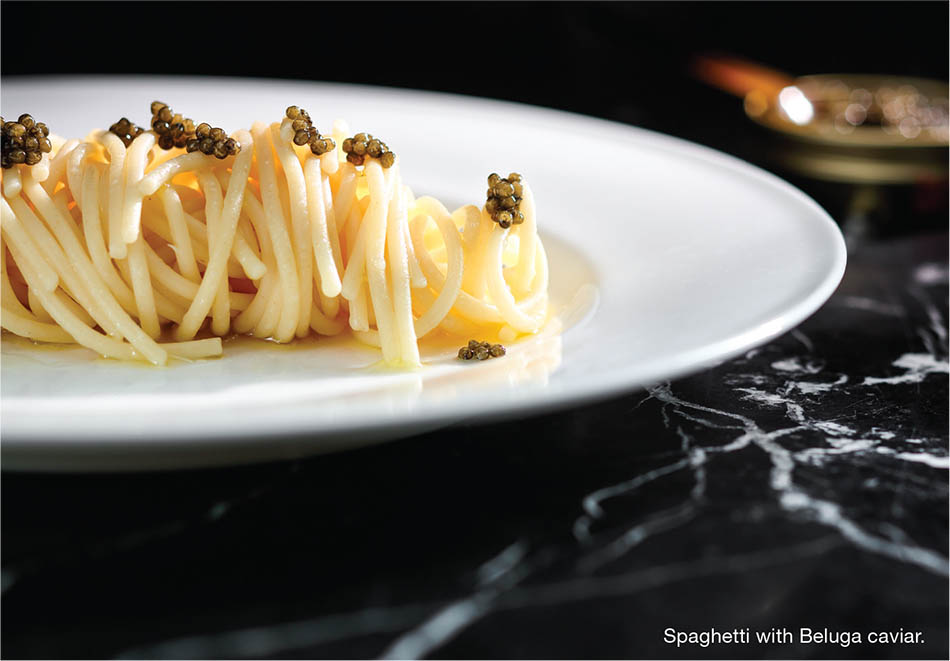 Being granted a Michelin star, THE DUCHESS brings uniqueness and diversity to the legendary guide. "We are an informal restaurant with plenty of tables and a sharing concept," explains Yossi. "That isn't exactly what the Michelin Guide is full of. We offer top-notch and unique food, but we don't want people to get the wrong idea when coming to THE DUCHESS. Because we are not the standard French cuisine establishment that Michelin aficionados might expect."
Yossi still loves each of them. "It might sound like a cliché but it is like choosing between your children. Each of them is different but I love them equally." And THE ENTOURAGE GROUP's work is far from done. While founding two new Mexican concepts in the city, it has already cast its eye on its next adventure. "There is always something new to innovate in the city. Something exciting, fun and timeless."
Discover their other restaurants: As THE ENTOURAGE GROUP has way more restaurants than just MOMO, IZAKAYA, THE DUCHESS and MR PORTER, here, we can happily introduce you to the rest of their portfolio as well. www.the-entouragegroup.com Facebook: theentouragegroup1 Instagram: @the_entourage_group
Subscribe to Our Newsletter
Receive our monthly newsletter by email