TERO Restaurants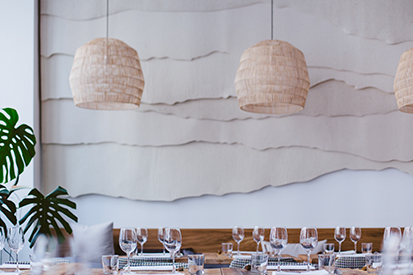 The tastiest and healthiest food in Belgium
TEXT: LORENZA BACINO | PHOTOS © TERO
Many of us struggle to find the right balance between healthy eating and tasty food, and are often disappointed by the austere options on offer. TERO restaurants (in Brussels and Bierges) have set themselves the challenge of serving delicious food whilst remaining as close to nature as possible. Their mission is to ensure customers experience a great taste adventure and enjoy the benefits of a healthy meal to boot.
"We serve up a wide selection of small hot or cold dishes made for sharing, a bit like Middle Eastern mezzes and including vegetarian and meat options that vary depending on the season," explains manager Arthur Lhoist.
Ideally, guests choose two to three dishes each to share. Prices are reasonable and range from seven to 16 euros per dish. At TERO, you are sure to experience healthy eating without compromising on the taste and the pleasure of enjoying food with friends.
From farm to plate
Most of the produce originates from TERO's very own organic farm (La Ferme des Rabanisse), near Rochefort in Belgium's beautiful Ardennes region. Each week, an assortment of seasonal, locally sourced vegetables is delivered to the restaurants and transformed into tasty, healthy meals. Nothing has to travel very far, ensuring it is as fresh as can be.
The TERO team aims to be as transparent as possible by respecting the land and its produce, as well as making sure everything is sourced and prepared according to precise tenets.
All the meat served at TERO originates from local breeders who share the same values – namely the wellbeing of the animal and the respect of the land. All fish is sustainably sourced from the Atlantic ocean and only natural sugars made from dried fruits, syrups, honey and cane are used. The pork is free-range and only grass-fed from the farm.
Over the counter
Delicious products are also available to buy over the counter. The homemade Zaatar, served with a drizzle of olive oil, is perfect for dunking your bread in. Or how about trying the cinnamon-flavoured sugared almonds with your tisane or coffee?
Meals can be delivered within certain areas with the help of Deliveroo, so ask for more details.
Subscribe to Our Newsletter
Receive our monthly newsletter by email