States of Art: Of your saliva that bites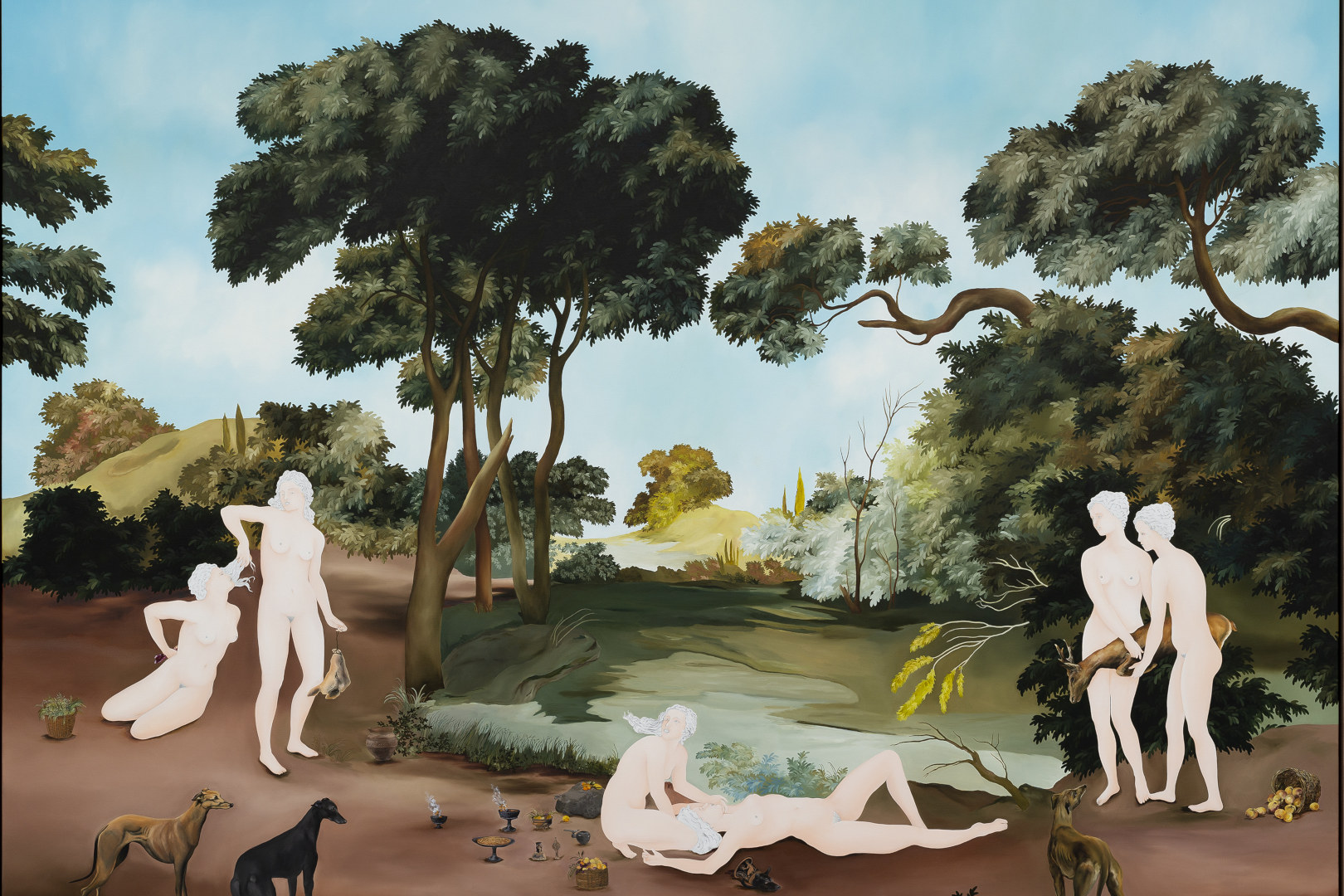 Set in amongst the steel and iron edifice of BPS22 in Charleroi, Sanam Khatibi presents De Ta Salive Qui Mord – an exhibition that is full of seduction, temptation and excess.
TEXT: MATT ANTONIAK | PHOTO: SANAM KHATIBI, UNDER THE INFLUENCE OF POISON, 2018 © COURTESY RODOLPHE JANSSEN, BRUSSELS
Sanam Khatibi is quite rightly one of Belgium's hottest painters, currently. Enchanted by their dreamy palette, with turquoise waters, verdant trees and hot terracotta earth, her paintings pull you in to a world where men and women appear to frolic happily in the buff. Look closer, however, and you begin to realise that Khatibi's large-format canvasses are not all they seem.
Like Adam and Eve before them, those present in this apparent Garden of Eden are not having it all their own way. Women have their hair pulled, others are attacked by beasts, whilst animal carcasses lay strewn throughout the land. Khatibi presents mankind in bestial form, where fear and desire merge and become confused. In this landscape, impulse reigns and power is warped.
Alongside the paintings, Khatibi both collects and creates small pseudo-folk sculptures; vases, cups, fruits and animals. Again, whilst being familiar, these trinkets disturb rather than comfort, and are often surrounded by lurking ceramic snakes.
The world that Khatibi creates in her installations effortlessly blends a myriad of questions together. She examines the male-female power system, the idea of the west versus the east, danger against desire and the animal against the human. Alarming and alluring in equal parts, it is an exhibition that should not be missed.
De Ta Salive Qui Mord opens on 8 June and is on show until 1 September 2019 at BPS22, Charleroi.
Subscribe to Our Newsletter
Receive our monthly newsletter by email