SPOTLIGHT ON AMSTERDAM: Savour the season in Amsterdam
TEXT: PAOLA WESTBEEK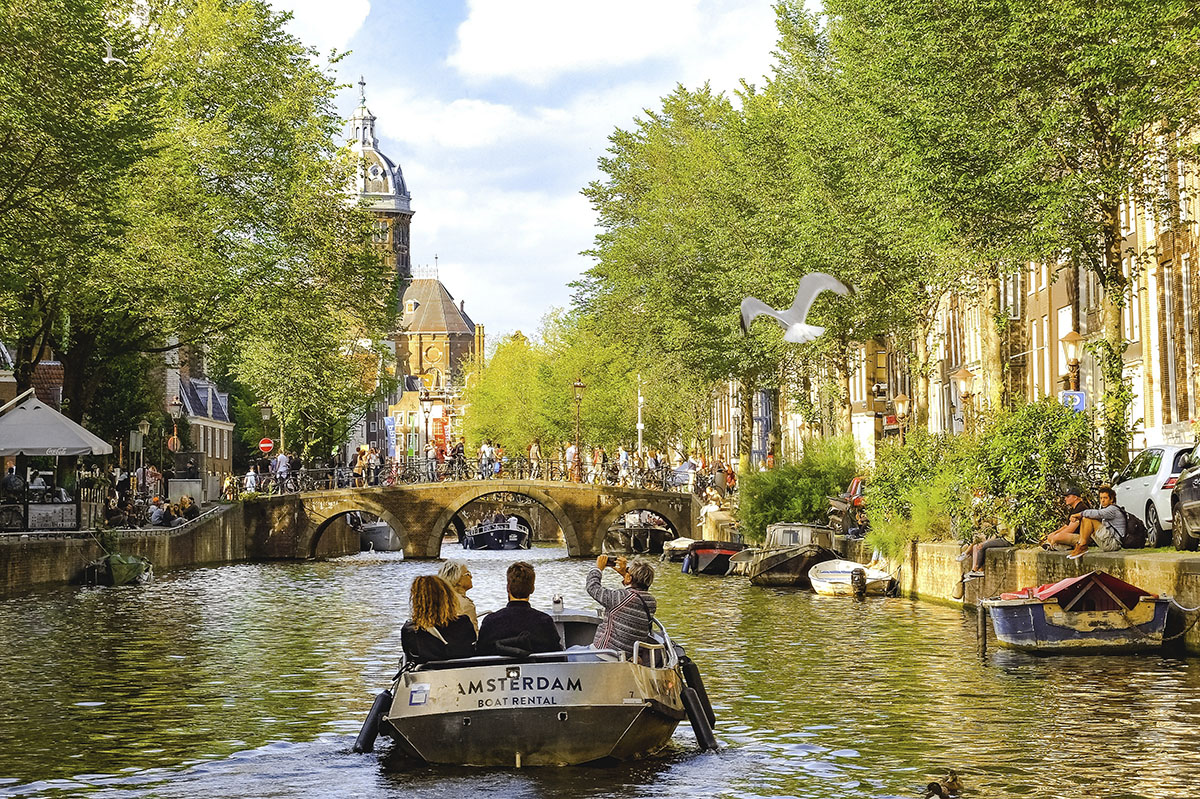 While Amsterdam is certainly worth exploring year-round, it's fascinating to be there in spring – a fine season to soak up the city's laid-back atmosphere, stroll through its popular markets and parks, sail across the historic canals, or sample a taste of its varied culinary offerings at a lively terrace. Here are the top five ways to savour the season!
Go market-hopping
There are wonderful markets taking place in Amsterdam every day, but make sure to keep Saturday morning free to discover the Noordermarkt. Started in 1987 as an incentive to bring the empty square in the Jordaan back to life, the Noordermarkt claims to be the first Dutch organic farmers' market. Practically next door is the Lindenmarkt, not organic but a little more affordable. First held in 1894, the market boasts over 230 stalls. Perhaps the most iconic (and busiest) market is the Albert Cuypmarkt. With over 300 stalls lining both sides of the Albert Cuypstraat, it is especially known for its multicultural character.
Day at the park
Pack up a picnic basket, hop on a bike and head to Vondelpark! Situated in the heart of the city and opened in 1865, the park covers an area of about 50 hectares and boasts beautiful gardens, sculptures, cafés and open-air theatres.
Sail along the canals
The monumental Canal Ring dates back to 1613 when the three main canals (Herengracht, Prinsengracht and Keizersgracht) were dug with the intent of opening new waterways to stimulate trade and reclaim land in order to accommodate the influx of immigrants into the city. Also included in this area are the Nieuwe Herengracht, Nieuwe Keizersgracht, Nieuwe Prinsengracht, the Singel and seven traverse canals. In total, the Canal Ring covers approximately 160 hectares and consists of roughly 14 kilometres worth of canals and some 80 bridges. This fine example of urban planning has become one of the world's most renowned sites, even earning a place on the UNESCO World Heritage List in 2010.
Experience the 'spring snow'
Elm trees, first planted along the famous Canal Ring in the 17th century, are a sight to behold in spring. Today, the city counts more than 75,000 of them. During the spring, the trees blossom and drop their delicate seeds in a phenomenon referred to as 'spring snow'. You can experience this natural splendour by following the eight-kilometre elm route: (www.springssnow.nl).
Engage in people-watching
At the first sign of sunshine, tourists and locals alike flock to the city's terraces for drinks, a bite and some people-watching. Be sure to check out our features on Pllek and NEXT, two addresses with attractive terraces and delicious menus!
Subscribe to Our Newsletter
Receive our monthly newsletter by email