Spago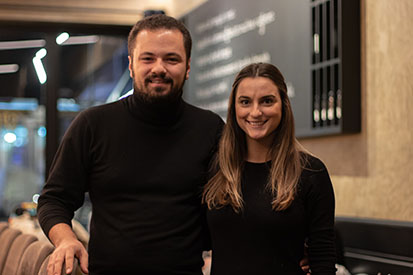 Fresh Italian food prepared with love and served with a smile
TEXT: SILKE HENKELE | PHOTO © ANTOAN KURTI
It is no secret that Italian food with its exquisite flavours and tastes counts among the most popular types of cuisine. Pizzeria & Ristorante Spago, inarguably one of Brussels' best pizza places, serves great Italian delicacies.
Located in the middle of Belgium's vibrant capital, Pizzeria & Ristorante Spago has been catering for its guests' needs since 1998. The premises underwent a complete refurbishment in 2017. "We wanted to give the place a new feel," explain Rosita and Valentin, the managers of Spago – a name that, by the way, originates from the Neapolitan term for spaghetti. "Our new design is sleek and modern. It radiates that certain 'New York, big city life' atmosphere, without, however, conveying the detached feel of urban anonymity."
The restaurant's distinguished homely and comfy feeling has continually been remarked upon by its guests and makes Valentin very proud. "We attach great value to the well-being of our guests," he says. "And by greeting and serving our guests with a smile, our team makes sure that our guests feel welcomed and esteemed."
A look at Spago's menu reveals another reason why the restaurant is one of Brussels' best-loved pizza places: with a focus on classic pastas and pizzas, but also on novel recipes that interpret traditional food in entirely new manners, Spago is a real cornucopia of delicacies. Rosita expands: "Our chef Alfredo's expertise is truly exceptional – which is why we offer our guests a wide choice of great food. From the traditional Neapolitan pizza with its distinguished taste, yummy pasta in many variants, but also gluten-free alternatives or meals for vegetarians, it's all there on the menu for our guests to choose."
Speaking of wide choices and innovations: this winter, Spago has, for the first time, prepared a cosy winter-terrace for its guests to enjoy their original Neapolitan pizza in warmth while delighting in the potential snow and undeniable beauty of a crisp winter's evening.
So why not try out this exceptional premises soon? For the upcoming festive season, Spago once again invites its guests to some exquisite culinary experiences. "We will have a special menu on 24 December as well as on New Year's Eve. Its contents are still a secret but are certain to delight our guests' tastes," promise Rosita and Valentin.
Subscribe to Our Newsletter
Receive our monthly newsletter by email