SKY NOOZ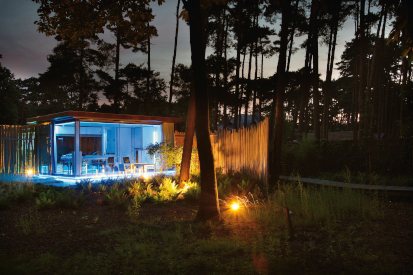 The wellness concept you have never seen before
TEXT: EVA MENGER | PHOTOS © NOOZ.BE
To 'nooz' means to focus. On yourself, on the experience and, ultimately, on each other. Where taking a loved one out to dinner is a thoughtful gesture, sitting in a restaurant often leads to interruptions – from the waiter topping up your glass of wine to the loud conversations of those around you. Not a bad thing per se, but it can get in the way of experiencing 100 per cent quality time, which is exactly what NOOZ, Belgium's most innovative wellness centre, aims to change.
"Staying in a hotel comes with restrictions," NOOZ founder Wim Vanacker tells us. "Most hotels offer breakfast until about ten in the morning, which means you might have to get up earlier than you'd like to." In addition, the often standardised receptions and neutral rooms make the experience very anonymous. Both of these examples illustrate Vanacker's motive for shaping a wellness concept that puts quality time first. At NOOZ, you will receive a personalised welcome and a room that is completely tailored to your personal preferences – including your favourite colours, drinks and music.
At NOOZ, it is all about sharing experiences, enabling you to give the other person your full attention. You and your companion – which can be anyone from your mother to a colleague – will get the exact same experience at the exact same time. Massages are synchronised so much that masseuses switch sides halfway through – all to make sure you have both been treated by the same person and thus share an identical experience. Vanacker compares it to watching a film. "If you don't watch it together, it's not really an experience you can share."
By definition, quality time means to give someone your undivided attention, and in taking away all external stimulation (watching the time, thinking about what you want, observing other people), that is exactly what 'noozing' entails. It is available for everyone and can be tailored to anyone's needs, from those looking for a budget get-away, to people wanting to fully indulge in luxury. NOOZ offers various locations and experiences, including synchronised duo massages, private dining, 'water&heat' experiences and a private cinema. Their extraordinary sleeping arrangements run from an enormous, luxury forest to a private island lodge and a private fisherman's cottage by the sea.
Their latest addition is Sky Nooz, a penthouse on the 21st floor overlooking Antwerp. This little island of luxury is the most exclusive Nooz experience to date and has been created with privacy in mind. "We wanted to offer something to international business travellers," Vanacker explains. "People coming to Antwerp for business won't be able to actively seek out quality time, while it's probably just what they need." Staying at Sky Nooz will allow professionals to fully focus on their jobs during the day, and come back to a place where they can undisturbedly relax at night.
One-hundred per cent privacy is what Sky Nooz is there to offer. The 270-degree view of Antwerp is exclusively available to you and the two to six guests you choose to invite, so there will not be any unfamiliar faces around. What is more, your private butler (who you will not bump into) will ensure that you and your guests get the most out of the experience without having to even think about it. Sky Nooz is ideal for business meetings as the penthouse offers a suite as well as a meeting room. Let your clients come to you and turn your important meetings into comfortable – and thus much more productive – sessions. It is what you were there for after all.
Sky Nooz is the only one of its kind in Europe, and the range of unique, all-inclusive experiences that it offers is overwhelming, to say the least. Fancy a SkyHammam? No problem – Nooz will effortlessly transform your modern penthouse into an exotic spa. Or what about a private cinema? The HD projector and high-end speakers will allow you to watch your favourite film from anywhere you like, whether that's the hammam, sauna, Jacuzzi, your bed or the designated film room.
Vanacker: "Where our other Nooz treatments are all about the experience itself, Sky Nooz is a tool for people to offer their guests the ultimate VIP treatment. It's for professionals who want to get the most out of their business trips, or for people looking to celebrate a very special occasion, far away from reality. Either way, I believe it's an experience that everyone should have at least once in their lives."
It starts with 100 per cent quality time, and the rest is up to you. Whether you want to focus on private dining, listening to your favourite music or treating your body to a luxurious massage, sauna or Jacuzzi: at Sky Nooz's 70-metre-high penthouse it is all within hand reach, so that you can focus on bonding with your loved ones.

skynooz.be
Subscribe to Our Newsletter
Receive our monthly newsletter by email