Restaurant 't Korennaer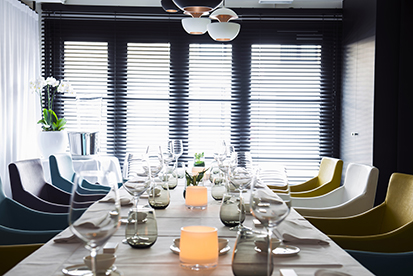 Rewarded with a Michelin star, the mouth-watering dishes of star chef Edwin van Goethem, in his Restaurant 't Korennaer (Nieuwkerken-Waas) are one-of-a-kind, offering a unique, new experience for every gastronome.
It all began 21 years ago when chef and owner van Goethem, started the restaurant out of a passion for cooking and a love for food. He had already finished culinary school and worked in several highly recommended Michelin-star restaurants, but opening his own was a dream come true.
"It was just wonderful to bring people together around the taste and smell of delicious
food; after all, food is social. And the ability to create a unique social experience whilst enjoying food felt incredible."
And his passion led to success. Van Goethem's ability to combine his strong ambition with his meticulous choice of food resulted in 't Korennaer being rewarded a prominent Michelin star in 2016. It was a dream that came true, yet again.
When describing the passion for perfection, he explains: "I have always been somebody who strives for the best in myself and my job: selecting the food as well as preparing it, but also the overall experience for customers in the restaurant and the ambiance.  It simply needs to be perfect."
Which might also be the reason for 't Korennaer having the reputation of being a "restaurant with a golden touch", right down to the smallest details. "We only work with the best food suppliers; they need to have the same desire for perfection. Local products are the key ingredient of several recipes; even our Puglia olive oil is family-farmed, and selected with the utmost care by my Italian wife Francina."
There is a sense of effortlessness in preparing the ingredients, and a reverent respect for the purity of the cuisine's
products. The restaurant's decor, too, is modern, with its own unique style. Guests can see the chefs busily at work in the open kitchen, bringing a welcoming vibe into the star restaurant.
"We almost speak our own language when cooking. Mine is calm, without too much spectacle. The language is subtle and caring. You see what you eat, and hopefully taste the love and passion that went into it.
Subscribe to Our Newsletter
Receive our monthly newsletter by email