Restaurant Rozengeur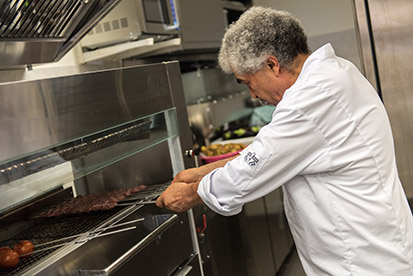 Recent addition to Amsterdam's food scene, Restaurant Rozengeur, is popular for its original atmosphere and authentic Persian cuisine, inspired by the spices and wines in Shiraz.
Restaurant Rozengeur has just celebrated its first anniversary. From day one, it has been a fantastic success and has received plenty of positive reviews already. "People love it," smiles Zahra Azadmanesh, who owns the restaurant together with her husband Mehdi.
The menu is inspired by food from the couple's birthplace Shiraz in Iran. Azadmanesh serves the customers herself
and takes the time to explain the menu to them. "From all the different types of dishes in Iran, we choose the
top ten and serve to our customers. The courses are authentic, with pure and fresh ingredients. Our base is always rice and we add lamb, beef or chicken, plus different vegetables and herbs, and we have vegetarian and vegan options too."
Traditionally, Persian cuisine includes spices such as turmeric, paprika, dill, saffron, sumac and cardamom in starter and main courses, and rose water in desserts. The influence from Shiraz can be seen in the use of eggplant and lime, for instance, as well as the delicious Syrah wines which are made from grapes originating in the region.
Well-deserved, Rozengeur is praised for its high quality, friendly service and affordable prices. Customers get a complimentary soup and two different starters with homemade bread, something that is new for many and comes as a positive surprise. The presentation is also important for the owners, and so all dishes are served on high-quality designer plates.
According to Azadmanesh, Persian cuisine might not be so well-known yet, but it already has many fans in Amsterdam. "We have customers from everywhere, many come from the Netherlands or abroad and we love to tell them about our culture if they ask. But our restaurant and food is also loved by Persians – a great compliment."
As expressed by just one of many satisfied customers on TripAdvisor; "this is hands down the best meal I have had, from the food to the service."
Subscribe to Our Newsletter
Receive our monthly newsletter by email