Restaurant Rantrée: A meal with a view
Text: Arne Adriaenssens | Photos: Rantrée Maastricht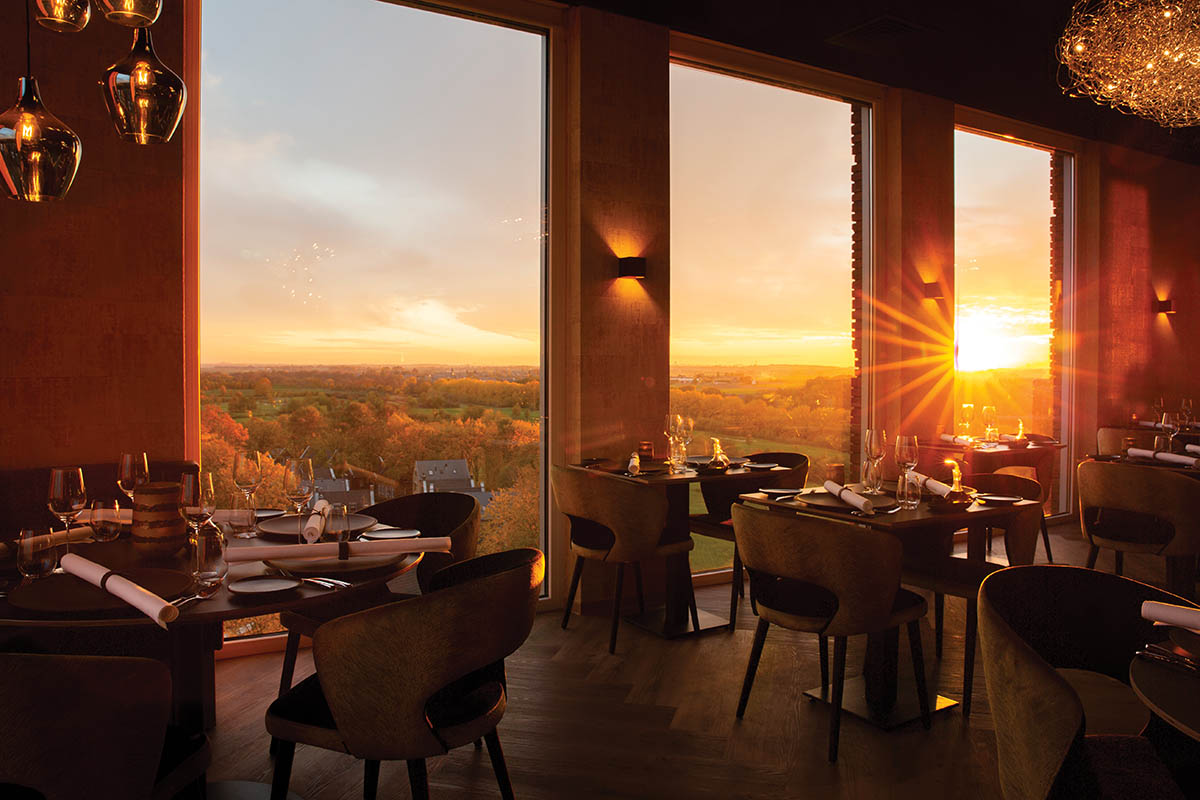 No longer is fine dining a solely culinary experience. It is a feast for all the senses, not in the least for the eyes. At Restaurant Rantrée, a fine-dining restaurant settled on the eighth floor of a building on the Dutch-Belgian border, the 360-degree panoramic view over the city of Maastricht and its surrounding woods are almost as stunning as the fabulous plates they serve.
"Rantrée is settled amidst the greenery," explains sommelier Jennifer Silvius-Hermans. One year ago, she and her husband, chef Ralph Hermans, moved their successful restaurant out of the centre of Maastricht to reopen in this spacious and unique location at the grounds of the brand-new luxury holiday resort Domino. "The views you have while dining here are truly magical. You can gaze at the woods on both Belgian and Dutch soil and enjoy the skyline of Maastricht."
On the menu, you will find an interesting mix of familiar ingredients and exotic newcomers. Silvius-Hermans is passionate about both classic French cuisine and plenty of peregrine cooking styles and combines them all in a series of unique flavour explosions. "Many of our guests opt for one of our menus; the classic Rantrée menu and Vegalicious, an entirely vegetarian one. Both consist of three to seven courses and are real experiences. They let you discover intriguing flavours, come with a few delightful surprises and are made with a fair share of local and sustainable products." Don't hesitate to mention any intolerances while making your reservation, either. This way, the chef can guarantee you a worry-free meal.
And what complements a great meal better than an exquisite wine? Being crowned 'Best sommelier of Belgium' by GaultMillau in 2012, Silvius-Hermans sure knows her way around a wine cellar. "At Rantrée, most of our wines are organic. That doesn't mean they are inferior, though: quite the contrary. Combining sustainability with exquisite quality is what we do best, both on the menu and wine list." The menus and the à la carte selection are available with delicious selected wines, as well. If you prefer going alcohol-free, you can opt for the selected alcohol-free drink instead. "We pair up all our dishes with interesting virgin beverages that elevate their flavours, just like the right wine would do."
If you don't want to miss out on an experience like this, you had better make a reservation in advance. "Where there is often a table available for lunch time, you should really book in advance if you want to come for dinner. For Saturdays, we are often fully booked six weeks in advance."
Web: www.rantree.nl
Subscribe to Our Newsletter
Receive our monthly newsletter by email