Restaurant Florent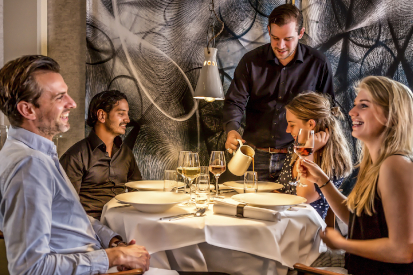 Luscious food in the heart of Utrecht
TEXT: BERTHE VAN DEN HURK | PHOTO: RESTAURANT FLORENT
When in Utrecht and looking for a great restaurant to eat at, Restaurant Florent is a must-visit. Not only does it offer the best Burgundian dishes and fabulous wines, the stylish restaurant is also a wonderful combination of bistro and gourmet.
"Whether people want to eat something simple, or have a true gastronomic meal, Restaurant Florent suits all tastes," says chef Jeroen Brouwer. "We are especially proud of our 3-, 4-, and 5-course choice menus. There is a new version of the menu every month, and it always includes fish, meat and vegetarian options, plus amazing wines that complement the dishes." Restaurant Florent believes the wine always has to be complementary to the dish, without being predictable. As a result, their wine menu has an unusual selection of old and new world wines.
The stylish venue has a warm atmosphere and with an eye-catching feature: the prominent open kitchen is the beating heart of the restaurant. The industrial ambiance combined with perfectly laid white tables makes the space inviting and comfortable. "Florent is great for any occasion. Here, you can dine luxuriously, have an excellent business dinner, or enjoy a lovely evening with friends and family," adds Brouwer. "And we only work with pure and fresh produce. No frills, just honest food with lots of flavour."
Not surprisingly, the restaurant has received fantastic reviews. Brouwer elaborates on its success: "the best part of Restaurant Florent is our talented team. We lift each other to a higher level by constantly being creative and innovative. This is how we motivate each other and how we can offer the best food and such a high-quality service to our guests."
Restaurant Florent is conveniently located in the city centre, within walking distance from Utrecht Central Station and across the corner from the famous Dom church.
Subscribe to Our Newsletter
Receive our monthly newsletter by email