Restaurant Blauw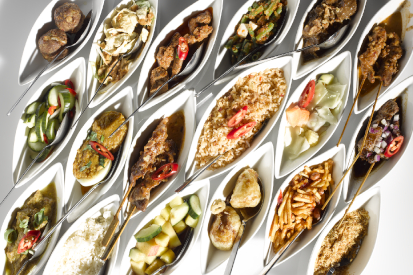 The authentic Indonesian experience
TEXT: BERTHE VAN DEN HURK | PHOTO: RESTAURANT BLAUW
Indonesian cuisine may be well-known in the Netherlands, but it deserves more fame and glory in the rest of the world. The bustling centre of Utrecht has a fabulous restaurant that offers authentic Indonesian food in a modern and comfortable setting with excellent service.
"At Restaurant Blauw, we offer a true Indonesian experience without being old-fashioned," says restaurant manager Meta van den Boomen. "We have authentic, high-quality food, great service and a warm and welcoming ambiance. All you need to create a lovely experience for our guests."
Indonesian cuisine, with all its different styles, has some characteristics in common. Rice is a basic ingredient and can be found in various dishes, and herbs and spices are also an indispensable part of the Indonesian food culture. It is all about contrast and balance. For instance, to contrast hot flavours, are often fresh or cool complements. Dairy products are not used – instead, coconut, peanuts, spice pastes and Kemiri (a kind of nut) are used frequently. The signature dish is the Indonesian rice table; with 17 separate dishes, it is a true feast.
Everyone can enjoy the different flavours and combinations that Indonesian cuisine has to offer, whether with fish, meat or vegetables. Van den Boomen: "We serve honest authentic Indonesian food and don't change the traditional recipes. We simply present the food in a modern way. This is how we distinguish ourselves. And we always explain about the food to our guests, its origins and preparation. This way, people can enjoy the meal even more."
Restaurant Blauw also has a book release coming up in October this year. Titled Blauw, the book offers a culinary adventure through Indonesia. It can be pre-ordered online, and will be in book shops from October this year.
Subscribe to Our Newsletter
Receive our monthly newsletter by email