Repos de Chasseurs: A fusion of arts
Text: Pierre Antoine Zahnd | Photos: Repos Des Chasseurs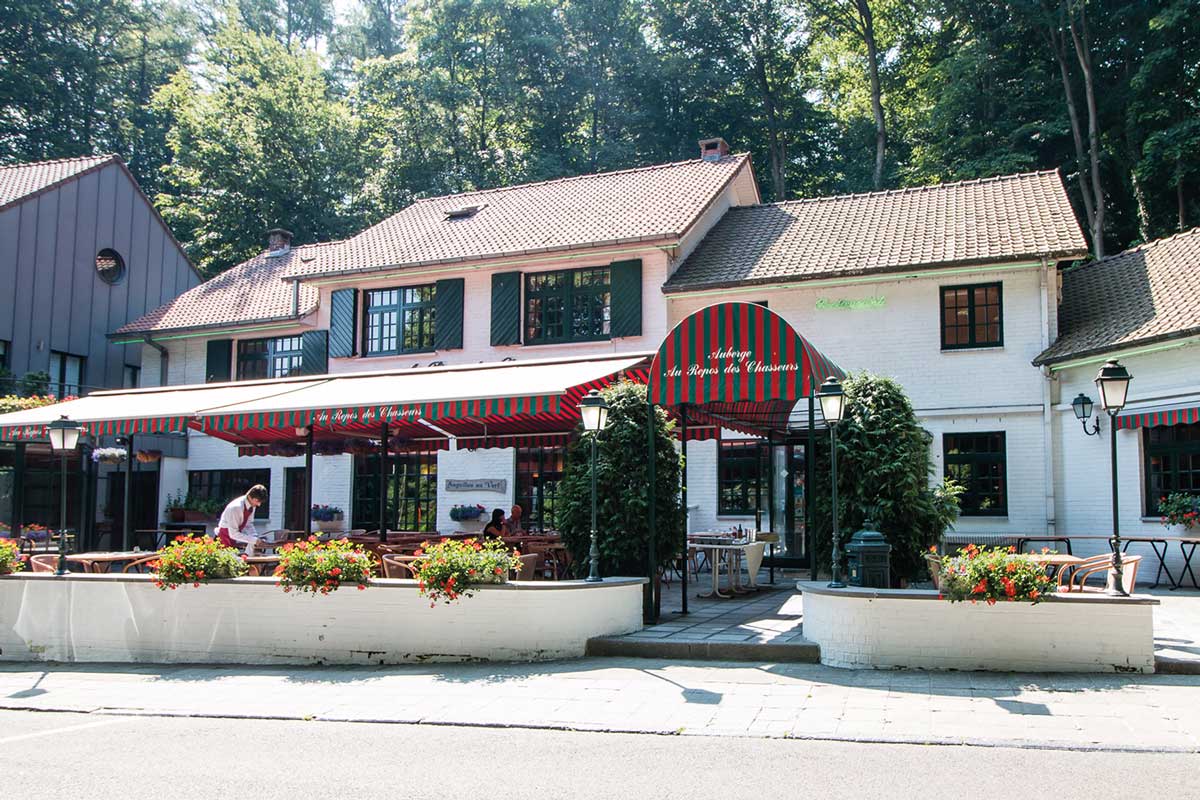 The Repos des Chasseurs has a long, illustrious culinary history. Founded in 1683, it originally served as a meeting ground for hunting parties to rest and replenish their supplies. Now it is run by the Pepe family, an Italian-Belgian team of restaurateurs with an unparalleled approach to high-art gastronomy.
Set on the edges of the Forêt de Soignes, a protected woodland still teeming with wildlife and vegetation, this traditional Auberge still serves the same hearty specialties that it was known for back in the day: rustic tartines and crêpes, as well as the famous 'anguilles au vert' (stewed eels served in a chervil sauce). But the Repos des Chasseurs is about more than replicating history. Angelo Pepe, the chef from southern Italy who heads the restaurant, speaks eloquently about the balance of tradition and innovation when preparing a dish, referring to this process as "a composition". For him, European cuisine consists of a multitude of cultural styles and products, and there is a lot to gain by combining them. Although the menu includes timeless regional classics such as Scandinavian poached eggs, French Charolais beef, or risotto, seasonal suggestions also include pappardelle (traditional Italian pasta) paired Scottish smoked salmon as well as scallops prepared in a curry sauce.
The wine list is not only carefully selected, but rather directly produced in Italy by Milena Pepe, Angelo's daughter. After studying oenology in Belgium and France, she now works from a winery in Campania, Europe's smallest wine region comprising three AOC-grade wines: Taurasi, Greco di Tufo, and Fiano di Avellino. The expertise that runs through the Pepe family, from the cooking to the wine production, allows the hosts to not only have access to a remark-able range of wines, but also to be able to pair them ideally with the food menu.
Beyond its leading culinary approach, the Repos des Chasseurs has much to offer to visitors who wish to relax and enjoy themselves for more than a meal. The Auberge contains six banquet rooms for holiday events, wedding receptions and business seminars, with a total capacity of 200 dinner guests. It also doubles as a three-star hotel, although with only 11 cosy, elegantly-furnished bedrooms, it puts the emphasis not on quantity, but on quality of service. This could be said of the Repos des Chasseurs at large: it is, in fact, the only 'Logis de France' in Brussels; an independent label exclusively granted to establishments that guarantee its guests a genuine experience of local tradition and terroir gastronomy.
Subscribe to Our Newsletter
Receive our monthly newsletter by email