Prins Hendrik Texel – A remote world… right on your doorstep
Text: Eva Menger | Photo © Prins Hendrik Hotel & Bungalow Park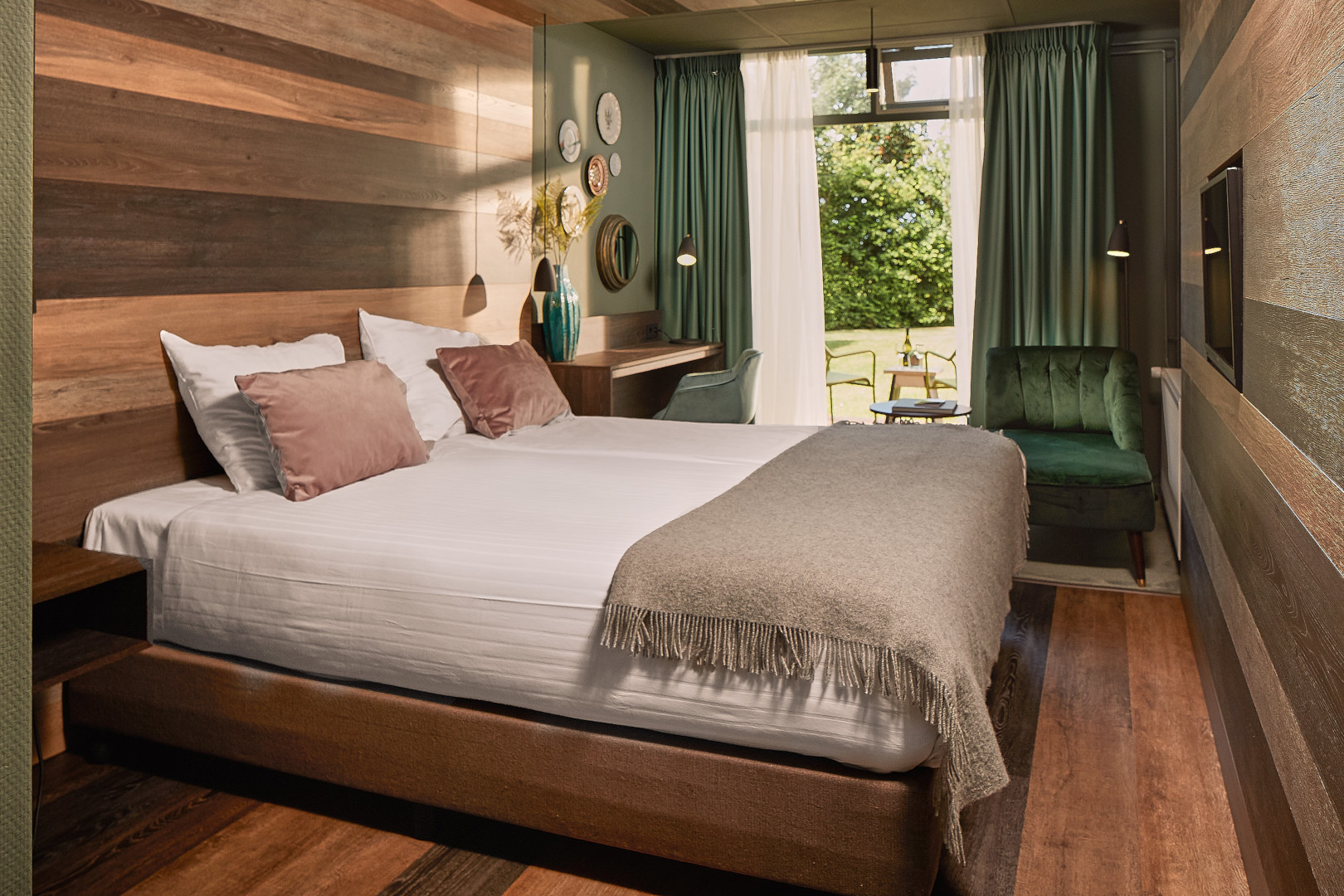 As the largest Dutch Wadden Island, Texel is known for its many great restaurants, cosy villages and liveliness. With a population of over 13,000, it's hardly uninhabited, and its reachable location has made it an incredibly popular tourist spot. But there's a different side to the island: on the East corner, far away from the crowd, you'll find Prins Hendrik Hotel & Bungalow Park, a hidden gem offering nature, peace and quiet.
Founded by Floris Dekker in 1911, the hotel is named after Princess Wilhemina's husband Prince Hendrik. The island used to be his favourite spot to hunt for seals, though rumour has it that hunting for women was equally high on his agenda. Over 100 years later, the hotel has become the perfect base for guests looking to explore the Wadden Sea and its nearby bird boulevard. "Our location is the perfect antidote to a busy and stressful lifestyle," owners Ernst Weijschede and Ingeborg Noordam confirm.
Nature in all its glory
Whether it's the Wadden Sea (also a great spot for oyster picking), the vast number of bird species flying around or the island's very own breed of sheep, a visit to Texel brings you straight back to nature. As the world's largest unbroken system of mud flats and intertidal sand, UNESCO listed the Wadden Sea as a World Heritage Site. Throughout most of the area, natural processes and eco-systems are undisturbed, making a walk alongside these stretches of land – the locals call it mudflat hiking – an extraordinary experience. Seals like it there too, so keep your eyes peeled!
What's more, the hotel is right around the corner from Europe's longest bird boulevard. Comprising 15 nature reserves, all attracting thousands of birds, the area is carefully looked after by the Dutch Nature Monument Foundation, who've made measures to ensure all birds can breed safely. Hence, visitors can observe unusual bird species – from sandpipers and red knots to curlews and oystercatchers – from up-close and in their natural habitat, and those visiting in spring are likely to spot a hatching egg or two.
And then there's the sheep: first bred over a hundred years ago, the Texel Sheep are a crossbreed from local and several British breeds, resulting in sheep that are large, fast-growing and woolly. Following a strong and proud breeding tradition, the island currently has nearly as many sheep as it has people.
Local secrets
Weijschede: "Our natural environment has played a significant role in our design process. Bungalows are built in a Scandinavian style reminiscent of Swedish countryside cabins, while the vibrant colours of bird species including robins and spoonbills have inspired the decoration of our modern hotel rooms. Ultimately, we want to offer our guests a peaceful experience without too many distractions."
The hotel restaurant shows clear signs of local influence, too. "Our menu is built around locally-sourced comfort food, including steak from Texel beef, fresh local strawberries, oysters and, of course, many great lamb dishes," Weijschede explains. "We also work closely with a local care farm, who provide us with wonderful ingredients and allow us to keep our menu seasonal."
The perfect getaway
With spring in full bloom and summer fast approaching, the area's many exciting events are another reason to visit. First off, there is the world's biggest catamaran race (Ronde van Texel) on 22 June, and in late July, the nearby harbour of Oudeschild will be converted into the Beach Food Festival featuring dozens of food trucks, bars, beanbags and parasols. Last but not least, the Prins Hendrik Hotel will be hosting live music in their luscious garden each Thursday during July and August.
It's pretty clear: those looking to temporarily turn their busy lives into a distant memory will love it here. The boat to Texel is just a one and a half hour drive or train journey away from Amsterdam, yet staying in the Prins Hendrik Hotel will make you feel like you're in a different world. What more could one ask for?
Subscribe to Our Newsletter
Receive our monthly newsletter by email