Persijn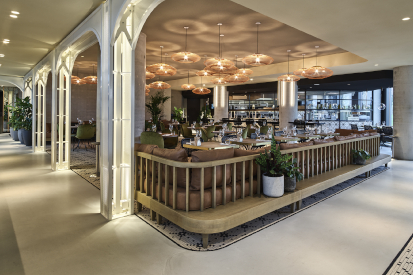 Enjoy Dutch food at its best
TEXT: XANDRA BOERSMA | PHOTO: TODAYSBREW
A focus on healthy food, locally produced vegetables as the main ingredient of each dish, surprising recipes and pure sauces without heavy cream. This is the innovative cuisine of Dutch eatery Persijn.
"It might surprise you what the typical Dutch kitchen has to offer," general manager Inge van Weert says. "Dutch cuisine is not just 'stamppot', as most people – the Dutch included – think." So called "dubbeldoel" cows that are used for milk, as well as meat, grilled vegetables from local farmers, and herbs originating from the roof of the building, make for quite the varied menu.
You will find Persijn on the ground level of brand-new sustainable luxury hotel QO Amsterdam. But that does not mean it is only available for hotel guests. "Quite the contrary! We purposely put the front desk of the hotel on the first floor so the entrance to the restaurant is more welcoming for locals."
Whereas in many hotels you will find a buffet, at Persijn everything is a là carte. Van Weert explains: "Buffets often provide lots of waste, because you have to make sure there's plenty of everything. Which is a shame and does not fit our sustainable attitude."
Whether for breakfast, lunch, dinner or just a snack; Persijn will have an inspiring and healthy dish for you. And make sure to visit the bar on the 21st floor, where you can see the Greenhouse that produces the herbs on your plate.
Subscribe to Our Newsletter
Receive our monthly newsletter by email