Nova College – Hybrid learning, the future of education
Text: Eva Menger | Photo © Nova College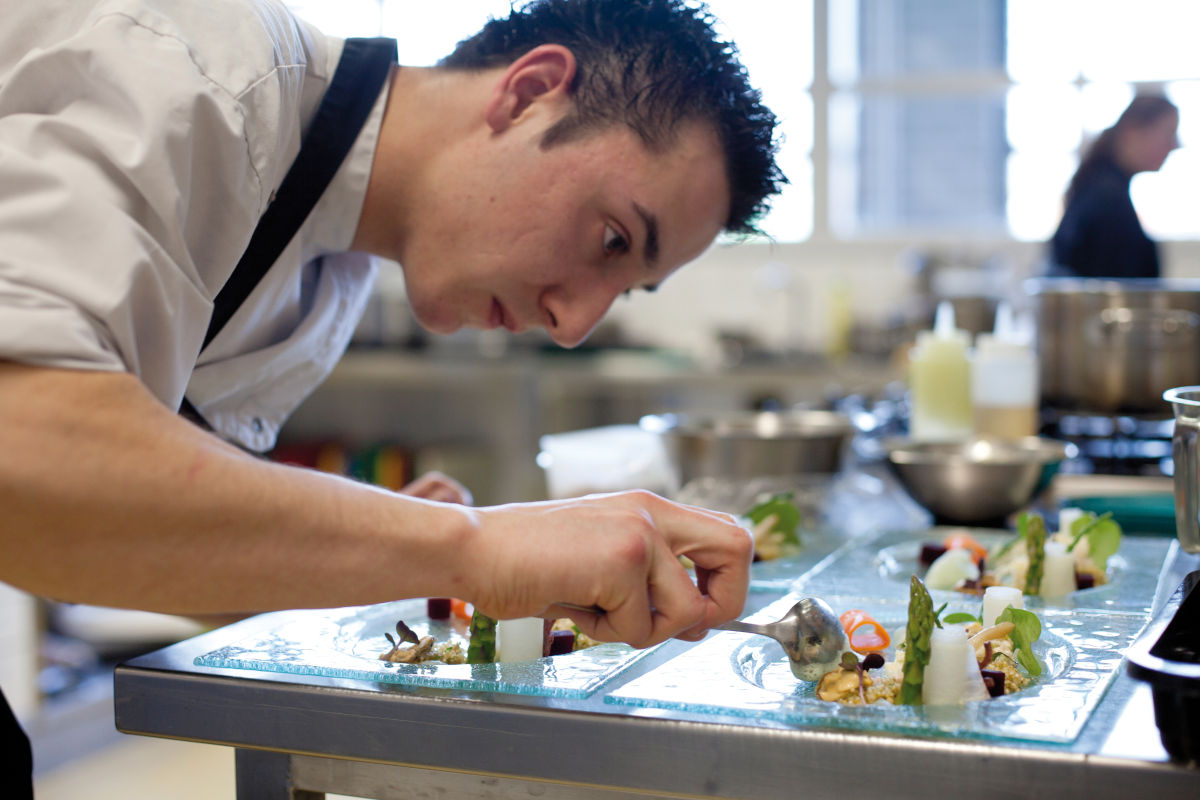 W ith 12,000 students, Nova College is not a particularly small school, yet they have managed to create an intimate feeling. Knowing everyone well is their strength: not just because it makes students feel safe, but because it allows teachers to respond to individual needs. The school is particularly proud of their hospitality programme, which has repeatedly been awarded a seal of excellence based on high student satisfaction.
"The quality of our hotel school is incredible," director of the school's Haarlem branch and the school's economic department Annemieke van Ede tells us. Sitting within the economics department, the school's hospitality courses include facility management, general management, chef training, host/hostess and fast service. Van Ede: "We work closely with hotels and restaurants throughout the area to develop bespoke curricula. This way, our students learn how to develop themselves both in and outside the classroom."
When selecting business partners, Nova College ensures that there is a learning culture, with plenty of space for students to make mistakes. That is why the presence of a highly skilled and experienced mentor is key. With a comprehensive knowledge of the industry as well as an ability to recognise the importance of personal development, these mentors are needed to coach students in their learning paths.
Hybridity
Nova College promotes hybrid education, which means that they work with different formats to provide learning plans that suit the needs of individual students. This multidimensional approach helps teachers prepare their students for their career as well as their general citizenship. "A student's professional capabilities are inextricably linked to who they are as people," director of the school's Hoofddorp branch Harrie Bemelmans explains.
Bemelmans: "Take customer approach, for example. The way in which a student treats customers has very much to do with their attitude. Our internal Nova restaurant offers a place for students to practice that. We provide feedback on their performance, and ultimately, that makes them grow as people, too."
Types of service
Hospitality courses at Nova College all focus on a specific type of service. In the school's Hoofddorp branch, students are trained for fast-service jobs in close collaboration with HMSHost, a company supplying staff for many of Schiphol airport's restaurants. The course was founded only recently as a reaction to the rapid emergence of fast-service restaurants: "those restaurants have a completely different dynamic and require a service that is efficient, quick and simple," Bemelmans states.
Students can train as fast-service host, manager or company director, and will gain practical experience in a coffee shop, beach bar, chain restaurant or even a delivery service. Bemelmans: "This area of service offers excellent employment opportunities which will only grow in the future!" Like HMSHost, an increasing number of local businesses reach out to Nova College for learning collaborations.
In Haarlem, the school has close ties with many of the city's top restaurants. The atmospheric city is known for its entrepreneurs and culinary quality and has proven to be a fantastic learning ground for Nova College's hospitality students.
Versatility
Hospitality students at Nova College are encouraged to expand their knowledge by following classes in other departments as well. Fast-service companies have indicated a demand for hospitality professionals that also know how to efficiently manage a warehouse. "We're always looking at how our different departments can complement each other," says Van Ede. "That's why hospitality often works closely with events. We believe that this versatility can add incredible value to the development of our students."
For this same reason, the school organises competitions. As part of the school's excellence programme, students can take part in the national Skills Heroes competition. From cooking to beauty care to hosting and account management: it is the ultimate opportunity for students to present their skills. Van Ede: "A healthy dose of competition can do a lot for someone's motivation, and it also teaches students how to deal with the competitive aspect of business." Both last and this year, the national title for best hostess was won by a Nova College student.
Whether you are a prospective student, a teacher or a business that is interested in bespoke education: find out how Nova College can help by visiting their website.
Subscribe to Our Newsletter
Receive our monthly newsletter by email