Notos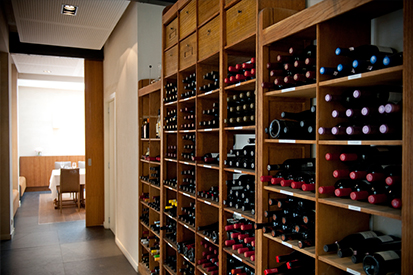 Fine dining à la Grecque in the heart of Brussels
TEXT: EDDI FIEGEL | PHOTO © NOTOS
Brussels might not be the first place you would immediately associate with Greek fine dining, but Notos, in the city's smart outer suburbs, has been making waves both amidst the local Belgian community and internationally.
In the fashionable Ixelles neighbourhood, just south of Brussels city centre, chef and owner Constantin Erinkoglou dishes up superb Greek cuisine, but not as you know it. With its elegant, light and airy, contemporary interior and gourmet menu, the restaurant could not be further from the plate-smashing Greek taverna stereotypes of old: and that is no accident.
Erinkoglou, who was born in Greece but moved to Strasbourg in his teens to study sociology, wanted to create something that focused on the best quality produce. After spending time in Lyon and working for the European Union, he opened Notos in Brussels in 1995, creating small but authentic Greek dishes as well as selling quality, organic Greek food and wine products.
Over the years, Erinkoglou has gotten to know top independent producers throughout Greece and has started bringing over organic produce such as salt from Crete, olive oil from Thassos and saffron from Kozani. He also began importing an extensive selection of high calibre Greek wines. Within a few years, Notos proved so successful that, in 2000, the restaurant moved to its current, larger location at Rue de Livourne.
The innovative chef still scours Greece for the best produce to use in his food, and the menu is much broader in style than you might expect. "I wanted to create authentic Greek cuisine," explains Erinkoglou, "but in an entirely un-touristy way. Greek cooking has a wealth of different influences: not only Mediterranean, but also Oriental and Balkan, and I wanted to highlight that."
The dishes Notos has become best known for include 'chylopites de Lesbos à l'avgotaracho' – handmade artisan Greek pasta with a traditional, refined paste of mullet roe (often described as the Greek answer to caviar), or rack of lamb with 'Cretian style 'boreki' pastry parcels' filled with courgettes.
Notos marks a new chapter in the history of Greek cuisine, marrying tradition with modernity and looking not only to the past, but also to the future.
Subscribe to Our Newsletter
Receive our monthly newsletter by email