Morris & Bella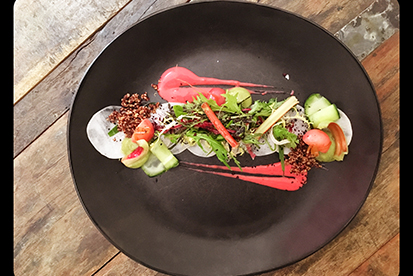 Reversing the concept of traditional dining, at Morris & Bella the veggies are the stars. But meat and fish can be added to the meals, making sure that everyone is happy with what is on their plate – ensuring a great dining experience for all.  
Morris & Bella has just celebrated its first anniversary. Opened last year in the up-andcoming Spaarndammer area, this restaurant gives a new meaning to hospitality. "Our concept is a bit different," says co-owner Annebel "Bella" van Meegen. "The base is vegan fine dining, and with every course you can add meat, fish and cheese as extras. Basically, everyone is welcome and it makes dining out a nice experience for groups with different dietary preferences."
The idea was born from own personal experience. "I'm vegan but my partner, Maurice "Morris" Leeffer, eats everything," she says. "It was difficult for us to go out for dinner together. We wanted to change that." It has proven to be a successful concept, with good reviews in local papers and a busy venue. For instance, a review on TripAdvisor states, "unbelievable gourmet food with extraordinary presentation at very reasonable prices."
The menu changes every two to three weeks, with organic products according to what is in season and, of course, has a lot of vegetables. Van Meegen admits: "our guests are often positively surprised that the food is vegan, and at what we can do with vegetables." In addition to the tasty menu, the atmosphere is lovely and friendly. "Everyone is happy with what's on their plate, which also makes eating here at our restaurant a nice and social experience."
During the summer months, guests can take the opportunity to enjoy the tasty meals outside on the terrace.
Subscribe to Our Newsletter
Receive our monthly newsletter by email