Mireille Oster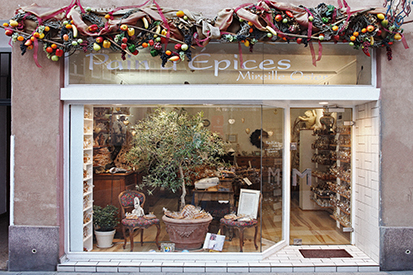 Add a little spice to your festive season
TEXT: ANNA VILLELEGER | PHOTOS © CHRISTOPHE URBAIN
In need of some gourmet inspiration for this month's festivities? Culinary expert Mireille Oster — famous around the world for her pain d'épices (gingerbread) — has an array of ideas that will leave your mouth watering.
From the moment you walk into Mireille Oster's small boutique in the charming French city of Strasbourg you will be transported by the aromas of all the various spices. Next comes the chance to sample some of the shop's famous gingerbread.
"The first thing we offer customers when they walk through the door is a tasting," smiles Mireille, who acquired her passion and talent for making pain d'épices from her grandfather. The Strasbourg boutique has been in her family for three generations – Mireille took it over from her mother in 1997.
Whether you are seeking a classic or more unusual pain d'épices, you will find all manner of gourmet delights at Mireille Oster. Mireille's handmade varieties of the traditional winter treat include gingerbread made with figs, amaretto, cinnamon and chocolate.
Mireille has taken her gingerbread outside her native France to destinations across Asia and the Middle East. Her farflung travels have had a notable influence on her recipes. "I always come back with new flavour ideas," she explains.
While Mireille admits a good pain d'épices is sometimes best enjoyed with just a slathering of butter, she has many more mouthwatering and versatile ideas.
"It works as a great aperitif when served with salmon and crème fraîche. Or for a quick dessert add a scoop of vanilla ice cream and hot chocolate," she suggests. For Christmas time, Mireille's pain d'épices goes perfectly with foie gras, fresh figs and grapes.
Subscribe to Our Newsletter
Receive our monthly newsletter by email