L'incontro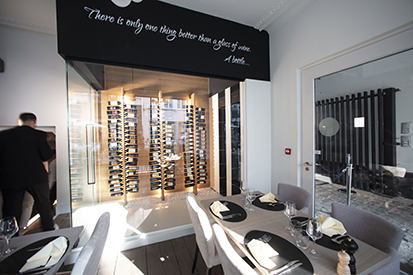 Restaurant, lounge bar, and space for parties and meetings. L'incontro has it all. In the centre of Ghent, right next to the Leie river, it holds place for over a hundred people. The perfect place to make a good impression.
Three years ago, Alessandro Zingarelli started a small Italian restaurant with a fellow chef for around forty people to enjoy Italian dishes in an old manor house. The food was remarkable, guests indicated. Italian, they said, yet special. "We stay away from the classic dishes," Zingarelli explains. "They inspire us, but we make them unique and more luxurious. Our linguine carbonara with truffle and lobster is something I guarantee you've never tasted before."
His Italian roots help Zingarelli create the perfect menu, with fresh ingredients for exquisite pastas and meats. All ingredients are Italian, as are the staff. Everything to give its guests the complete, authentic Italian experience. But a restaurant alone was not enough for Zingarelli. "There are so many of those in Ghent, you have to offer something different."
And he did, by moving to a place more than twice as big as the original L'Incontro. Where the interior is more modern, spacious and – most of all – stylish. "Especially the terrace is amazing, you look right over the Leie while enjoying your dinner or a glass of wine."
To retain a high level of service after moving to a place of this size, Zingarelli takes the help of technology. "I decided to place iPads on every table, to make it easier for our waiters. The orders go straight to the kitchen and therefore will never be missed and handled as soon as possible."
For sure, a night out at L'Incontro will offer you a unique experience. Whether going there for a drink, dancing at a party or enjoying Italy's finest dishes.
Subscribe to Our Newsletter
Receive our monthly newsletter by email