Landhuishotel De Bloemenbeek – A versatile stay in the countryside
Text: Arne Adriaenssens | Photos © De Bloemenbeek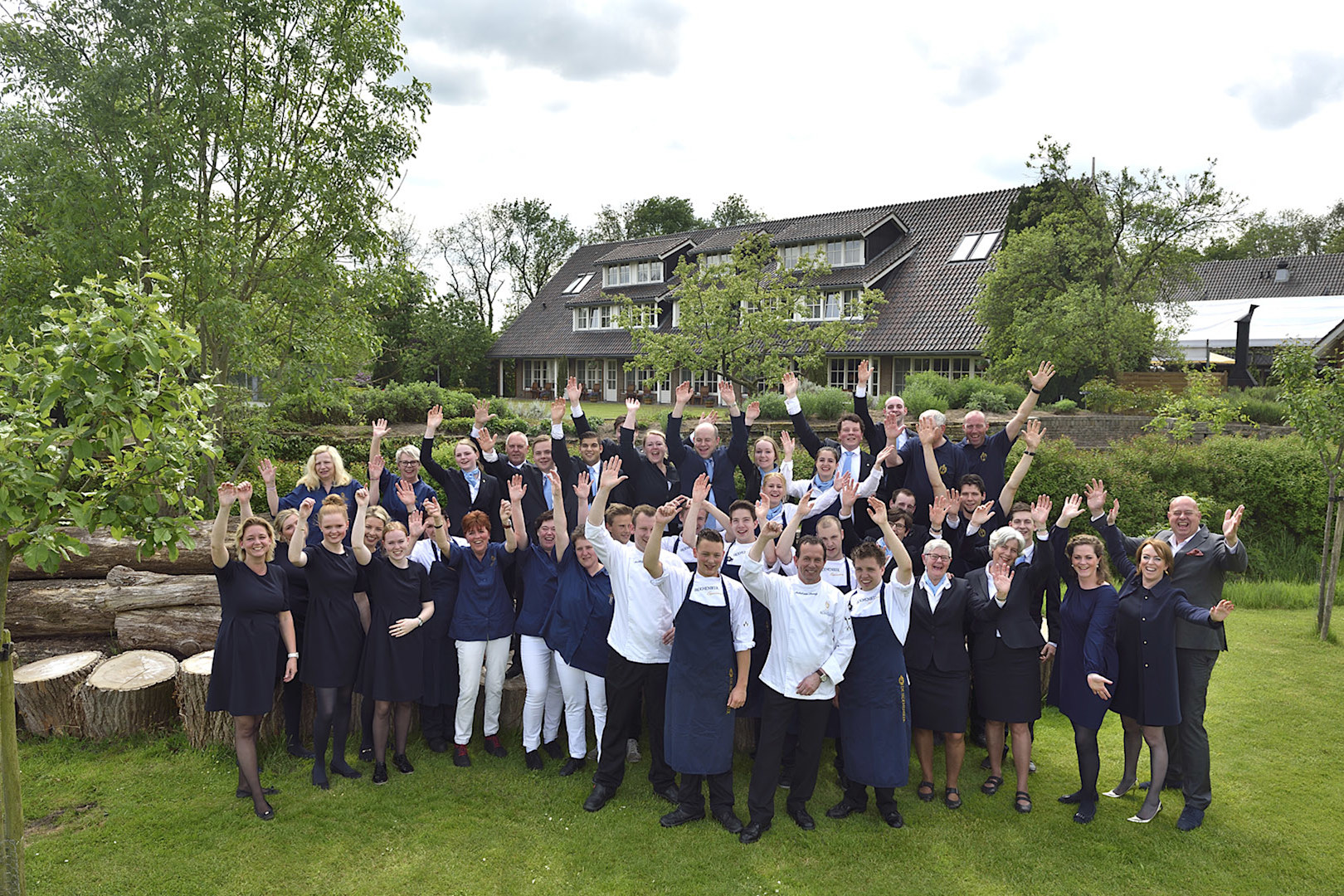 With its breathtaking nature and luxurious facilities, De Bloemenbeek is a garden of Eden to those in need of a break. The rustic estate hotel never fails to create everlasting memories through a myriad of sporty, relaxing and gastronomical activities. The only question you should ask yourself is: what to do first?
As soon as you enter the premises of estate hotel De Bloemenbeek, a feeling of tranquillity washes over you. Given its location in Twente, the green buffer between the Netherlands and Germany, busy Dutch city life seems a world away. "The nature here does not look typically Dutch," says Raymond Strikker, owner of the family business. "The landscape isn't as flat here but sometimes even a bit hilly. That makes it the perfect setting for a relaxing hike or a challenging bike tour." With picturesque towns like Deventer and Münster just a short drive away, you can easily explore urban life as well. Even metropoles like Amsterdam and Düsseldorf are near enough to make a day trip.
Romantic style
After a busy itinerary like that, a comfortable room is what you crave for the most. The rooms, as well as the rest of the hotel, are decorated in a soothing and nostalgic Dutch style. "We don't like the sterile, modern interiors which most luxurious hotels swear by today. Instead, we opt for a contemporary classic vibe. We, however, keep investing in our infrastructure to ensure no chance of deterioration. We just stick with the romantic style our guests expect here and adore. Today, we are still the 12th-best hotel in the Netherlands according to TripAdvisor. That means we must be doing something right, no?" The nostalgic style suits De Bloemenbeek like a glove as well. The building has a 110-year history of offering top-notch hospitality. 53 years ago, Strikker's father took over the business and turned it into the personal, yet luxurious, oasis it is today.
Michelin star
Nothing pairs up with a great holiday like an extraordinary meal. For that as well, De Bloemenbeek is the place to be. In their restaurant, you will find what is among the finest gastronomy you can get in the country. Don't just take our word for it, however: their Gault&Millau score of 15 out of 20 and their Michelin star above the door says it all. Chef Michel van Riswijk's mantle is, furthermore, filled with many prestigious awards, among which 'The Golden Chef's Hat' and 'Prix Culinair Internationale le Taittinger'. "Van Riswijk has been working here for 31 years already but keeps surprising us. Together with chef de cuisine Matthijs Mulder, he combines French-Mediterranean cuisine with lots of local products and delicacies. For most of our vegetables, we collaborate with a local organic farmer, but we also grow some crop of our own. Actually, many delicious things, like herbs, pop up on the domain by themselves. The kitchen team, therefore, walks around the premises every morning, looking for delicious surprises they can use that day." With Twente being one of the Netherlands' most gastronomical regions, you find great restaurants galore in the neighbourhood. Obviously, the hotel staff can help you to select the best choices for your taste.
Spa and golf
Nonetheless, many of De Bloemenbeek's guests prefer to spend their holidays in and around the majestic hotel itself. "As an independent, family-owned hotel, we can provide our guests with an informal, personal service. Therefore, they feel very much at home with us and can fully relax." And what better place to do that than in a fully-equipped spa? If the pool, the saunas and the steam room don't do the trick for you, a visit to the in-house beauty parlour will surely help you get rid of that last bit of stress. "But also, the active tourist will be happy here. Apart from a tennis court, we also have the equipment for a game of 'klootschieten', a local variety of hammer throw. You can even pull out your putter here, on our nine-hole pitch and putt course or on one of the two 18-hole courses that are just 15 minutes away. On request, our staff will bring you there with the hotel's old-timer taxi."


Events and conferences
Combining amazing service, infrastructure and food, De Bloemenbeek is a loved partner of many a business. Because of its discrete location and its humble number of rooms, companies often opt to book the entire premises for several days to host events or conferences. Their in-house events team will take care of everything, from arranging venues for meetings to organising evening activities and making restaurant reservations. "Even international football clubs know where to find us when training nearby. Ajax, Porto, the national team of Qatar… their players have all stayed in De Bloemenbeek."
Beuningerstraat 6 7587 LD De Lutte bloemenbeek.nl
Subscribe to Our Newsletter
Receive our monthly newsletter by email