Landgoed Groenendaal – Culinary perfection in the greenery
Text: Arne Adriaenssens | Photos © Landgoed Groenendaal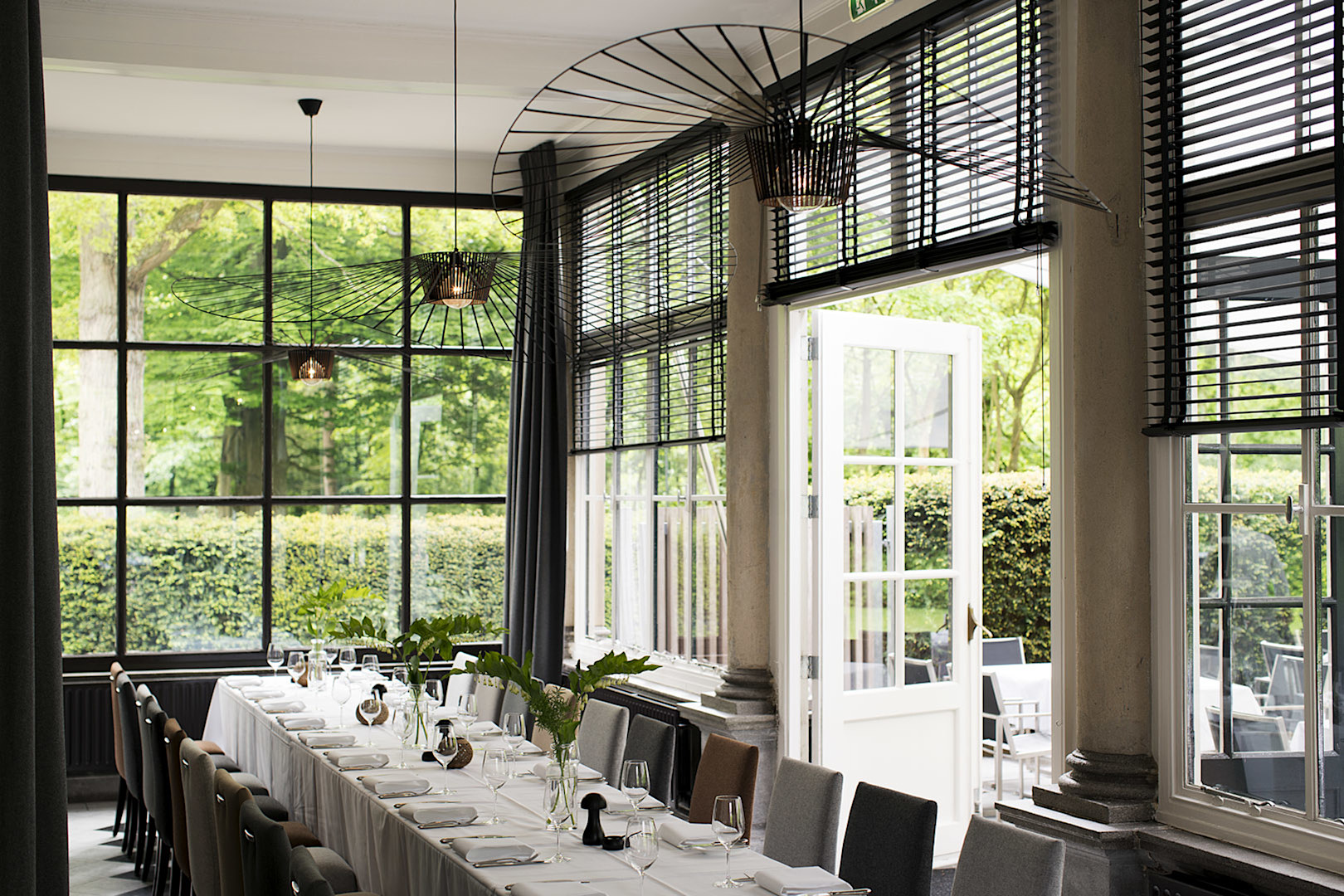 J ust like the forest it is in, Landgoed Groenendaal is deeply rooted in the soil of Heemstede. After more than a century, the restaurant and events venue is more relevant than ever. With the entry of Hein Uitendaal, the fourth-generation manager, a veritable fresh wind blew through the halls of the family business, transforming it into a culinary paradise amidst a sea of green.
Central between Amsterdam's city noise and the waves of the North Sea, lies the green oases of Groenendaal. The history of the domain goes back to the 17th century, after which it knew many owners. In the early 20th century, the municipality of Heemstede bought the domain and turned it into the hiking forest that it is today. Joop Uitendaal got the permission to sink his teeth into the coach house of the former estate and turned it into a restaurant: Landgoed Groenendaal. Today, 102 years later, his family still runs the business. For this, they even received the title 'warrant holder of the Dutch royal family'. When Joop's great-grandson Hein Uitendaal took over the business from his father in 2010, he decided to steer the restaurant down an entirely new path with culinary exploration as the centre of attention. The traditional Dutch dishes made room for refined French cuisine with exotic touches. "Every month, our chef creates a new 'king's meal'," says Uitendaal. "This menu serves you five courses of two small dishes each and pushes the boundaries of food pairing, introducing you to exciting new structures. Those who wish, can also peruse the surprising variations of classic dishes on our menu and order them à la carte."
Soothing and elegant interior
With the rejuvenation of the menu, the building itself got spruced up as well. For the restaurant's 100th anniversary, an intensive metamorphoses made it more elegant and soothing than ever. Also, their four venues got restored and prepared for a multitude of happenings. "We organise many different events here; from business meetings to weddings and family events. The combination of our unique location and the small-scale of our business comes with plenty of benefits. Since our sole neighbours are the animals in the woods, you don't disturb anyone if your event gets a bit loud in the early hours. For big happenings, like weddings, people often have the entire premises for themselves. This way, the sky is the limit in terms of decoration or a specific menu. Do you want an extravagant theme party? No problem! Do you want a vegan menu or rather a kosher one? No problem either! As an intimate, personal venue, we can follow you in your wishes and go the extra mile to realise them. For marriages, we can host the ceremony as well, given that we are an official wedding location. With questionable weather, we even prepare two settings for it; one inside and one in the garden. This way, no couple has to gamble with the infamous Dutch weather and everyone gets the most ideal wedding possible."
Big business events and small meetings
The unique combination of exquisite service in a relaxing green bubble attracts many businesses as well. Around the beautiful building, green is all you look upon. With good weather, the doors and windows open up, extending the venue with a beautiful terrace and garden. Since it is shielded by high trees on all sides, it is suitable for all seasons. It blocks the cold breeze in spring and casts a cool shadow over the terrain in summer. At just a 20-minute drive from the Dutch national airport of Schiphol, Landgoed Groenendaal is also the ideal spot for meetings and events with an international audience. "From small meetings and photo shoots to bigger seminars or product presentations: everything is possible here. Our biggest hall seats 120 people. Spread over the entire premises, we can welcome about 300. If our guests opt for a walking dinner or reception, their guest list can, obviously, grow a little bit more. Our event planners are experts in making your event unforgettable as well. When a Dutch company came to celebrate their merger with a Japanese one, we hosted them an event with fusion cuisine. Our surprising dishes like yakitori with Dutch endives were an enormous success." But even if you go to Landgoed Groenendaal for an intimate meeting with just three people, they will do everything they can to make your stay as pleasant as possible. Instead of offering you the choice between predetermined time slots, you can choose the time and duration of your meeting yourself. To top it off, a cup of coffee with homemade cookies or a little walk through the garden in between sessions will make your meeting all the more productive.
Subscribe to Our Newsletter
Receive our monthly newsletter by email