LaDot Cosmetics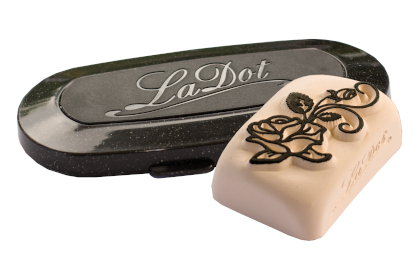 Stunning temporary tattoos stamped with handmade stones
TEXT: KARIN VENEMA | PHOTOS © LADOT COSMETICS
When beautician Rita Panarelli found out that her favourite supplier of temporary tattoo stamps was going out of business, she and her husband drove straight to France to see the owner. Within two weeks, the deal was done and LaDot Cosmetics was born.
"Of course it involved some practical and logistical challenges," laughs Panarelli. "We had to arrange our own production location and move 46 pallets of equipment and stock to the Netherlands, all whilst the first orders were already coming in! We were so convinced of the quality of this product and the success it would have, that we had to seize the opportunity with both hands."
Twelve years later, LaDot Cosmetics is the largest and most comprehensive temporary tattoo manufacturer in Europe, serving hundreds of thousands of tattoo fans around the world. Their temporary tattoos and other products are completely safe, non-toxic and hypoallergenic. All cosmetics are made according to their own recipe, produced in the Netherlands and cruelty free.
Stone stamp tattoos are probably best known from the beaches of France, where small entrepreneurs sell them to sun-loving tourists. But LaDot Cosmetics also supplies the beauty industry, a big chain of toy shops in Germany, theme parks and independent entertainers that use the stones alongside their face painting businesses, for example. Recently, they started to sell directly to customers through Amazon: their gift sets are bestsellers.
The unique stamping system consist of a handmade tattoo stone and an ink-pad. Once the tattoo is stamped on, it can be decorated with glitter, coloured liners and rhinestones. Depending on where you place it on your body, it will last between one to seven days. Because it is alcohol based, it is waterproof and it will not stain your clothes. When you have had enough, you can simply remove the tattoo with makeup remover or baby oil.
Panarelli is constantly reviewing the quality of the production and adding designs and new products to the collection. "Things that have been recently added are neon inks and liners that glow in blacklight, and skin polish, which is a bit like waterproof body paint. I have seen the most beautiful creations made with our cosmetics. I still put temporary tattoos on myself regularly, I'm just in love with this product!"
Subscribe to Our Newsletter
Receive our monthly newsletter by email