Koeppchen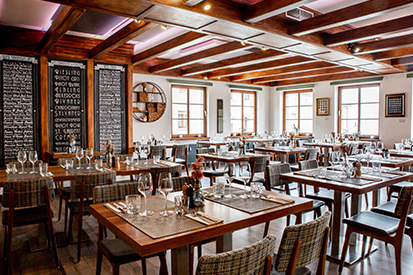 A fresh approach to traditional Luxembourgish food
TEXT:ANNA VILLELEGER | PHOTOS © KOEPPCHEN
This family-friendly bistro on the banks of Luxembourg's Mosel river valley is considered an institution with a history going back to 1907. Delicious food, friendly service and a cosy atmosphere is what you will find here at Koeppchen.
Alongside traditional cuisine, the young team has taken a fresh approach – so all the most popular dishes such as Mosel fried fish remain on the menu, but burgers and a variety of contemporary dishes are available too.
Other best-sellers include chicken puff pastry, flour dumplings, steaks galore and the hugely popular veal cordon bleu with local cheese and ham.
Another big attraction is Koeppchen's extensive Luxembourgish Mosel valley wine list, as nowhere else in the world will you find a list so dedicated solely to Luxembourgish wine. And, given that many local wine producers are regulars here, you may be lucky enough to find yourself sitting next to one when you drop in for your 'friture de la Moselle'.
The team at Koeppchen deal directly with most of the valley's wine producers, so they are real ambassadors for the whole valley, especially for the Riesling, the pride and joy of the Mosel valley.
There are also over 30 different types of gin and tonic concoctions to choose from, as well as an array of alcoholic and non-alcoholic cocktails.
So, when you are next passing through Luxembourg, why not take a detour and enjoy a traditional meal and a delicious glass of local wine in this countryside bistro high up on the banks of the river Mosel? You will not be disappointed and you can be sure that most produce is locally sourced and all of it is super fresh.
Subscribe to Our Newsletter
Receive our monthly newsletter by email