KASK & Conservatory / School of Arts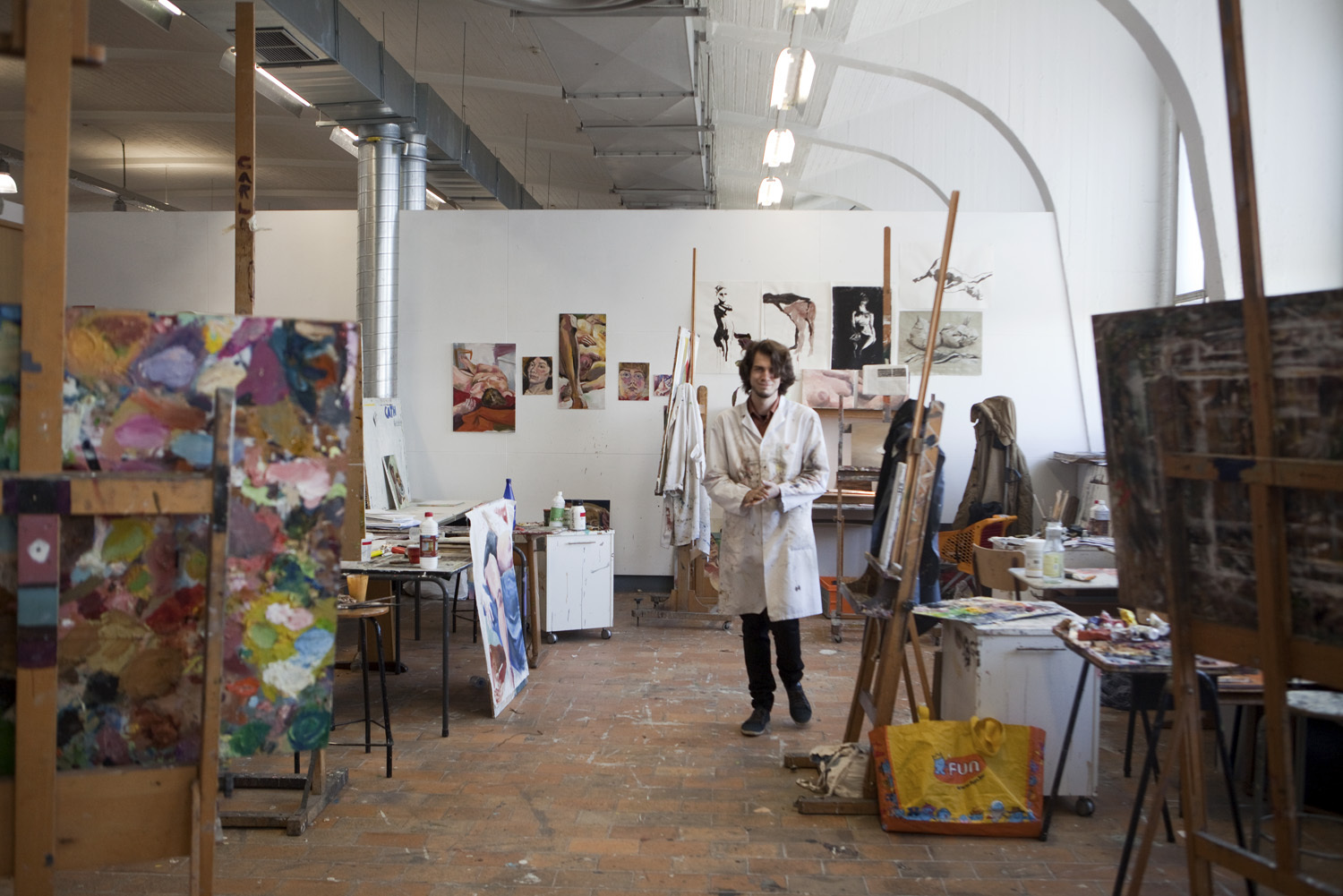 The art of practice
TEXT: CHARLOTTE VAN HEK | PHOTO © Frederik Sadones
An art does not stand on its own – arts are intertwined with our surroundings, our daily life, and with each other. As an art school with an international leading reputation, KASK & Conservatory / School of Arts in Ghent is as dynamic and interconnected as society itself.
KASK & Conservatory is based in the heart of Ghent, a city priding itself on a reputation of excellence within the international art world. The school offers a multitude of artistic disciplines, ranging from visual art to audio-visual arts and from music to drama, each hosting a Bachelor's, Master's or Doctoral programme. In addition, the academy offers a professional Bachelor's programme on interior design and landscape and garden architecture, as well as a range of postgraduate programmes. Originally consisting of the Royal Academy of Fine Arts and the Royal Conservatory, the two educators joined forces in 1995, combining centuries of educational excellence. Today they are part of the University College Ghent.
The dialogue between arts
KASK & Conservatory focuses on both specialised training of students in technical and artistic aspects of a chosen field, as well as on a strong openness between the different artistic disciplines. "Our academy acknowledges the interdisciplinary nature of the arts," says Wim De Temmerman, dean of KASK & Conservatory. "In practice, interactions between artistic specialties are evident and current. For example, an animated film needs illustrators and designers, but also people who can edit the material or perfectionate the sounds."
Alongside a learning environment, KASK & Conservatory is also a living environment, placing a strong focus on community spirit and informal learning. "Our academy acts as a meeting point for students, artists, and docents. Students can inspire each other greatly," De Temmerman asserts.
Critical makes perfect
Students at KASK & Conservatory are offered the right theoretical and social handles to undergo personal development, creating curious, investigative, and capable individuals. Via practical projects students are expected to acquire a curious attitude, reflecting on their role within arts and society. "Guiding students towards their personal practice is essential," De Temmerman states. "Students have to find their own language, form, sound, or image." To accomplish that aim, KASK & Conservatory applies an approach that bridges both autonomy and support, creating a sense of responsibility with its students that leads to a critical, creative, and open society. "Students have a lot to learn: technical knowledge is required to express oneself and to utilise this in an innovative way. However, students should also get to know themselves. It is only then that they can express themselves as makers, designers, artists, inventors."
KASK & Conservatory offers the possibility to obtain a PhD in the arts, a practice relatively new in Flanders. PhDs are offered in collaboration with the University of Ghent and enable artists to conduct a research project within their artistic oeuvre, via a reflective discursive process leading to new artistic work and a publication.
Linking the arts
The belief that academic standards must reflect what is happening in the (art) world is held strongly at KASK & Conservatory This belief is embodied by the academy's ongoing focus on practice-based artistic research and its strong links with the outside world. KASK & Conservatory counts many collaborations within the art scene of Ghent and beyond, fiercely committing to providing students the possibility to engage with people from the field and strengthening initiatives from the cultural sector.
Alongside the academy's strong local anchoring, KASK & Conservatory puts great focus on working from an international aspect, offering countless exchange programmes and international collaborations. Most Masters' degrees are offered in English as well as Dutch, constantly taking a student's global citizenship as a starting point. "Our international students, not counting the European Erasmus programme students, cover about 20 per cent of all students."
Unique is KASK & Conservatory's role as an independent cultural actor, organising exhibitions, festivals, weekly lectures, film screenings, concerts, drama performances, and many other artistic activities. The MIRY Concert hall, a venue in the heart of historic Ghent, shows classical and contemporary music and can host up to 500 people. Enjoying an internationally renowned reputation is KIOSK, a college-run gallery for contemporary arts, and the opening of the new Arts Library will follow in 2017. "Our Arts Library holds a large collection of specialist literature," De Temmerman adds. "Our collections will be merged with those of the Design Museum Gent, the Higher Institute for the Arts HISK, and SMAK, the Municipal Museum of Contemporary Art, resulting in a treasure of literature on arts and design. Through cultural initiatives such as these, KASK & Conservatory embodies what an art school should be: an authentic learning environment."
Subscribe to Our Newsletter
Receive our monthly newsletter by email