Kaagman & Kortekaas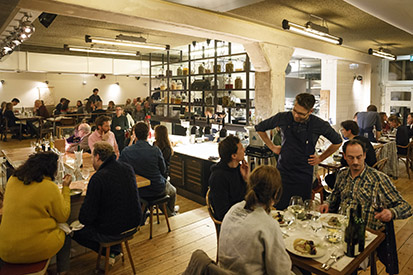 Kaagman & Kortekaas is a hotspot on the Amsterdam food scene. It is well-deserved too, as this bistro-style venue is popular for its tasty food combinations and fabulous wines.
The restaurant is named after its owners Giel Kaagman and Bram Kortekaas, who met in the midst of their culinary careers: Giel as a chef, Bram as a maître d'and sommelier. With an education in classic French dining, Giel prepares traditional dishes with a modern twist, while Bram makes sure only the best wines find their way to the restaurant. Opened in 2015, it quickly became a success with great reviews and is still going strong. The menu is inspired by the contemporary bistros in Paris and based on what is currently in season and available in the local market, often combining new and interesting flavours. "Our guests are often surprised," admits Kortekaas. "For instance, we serve
Dutch lobster with Dutch rabbit, a combination that works really well. We try to make food more accessible, not to shock guests but rather give them a great fine-dining experience they might not have expected, and in a
casual setting." Chef Kaagman explains that the menu changes every week. "We still have the same concept and ideas for our restaurant, but it's important that our menu develops and incorporates seasonal and sustainable produce. Every week, we have six new courses, often combining meat and shellfish and in harmony with our beautiful wines."
The successful duo is still exploring and developing their business bit by bit – for example, adding more wines to its list and offering interesting food and wine pairings. Last winter, Kaagman & Kortekaas expanded its venue and now also offers private dining at the back, with a separate kitchen and bar as well as staff, serving up to 34 people.
Subscribe to Our Newsletter
Receive our monthly newsletter by email