Juniper & Kin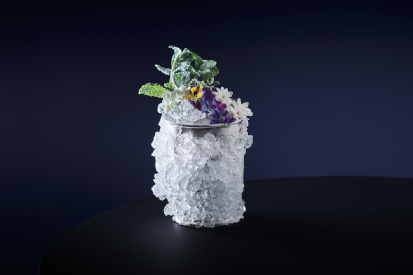 Sustainable cocktails with a view over Amsterdam
TEXT: XANDRA BOERSMA | PHOTO: TODAYSBREW

Kitchen Garden and Bar. It sounds exotic and it is. Especially considering it hosts a garden filled with herbs and edible flowers. Located on the 21st floor, Juniper & Kin boasts an amazing panoramic view of the city as well.
Picture this: you are sipping a delicious cocktail decorated with flowers, enjoying the view of the Amsterdam canals with great company. And you are being environmentally-friendly. How? Because every ingredient in the drink is biologically and mostly locally produced, and the building is built out of recycled concrete with sustainable qualities.
Juniper & Kin is part of a project called QO Amsterdam. A sustainable, luxurious hotel that is one of a kind. At the bar, sustainability can be found in the smallest of things. "Here, we have biodegradable straws for example," general manager Inge van Weert explains. "And we use ingredients from the Netherlands. As many as possible."
Even more locally, most ingredients actually come from the Greenhouse – literally the venue's own greenhouse. Herbs and edible flowers grown here provide beautiful decoration as well as flavour. "The plan is to add an aquarium here in the near future, with fish to provide nutrients for the plants, that in their turn purify the water. After completing their life, the fish will be used for dishes in the restaurant. A true circular aquaponics system!"
Subscribe to Our Newsletter
Receive our monthly newsletter by email