I Famosi: Fine Italian dining amongst divas
Text: Arne Adriaenssens | Photos © Koen Dhollander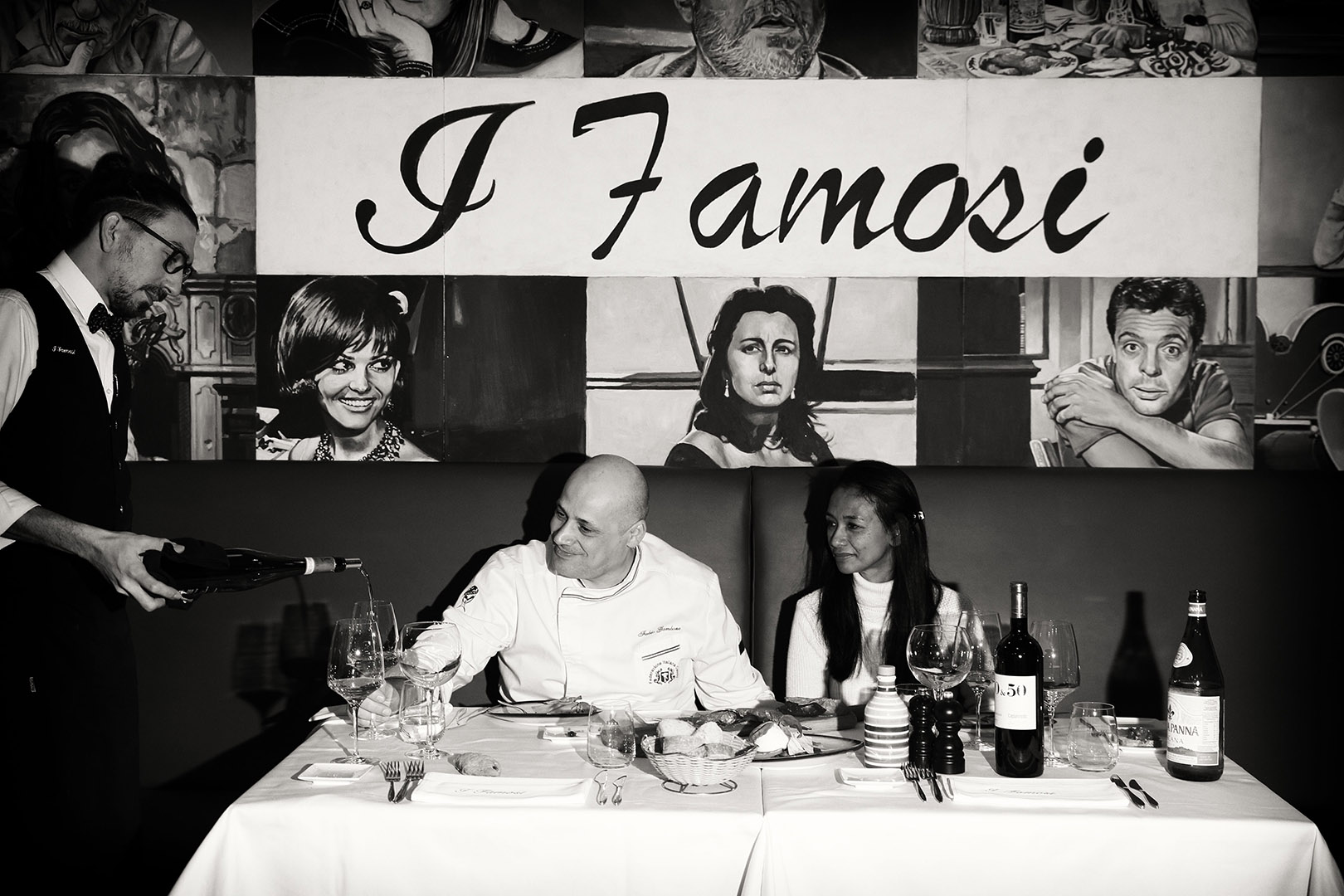 Not only is Italy the birthplace of delicious dishes like linguine alla vongole and ossobuco, but it is also a nation of exquisite cinema. Mediterranean silver screen stars like Sophia Loren, Marcello Mastroianni and Claudia Cardinale are legendary in all corners of the world. At the authentic restaurant I Famosi, these divas accompany you while you enjoy an exquisite southern dinner.
"12 years ago, my husband and I decided to open an authentic trattoria in the heart of Antwerp," says Deby Patinama, who runs I Famosi together with her husband Fabio Gambone. "Since both of us adore Italian cinema, we adorned our walls with their glamorous headshots. Alongside legendary actors like Rossellini, Benigni and De Sica, directors like Bertolucci and Italian-Americans stars such Al Pacino got a spot as well." Besides the portraits, the Italian-made wood panelling completes the authentic Mediterranean experience. It is, therefore, no surprise that many an Italian expat finds his way to I Famosi whenever he craves the flavours of his mother country. "We never compromise the roots of the food we serve. You won't find a tiramisu with a Belgian edge or a vitello tonato à la Française here. All dishes on our menu are 100 per cent Italian. That doesn't mean that we don't innovate and modernise, though. In our suggestions list, you might stumble upon a few classics with a contemporary touch, as well." Every so often, I Famosi even organises theme nights, focusing on one Italian region. In July, Calabrian food and wines are the centre of attention for a night.
To achieve that authentic southern taste, I Famosi imports the finest ingredients from small suppliers in Italy only. This way, they also lay their hands on the finest wines in the country. "Our sommelier knows the Italian wine culture like the back of his hand. Upon simple request, he takes you on a tour through our glass wine cellar, which you can gaze at from your table. Besides our many exquisite, yet affordable, wines, it guards a few exclusive bottles to celebrate a special occasion with." Since just recently, I Famosi also opens for lunch on Wednesday, Thursday and Friday. On summer days, you can enjoy your lunch at their delightful, sunny terrace and imagine yourself in breathtaking Italy.
Subscribe to Our Newsletter
Receive our monthly newsletter by email