Huis voor de Kunst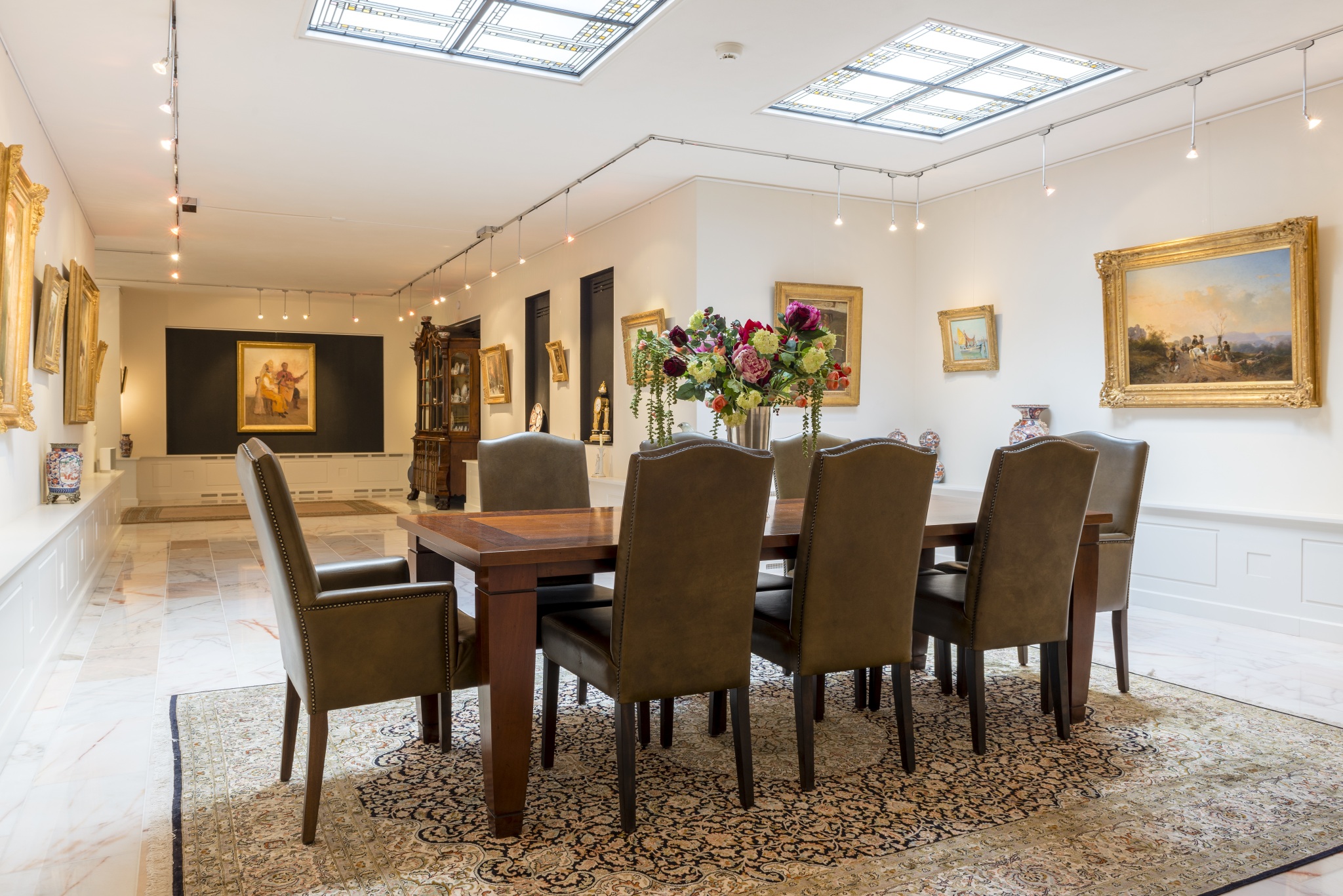 Where art comes home
TEXT: CHARLOTTE VAN HEK | PHOTO © HUIS VOOR DE KUNST
The Huis voor de Kunst looks like a normal, rather beautiful house – until you enter. Inside, a magnificent collection of fine art is being displayed in an extraordinary way. "But, the Huis voor de Kunst is not a museum," explains director Jan Starke.
"The Huis voor de Kunst is a place that displays art and culture in a setting where they are meant to be shown," begins Starke. "Art is not meant to collect dust in an attic, or be displayed in a big, empty room, under the watchful eye of security. Art belongs in a home. Art is meant to be shared."
A house full of masters
The Huis voor de Kunst opened its doors three years ago in a 1930s-style villa in Veendam. The house hosts a wide variety of art from different time periods, starting from the 17th century right up to contemporary art. The walls and rooms are adorned with work from a long list of artists including: Jan Davidsz. de Heem, Jan Brueghel II and Frans Francken II, Peter Paul Rubens, Alexander Keirincx, Jan Boeckhorst, Joost Cornelisz Droochsloot, Nicolaes Berchem, François Boucher, Jacques Majorelle, Louis Apol, George Hendrik Breitner, William Dodge Stevens, César Domela Nieuwenhuis, Johan Rudolf Bonnet, Juan Gris, Gerard Pieter Adolfs, W.G. Hofker, Bonnet, and Lucebert. Also prominently present are paintings by De Ploeg, an artist collective from Groningen where Starke was born and bred.
Sculptures are shown from Salvador Dali, Ossip Zadkine, James Pradier, Pierre-Jules Mêne, Auguste Clésinger, and Raffaelle Monti among others. Contemporary art has an important place as well: the Huis voor de Kunst has a collaboration with the Klassieke Academy in Groningen, regularly showing work from its students and alumni.
Art connects
All works in the Huis come from Starke's personal collection, which he started to compile when was only 20 years old. "I actually was a collector, without knowing that I was a collector," Starke laughs. Before the Huis voor de Kunst was built, works were displayed in Starke's own home where he discovered that art is an eminent means to connect people. "Art truly bonds people. Whenever I had visitors from all different countries, I noticed that sometimes it can be hard to connect them. However, when I took my visitors on a tour through the house, alongside my art, people suddenly started to engage with one another."
Stepping into the Huis voor de Kunst does not feel much different to entering someone's house, with a warm, welcoming, and cosy atmosphere shining through. "Often in a normal museum setting, every form of intimacy is lacking, never really resulting in a bond between the artwork and its viewer. The Huis voor de Kunst really brings art closer to the people." Starke's collection is too big to be shown in the Huis voor de Kunst, resulting in a permanent collection that is always changing. All works in the house are for sale, and new works are frequently bought. In other words: no two visits to the Huis voor de Kunst are the same.
House of culture and sharing

Alongside being a home for art, the Huis voor de Kunst enjoys a reputation as a cultural haven, with concerts, cabaret, and theatre shows held frequently. "The Huis voor de Kunst is always bustling with life: we recently became a wedding location, and we count several collaborations with other cultural institutions," Starke affirms. Furthermore, the house serves as the perfect setting for corporate meetings and business outings, always delivering an inspirational environment.
Starke founded the Huis voor de Kunst by himself, but presently works with a team of professionals from the art world. "I never studied art, so was always following my gut when deciding if I would give an artwork a home. However, times are changing, and anticipating on the market is essential," he says. "Having such a great team ensures the House voor de Kunst stands for quality, professionalism, and transparency." For his important role in local society and putting Veendam on the map as cultural hub, Starke was awarded the title 'Veendammer of the Year' in 2015: "A great honour," he enthuses.
It is no coincidence that the Huis voor de Kunst's slogan reads 'Experience Art and Culture', as that is truly what a visit will offer you. "Art can be much closer than you think. Perhaps we are taught that art is something a bit elitist, something that you can only enjoy from a distance, or when you have great knowledge about it. The Huis voor de Kunst bridges that distance. Art is meant to be experienced and shared."
Subscribe to Our Newsletter
Receive our monthly newsletter by email