Hotel2Stay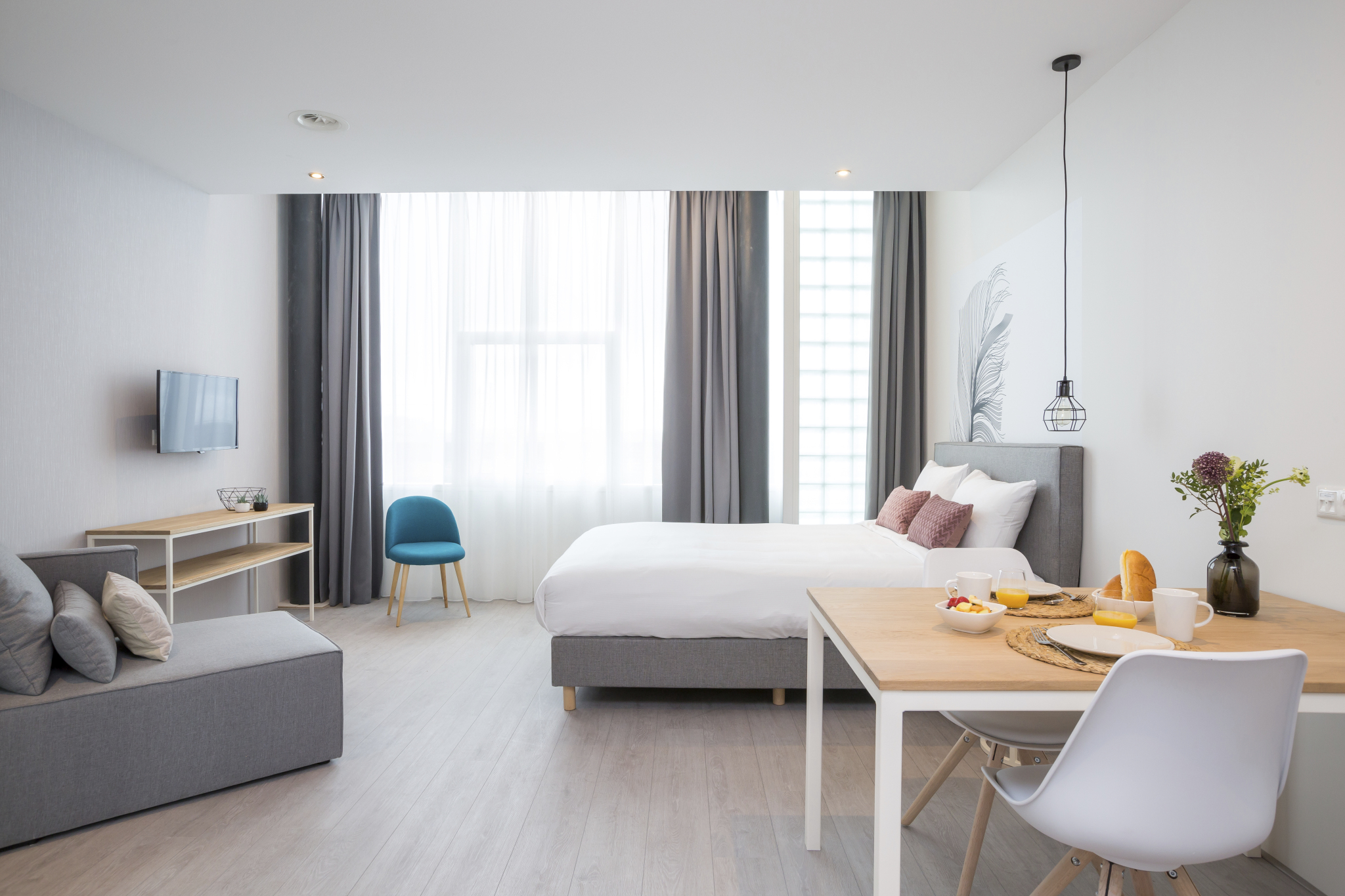 The perfect place for short
stays in Amsterdam

TEXT:MICHIEL STOL | PHOTO © HOTEL2STAY
Staying in Amsterdam a while and finding good accommodation can sometimes be a challenge. At Hotel2Stay, just outside the city centre, you have all the luxuries of a hotel, and you can stay for a longer period of time.
Hotel2Stay is brand new. "We opened our doors this September," says manager Lisette Landman. "You can still feel the newness of it." It started out as a housing project for students and starters on the housing market. "During the development of the project, the owner of Holland2Stay,Zjef Bogers, and the developers of City Pads – saw an opportunity for a hotel and made it happen."
Now it is a modern, new hotel with 157 rooms. "Each room is a studio. They are all decorated in a modern style, with lots of light. For instance, the Terrarium Deluxe suites have floor-to-ceiling windows," tells Landman. There are six types of room, varying from 20 square metres to 40 square metres and configurations for up to four people. "Each room has a kitchen, so our guests can cook their own mealsif they want. The Sequoia Suite and Terrarium Deluxe are almost like a flat, with a living room, bathroom, bedroom and a full kitchen. The lighting is beautiful due to the big windows."
Facilities
The facilities at Hotel2Stay are what you would expect from a quality hotel. "We have a 24-hour front desk with fantastic, customer-friendly staff, working to make your stay as great as possible," explains Landman. "We also have a gym, an infrared sauna and we have a meeting room where you can work, study, or hold a business meeting. Of course, there is complimentary Wi-Fi throughout the hotel and in the lobby we have two computers for our guests to use."
Unlike most other hotels, Hotel2Stay has a laundrette for its guests. "A laundry service can be expensive in hotels. That is why we like to give our guests the option of doing their own laundry. Especially for the guests who are staying longer."
The hotel does not have its own restaurant. "There are a lot of good restaurants in the area and we like our guests to experience all the new places Amsterdam has to offer. However, we do offer a buffet breakfast, which is prepared daily with fresh ingredients at the 'Aristo' location next-door. They provide an amazing buffet and the chef can prepare you fresh eggs." If you do not feel like leaving the hotel, all rooms have a kitchen for preparing your own nice breakfast.
Short stay
A unique feature of Hotel2Stay is that it offers guests the possibility to stay from one night up to six months. "A lot of international corporations have situated their headquarters in Amsterdam. Since the housing market in Amsterdam is really tough, there are not a lot of places where their employees can find a nice place to stay for a reasonable price." That is why Hotel2Stay offers this service.
"The short stay is not just for employees of big companies. We also see a lot of people who are moving and need a place to bridge the period of time between leaving and moving in to the new house or want a 'home base' on their travels." In some cases, when people are in need for a temporary living space due to personal issues, they use this option also. "This service is for everyone who wants to stay longer at our hotel. We have 54 rooms to accommodate these guests."
Amsterdam Sloterdijk
Hotel2Stay is located just outside the city centre of Amsterdam, in the Sloterdijk neighbourhood. "This is an up-and-coming area," says Landman. "There are a lot of big companies here. But the municipality is converting this neighbourhood. There are a lot of new housing projects, and you see restaurants and bars coming here."
Even though the hotel is not in the middle of Amsterdam, it is easy to get there. Hotel2Stay is next to the train station. From there it is only a few minutes to Amsterdam Central Station or Schiphol Airport. The subway is also within walking distance, which in minutes brings you to the Amsterdam RAI or the World Trade Centre.
"Or you can experience Amsterdam like a real local and rent a bike with us. You will see a lot of Amsterdam and it will only take you 15 minutes to get to the city centre." Hotel2Stay is a young and new hotel and the perfect place to enjoy Amsterdam. Landman: "Our studios are that warm place you can come home to after a long day sightseeing or working. Our staff make it their job to make you feel at home, whether you stay for a day or for six months."
Subscribe to Our Newsletter
Receive our monthly newsletter by email