Hotel2Stay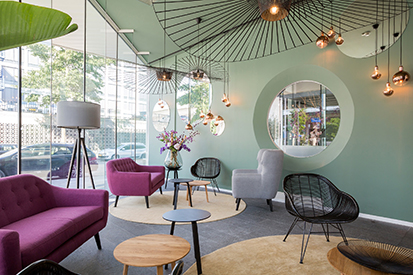 Many international corporations have their headquarters in Amsterdam. Since the housing market is so tough however, employees may struggle to find a place to stay during their deployment. Hotel2Stay offers them a home away from home.
Hotel2Stay is not just a typical hotel. Of the 157 studios, 54 are for guests who stay for a longer period, up to six months. "The hotel rooms are not just for corporate housing," explains Lara van Poortvliet, sales and marketing manager at Hotel2Stay. "They are also great for people who are moving house and need a place to bridge the period in between the move, or those who want a 'home base' for their travels."
There are six types of studios, varying from 20 to 40 square meters "Each studio has a kitchen, so guests are able to cook," Van Poortvliet continues. "All studios are designed for extended stays." The prices for the studios are fixed if you are staying for more than four weeks, starting for the King studio at 86,06 euros per night, including VAT, excluding city tax.
"The hotel is conveniently located in Amsterdam Westpoort, which is just outside of the city centre," Van Poortvliet elaborates. "We are located next to the train station Amsterdam Sloterdijk. From there, you are within five minutes of Amsterdam Central station; it takes about ten minutes to get to Schiphol Airport. And, within 20 minutes, you are at Amsterdam Zuid or Museum Square." Westpoort itself is booming with all kinds of new developments. "A local favourite hotspot is the nearby Westerpark. It's a beautiful green park and offers plenty of diverse brunch hotspots, bars, and restaurants."
Hotel2Stay offers quality facilities for its guests. "There is a state-of-the-art gym, an infrared sauna, a rooftop terrace, meeting room, parking, bicycle renting and a business centre where you can work or study. Our 24-hour reception is always there to help you and we have our own laundrette." If desired, there is a 'breakfast in the room' service. "Almost like getting breakfast in bed," Van Poortvliet smiles.
Subscribe to Our Newsletter
Receive our monthly newsletter by email