Hotel & Spa 5-Terres: A personal labour of love
Text: Martin Pilkington | Photos © Serge Lohner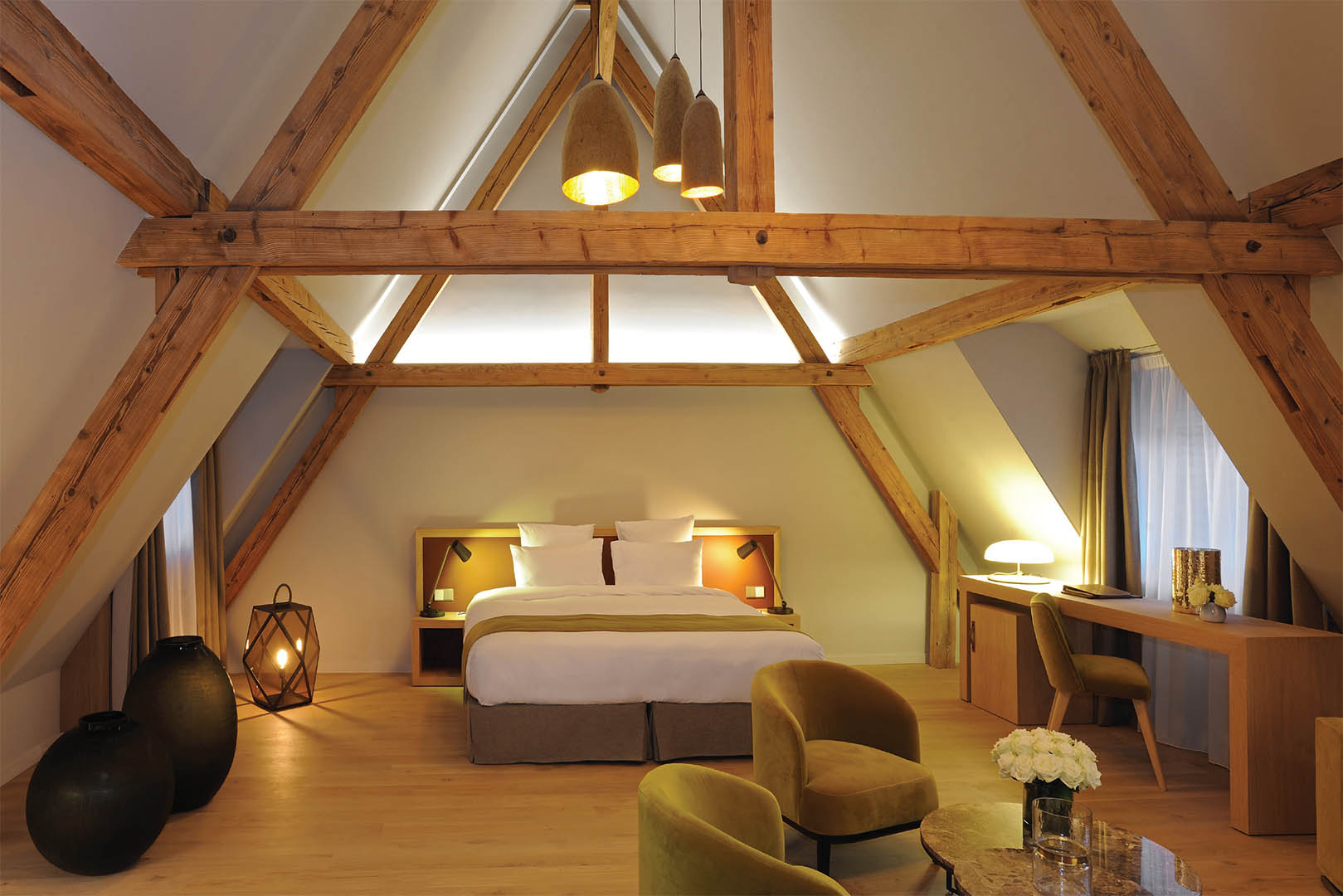 Hotel & Spa 5-Terres is a hotel for lovers of great food and fine wine, of luxury pampering and striking design, deeply rooted in its locale.
Sometimes, travellers in identikit international hotel surroundings can briefly wonder which region, country or even continent they're in. That's unlikely to happen in the extraordinary 5-Terres Hotel & Spa, a four-star MGallery Collection hotel in Barr, the wine capital of Alsace.
It starts with the name, recalling the five soil types in which Alsace's wines gain their individuality, and reflects the pride owner Jean-Daniel Seltz has in his property. "This building dates from the 16th century. We undertook a huge amount of work to restore it, so today our guests can enjoy an atmospheric mix of traditional and contemporary in a superb location on Barr's historic Town Hall Square, surrounded by forests and vineyards, and at the foot of Mont Saint-Odile."
Two builders
Master mason David Kellerknecht constructed the building five centuries ago as a meeting place for Barr's leading citizens, and thanks to its strategic location – within easy striking distance of Strasbourg, Basel, Freiburg and even Luxembourg and Flanders – and conference facilities to cater for select business gatherings, it serves a similar function today – albeit for a wider clientele. M. Seltz has another affinity with his medieval forebears too – his company, Seltz Constructions, rebuilt the place; he selected all the materials; and he designed each room. "We have top-quality materials available locally: for example, all the leather comes from a friend's tannery nearby – he also supplies Hermès."
The design retains the original site's ambiance, with robust oak beams and Vosges sandstone, married with modern touches like a glass cover over the lobby that floods it with light, to produce something cosy and human. "Along with the functionality and the look of the décor, we wanted to build in the sensual," says Seltz, "so the natural scent of wood blends with the luxurious aroma fine leather gives, and even the stone adds to that."
When it comes to the pleasures of the senses, however, it's the restaurant and extremely impressive wine cellar that lead the way: "Our two chefs Axelle and Mathias Stelter have amazing resumés, including time with Alain Ducasse at the Monaco's Louis XV. On the menu, you'll find classics like foie gras, a dish representative of the cuisine here that aims to keep the qualities of the finest produce front and centre, especially truly local foods like slowly braised ham hock. It's generous cooking, both gourmet and gourmand, meant for the taste buds, not the eyes!" says Jean-Daniel.
Fine wines aplenty
Foodies will experience no problems in finding the very best wine pairings for those dishes: "The accent here is very much on wine," Seltz continues. "Major objectives here have been to have one of the finest wine cellars in Alsace, something we believe we've already achieved; and to put the accent on biodynamic, organic and natural wines. Soon, there'll be more than 1,000 different wines available for diners and our wine bar. This will include, of course, a great many from Alsace, but our stock covers the whole of France, with some top Italian wines as well. Barr is surrounded by grand crus from famous places like Mittelbergheim and Kirchberg, but also by smaller, less famous growers we admire. We've focused on vignerons who work closely with their vines and the earth in which they grow. They may not all be great names, but they are great winemakers!"
Relaxing spa
Of course, there's another part of the complex that stimulates the senses: its extensive spa, marketed under the clearly merited marque SPA A. Located in the cellars of the hotel, it features a swimming pool and three treatment cabins, and employs four trained practitioners who pamper their clientele with the decidedly high-end Gemology range of products in their treatments, formulated using precious and semi-precious stones.
That side of the business and others are soon to expand. Currently, the hotel has 27 bedrooms, including several suites, but within the next 18 months, another 20 or so will be added, along with an outdoor swimming pool, gym and a major extension to the space taken up by the spa.
A further development, is that recently purchased land 150 metres from the hotel is to be a new secure parking lot, a move perhaps symbolic of Jean-Daniel's philosophy of continuing incremental changes: "The 5-Terres is already, I believe, one of Alsace's top four hotels, but we'll keep improving," he says. Proud of the 9.3/10 rating on a well-known booking site, Jean-Daniel wants to push that to 9.5/10. And it's hard to imagine he'll be happy to stop there.
Web: www.5terres-hotel.fr Facebook: 5terreshotelspa.MGallery Instagram: @5terreshotelspa
Subscribe to Our Newsletter
Receive our monthly newsletter by email