Hilton Antwerp Old Town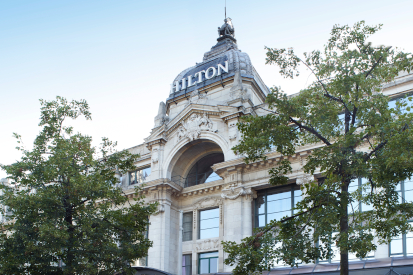 A hotel firmly rooted in the heart of Antwerp
TEXT: NDÉLA FAYE | PHOTOS © HILTON ANTWERP OLD TOWN
Combining old-world charm with stylish sophistication, the Hilton Antwerp Old Town hotel overlooks the city's historic town square, the Groenplaats, and some of Belgium's oldest and finest architecture. Attracting tourists, weekend shoppers, city trippers and business people, the hotel has become a household name among locals and visitors alike.
The Hilton Antwerp Old Town hotel transformed the Grand Bazar, a rather run-down department store opened in the late 19th century, into a luxurious four-star hotel. Alia Beskök, the hotel's cluster commercial director, says: "The hotel is firmly anchored into the city's history, and we are right in the heart of the historical centre, within a three-minute walk from Antwerp's Great Market Square, and overlooking the stunning 500-year-old Cathedral of Our Lady."
This year marks 25 years since the hotel opened its doors, and they are very proud of reaching this milestone. "The iconic building has been close to the hearts of many locals, and it remains a focal point of the community to this day," Beskök states.
The hotel's 210 stylish and spacious rooms offer guests the perfect spot for relaxation. From the Hilton guest rooms to an executive room or suite, the hotel caters to a multitude of visitors. "Our hotel's gem is the Royal Sinjoor suite, a beautiful duplex suite with a magnificent view over the cathedral and Groenplaats," Beskök adds.
During the summer months, the hotel also offers a secluded, private rooftop terrace with breathtaking views over the city. Moreover, the hotel is currently converting 29 rooms into spacious double king rooms, which will be a unique feature on the market and appeal to families and visitors from the United States especially.
A ballroom and meeting rooms, perfect for all occasions
Perhaps the most spectacular feature of the hotel is the Belle Époque ballroom – the largest hotel ballroom in Belgium – seating over 1,200 people. The ballroom boasts a unique domed ceiling, which can be partially opened, as well as a show-stopping chandelier, made of 5,000 crystals.
The venue has hosted a number of events, and can be adapted for any kind of occasion: from product launches to weddings, meetings, trade shows, seated dinners and social events. "From big weddings to hosting a boxing ring, and a car show, our ballroom is multifunctional and offers guests the flexibility to transform the room to suit all their needs," says Beskök.
In addition to the ballroom, the hotel also has 13 recently refurbished meeting rooms, with some of them offering those same stunning views onto the Groenplaats square and the Cathedral of Our Lady. "Whether it's just one speaker or a panel discussion, we can cater to all kinds of meetings. Our meeting rooms come with all the necessary equipment to hold a successful event, and the rooms are light and airy. We have an on-site catering service, as well as specialist team members available to assist our guests and ensure their event goes as smoothly as possible," Beskök explains.
Serving the finest local food
The hotel's restaurant, Brasserie Flo Antwerp, serves diners a selection of dishes made from the freshest and finest ingredients, carefully selected by talented chefs. The seasonal menu offers the very best of local cuisine: from wild game to fresh seafood and seasonal vegetables, the eatery is popular among visitors as well as many locals.
"Our traditional brasserie menu is simple and infused with local influences. Again, our restaurant has established itself as a firm favourite among locals, and it is the go-to place for special occasions, such as Mother's Day, anniversaries and even proposals. We work closely with local producers and suppliers, and value high-quality ingredients and excellent service above all. Careful consideration has gone into the flavours, but also in creating a visual theatre – resulting in a feast for both the palate and the eye," the director says.
With the hotel's warm atmosphere and welcoming staff, many of its guests return year after year. "Due to our central location and easy access to other cities, such as Amsterdam, Paris, London and Brussels, we are the ideal place for guests seeking respite during their visit. From chocolates to beer and diamonds, and world-class shopping, our hotel offers visitors an ideal place from which to explore Antwerp. We take pride in providing excellent customer service, and we want all our guests to have a wonderfully memorable stay," Beskök concludes.
Subscribe to Our Newsletter
Receive our monthly newsletter by email