Habi-Nex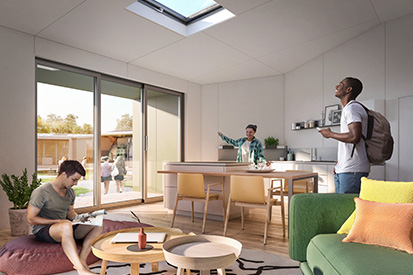 Sustainable, affordable housing for everyone
TEXT: EVA MENGER | PHOTOS © HABI-NEX
As a result of rapid urbanisation, natural disasters and man-made conflict, over a billion people worldwide live in substandard housing. The demand for affordable housing has outweighed its supply for quite some time, but it was during the refugee crisis in 2015 that a group of architects, engineers, international development professionals and urban planners decided that something needed to change, and that is when habi-nex was born.
Ever since, the social enterprise has been working on sustainable, affordable housing solutions in different parts of the world. While their core mission is to use their architectural and design skills to improve housing in disadvantaged communities through innovation, they also strive to design sustainable, compact housing for those who are keen to live on their own terms. Thus, they work across a wide range of market sectors.
"I developed an affinity for art and architecture at a very young age," co-founder David Dwars tells us. "I have worked globally as a registered architect for 17 years, and sustainability has always been an integral part of my design process."
Co-founder Klaas Elsinga has had an equally international and fast-paced career: "I spent 14 years at Permasteelisa Group, which included moves to New York and London to work on big-name projects. When I felt that I had achieved my goals, a desire for a new direction led me to habi-nex."
Habi-nex has changed the concept of housing in various ways. "Through our housing, we show a dedication to sustainable, innovative materials," says Elsinga. "All materials are durable, fire resistant, waterproof and light." Habi-nex housing systems are also flexible, which means that they can easily be adapted to different shapes, sizes and heights, depending on local or individual needs. "We also highly value human-centred design," Elsinga continues. "We engage with our target communities to facilitate a participatory, interactive design process to ensure the result meets the needs of the users."
This winter, for example, they are exploring two pilot projects in South Africa. Elsinga: "With potential support from the Dutch government, we will be building two habi-nex units, one in an informal settlement, and one in a township. Designed to introduce alternative housing solutions, they will both be for communal use." The ultimate goal? Becoming the 'Tesla' of housing: by building a disruptive, data-driven platform where aid agencies, developers and individuals can custom-design their own ideal housing solution online, habi-nex will revolutionise the housing market.
Subscribe to Our Newsletter
Receive our monthly newsletter by email