Greenwich Taverne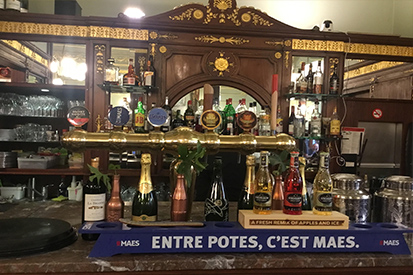 A legendary Brussels institution
TEXT: LIDIJA LIEGIS | PHOTO © GREENWICH TAVERNE
Greenwich Taverne, a Brussels landmark, opened its doors over 100 years ago. It is loved by the city's residents, as well as being embedded in the memories of tourists the world over. The brasserie sits on the ground floor of a building dating back to 1913, and it is one of the last remaining taverns from the Belle Époque era in Brussels. Walking past, it is hard to miss, with its impressive storefront painted and installed by the architect A. Delune in 1916.
The majestic listed café has an immense and legendary main room decorated in real gold leaf. It owes its reputation in part to the fact it was a temple of chess back in the day. Members of Brussels' surrealist circles, including Renée Magritte and Paul Nougé, often played there. Keep an eye out, particularly, for the old knight in armour and cash register dating back to the beginning of the 20th century, and have a look around and get lost in the many mirrors which adorn its walls, adjacent to the marble tables.
What the Greenwich offers is simple: tasty dishes at modest prices. These include classic Belgian fare such as moules frites, tomatoes with grey shrimp, cheese croquettes and Flemish stew. Dessert highlights include speculoos mousse, dame blanche ice cream, and a wide choice of waffles and crêpes. Greenwich also has a vast selection of delicious beers to accompany dishes, or to be savoured at any time of day. Guests can even play a game of chess if it takes their fancy, as customers used to do in the past.
Customers particularly value the café's excellent service and the convivial atmosphere with its multilingual staff speaking French, Flemish, Dutch, German, English and Mandarin. Whatever they come for at the Greenwich, guests are unlikely to find it elsewhere in quite the same way. Greenwich manages to offer a truly unique experience in a city filled with brasseries.
Greenwich Taverne is located at 7 Rue des Chartreux, Brussels. It is open daily from noon until midnight. As well as the main room, there is also a room available for groups of up to 60 people.
Subscribe to Our Newsletter
Receive our monthly newsletter by email