Grand Hotel Karel V: Historic hospitality in a tranquil, urban oasis
Text: Arne Adriaenssens | Photos: Karel V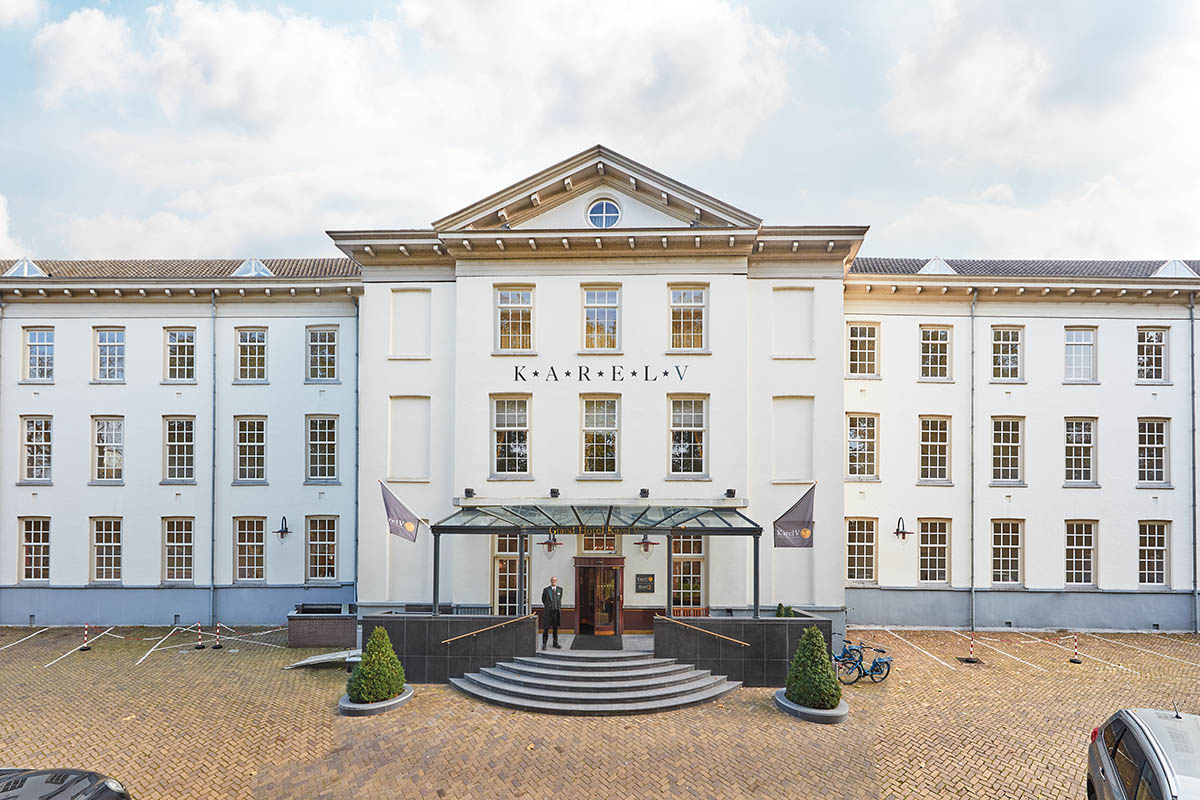 In the heart of the vibrant city of Utrecht, adjoining the Netherlands' biggest station on the one side and the charming historic centre on the other, you enter the tranquil oasis that is Grand Hotel Karel V. The majestic, century-old mansion lies in a walled garden, a world away from the city noise. Besides a five-star hotel, it also houses an atmospheric bistro and a world-class fine- dining restaurant. "Karel V has everything you need for an unforgettable week-end on its 10,000 square metres of greenery."
In a former life, it was a monastery and military hospital, today it is one of the Netherlands' lushest hospitality sites. In its 20 years of existence, Grand Hotel Karel V has become the place to go for great food, a comfortable night, top-notch service and plenty of unforgettable memories. "At Karel V, you don't just come for a meal or a night away," says Josseline de Boer, communication manager at Karel V. "You come for an unforgettable experience. The spirit of the building's rich history still lingers through the corridors. Here, you feel just as special and important as Karel V, (Charles V), the legendary Habsburgian who stayed in the building with his sister Mary of Hungary and after whom the hotel is named."
Sleeping in Utrecht's green lung
The lion's share of the building houses the exquisite five-star Grand Hotel Karel V, the only five-star hotel in the city and its surroundings. "The hotel offers so much more than most five-star hotels. The whole of the majestic building contains details that refer to the past. Spread over many display cases, you can look at the intriguing objects that were discovered while restoring the building." Yet, most impressive is the interior, which stays true to the historic nature of the building.
That doesn't mean that guests must sacrifice on 21st-century indulgence and facilities. On the premises, you can relax in the well-equipped spa with a sauna, steam bath, solarium and jet stream pool. On top of that, you are welcome in Puur, the hotel's in-house beauty salon. If you prefer a more active moment of me-time, you can go to Karel V's gym. "Or you can rent a bike and explore the city and its surroundings 'Dutch-style'. Located centrally in the city, Grand Hotel Karel V is the perfect place to commence your journey from." If you roam the city on foot, you can start in the hotel's big garden. As a green lung of Utrecht, it is a great place to clear your mind after a busy day of working or city tripping.
Weddings and business meetings
Enchanting as it looks, Grand Hotel Karel V is also the backdrop of many an event; from picture-perfect wedding ceremonies to business meetings and receptions. "Our in-house team of event managers translate your dreams into reality. We have 13 venues here, all a different size and with a different atmosphere. They help you choose the right one and advise you on other choices, like whether there should be lunch, dinner or just drinks. They help you come up with the perfect party recipe for an unforgettable day."
Local ingredients, exotic twists
Yet, you don't need a special occasion to enjoy a great meal at Karel V. At Bistro Karel 5 you are welcome for casual dining, seven days a week. "We mainly serve French and Italian classics, but always with a twist," explains Mat Zwetsloot, chef de cuisine of the popular bistro. "You shouldn't be surprised if you find Asian influences in one of those century-old classics." His hunger for exotic flavours does not let him forget about his roots, though. The menu contains local ingredients galore, making its meals sustainable and delicious. "Besides our menu – which changes every three months, we focus on temporary specials. This way, we can use the delicacies when they are in season, without having to worry about whether we can get them for three full months."
Those with a healthy appetite can order the five-course menu or the chef's menu, both changing monthly. Here, Zwetsloot shows you what he and his team are worth with a perfectly-balanced lunch or dinner experience. "These menus keep the atmosphere in the kitchen lively. If you prepare the same dishes all year long, you eventually work on autopilot. As we change menus so often, we always stay focused and remain excited about what we serve."
More than just neighbours
Alongside the bistro, the Karel V site has an elegant dining restaurant, called Restaurant Karel 5. Both restaurants have beautiful terraces with garden views; the bistro amidst the orchard's pear trees and the restaurant in the central courtyard. "Although the bistro and the restaurants offer very different dining experiences, we are more than just neighbours. Often, the bistro gets people excited about what is awaiting them in the restaurant." Some products even adorn the menus of both businesses. "If I make a sauce for the restaurant, I ask Mat if he wants me to make some more for the bistro," explains Vito Reekers, chef de cuisine of fine-dining restaurant Karel 5. "And if we have lobster on the menu, the bistro uses the heads to make a delicious bisque."
'Every menu tells a story'
"In the restaurant, it is all about creating ever-lasting memories," Reekers continues. Seven years ago, he took over the kitchen of the prestigious restaurant and blew a contemporary wind through it. "I don't have a classic taste. I like the French techniques as the basis of a dish, but only to combine them with international or contemporary elements. We, for example, made a dessert with the Redlove Apple, an apple variety from the region. We used it entirely, from the peel to the core, and made apple butter, juice and compote from it. We even used honey from the tree's blossom. That's the kind of food you can expect here. Creative dishes with a philosophy behind them."
That also counts for the restaurant's menu, a four- to eight-course meal with which Reekers and his team take you on a journey. "I like soft and fresh dishes that are easily digestible. If you opt for the full menu, I will first serve you a light, salty dish; perhaps something with shellfish or something vegetarian. Then, plate by plate, the food will become more potent, with the main course as its climax. For dessert, I would serve something fresh. If you opt for the four-course menu, however, I might prepare a sweet dessert. Every menu tells another story."
Historic hospitality
Upfront and in the wine cellar, sommelier and maître d'hôtel Johan Kragtwijk is in charge. "We have a great assortment of top-class European wines," says Kragtwijk. "Yet, it is not because the wines aren't exotic, that our pairings can't be. Recently, we served a light dish with turbot and celeriac with a soft pinot noir. While this is against all the rules in the book, it was a big success. Also, a fair share of Dutch wines adorns our menu. Lately, they gain more popularity." Kragtwijk's craftsmanship gains Restaurant Karel 5 high ratings in Dutch and international wine rankings, sometimes even maximum scores.
That all of this is nested in a former hospital seems fitting. In the end, the words 'hospital' and 'hospitality' share the same roots. "They both take care of you when you are away from home," concludes De Boer. "We offer our guests an historic hospitality experience; not just with our impressive setting, but also by keeping the warm spirit of conviviality alive."
Web: www.karelv.nl , www.karel5.nl
Subscribe to Our Newsletter
Receive our monthly newsletter by email