FIKO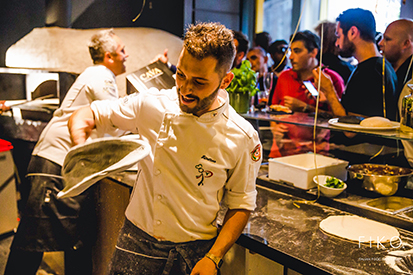 Located in the trendy Oud-West neighbourhood of Amsterdam, FIKO is a super stylish Italian eatery where guests can enjoy an experience that is 100 per cent Italian. This neighbourhood is brimming with cool cafes and bars, and FIKO has a modern twist to all of its recipes, served to the highest of standards with the freshest ingredients.
"Architects from Puglia have injected a hint of Milanese cool in the elegant black and gold décor: a reflection of a fresh and modern Italy," explains Adriano Favia, brand designer and CEO of Mama Food. "In fact, FIKO is a play on the Italian word 'fico', meaning cool, but the food is the real deal," says Favia. "We put a modern spin on traditional Italian food without losing its authenticity."
Guests might even meet a Dutch or international celebrity whilst dining. Top Dutch DJ Martin Garrix is a regular who has cemented his loyalty by signing one of the walls inside.
"Lewis Hamilton came in twice this week," says Adriano. "We've been open just a year, but word has really got around. All our staff and chefs are Italian and our food is imported on a weekly basis, fresh from Italy and mostly from Puglia, where I'm from. I strongly recommend our burrata, our pasta with truffles, and our meat and fish choices are really special. Our menu offers a wide range of choices to please everyone. We pride ourselves on great attention to detail from the moment you step into the restaurant. Our clients are our special guests. Oh, and we have the best pizzaiolo in town too!"
There is an authentic woodfired pizza oven and the variety of pizza is mouth-watering. Gluten-free and vegan options are also on offer. Perhaps the cherry on the cake, however, is the pizza made with edible gold on top!
Evenings at FIKO are buzzing, and cool interior lighting adds to the atmosphere. In the daytime, why not enjoy a pizza with a glass of wine at the long wooden bench with street views? Or watch the pizzaiolo spin the dough in the open-plan kitchen.
FIKO can seat about 70 people across 160 square metres, but it is best to book ahead as it gets very busy, even during the week.
Future plans include two new FIKO restaurants in Amsterdam and further expansion into Europe. Watch this space!
Subscribe to Our Newsletter
Receive our monthly newsletter by email