Ermitage Resort: Escape from it all at Ermitage Resort
Text: Anna Villeleger | Photos: Ermitage Resort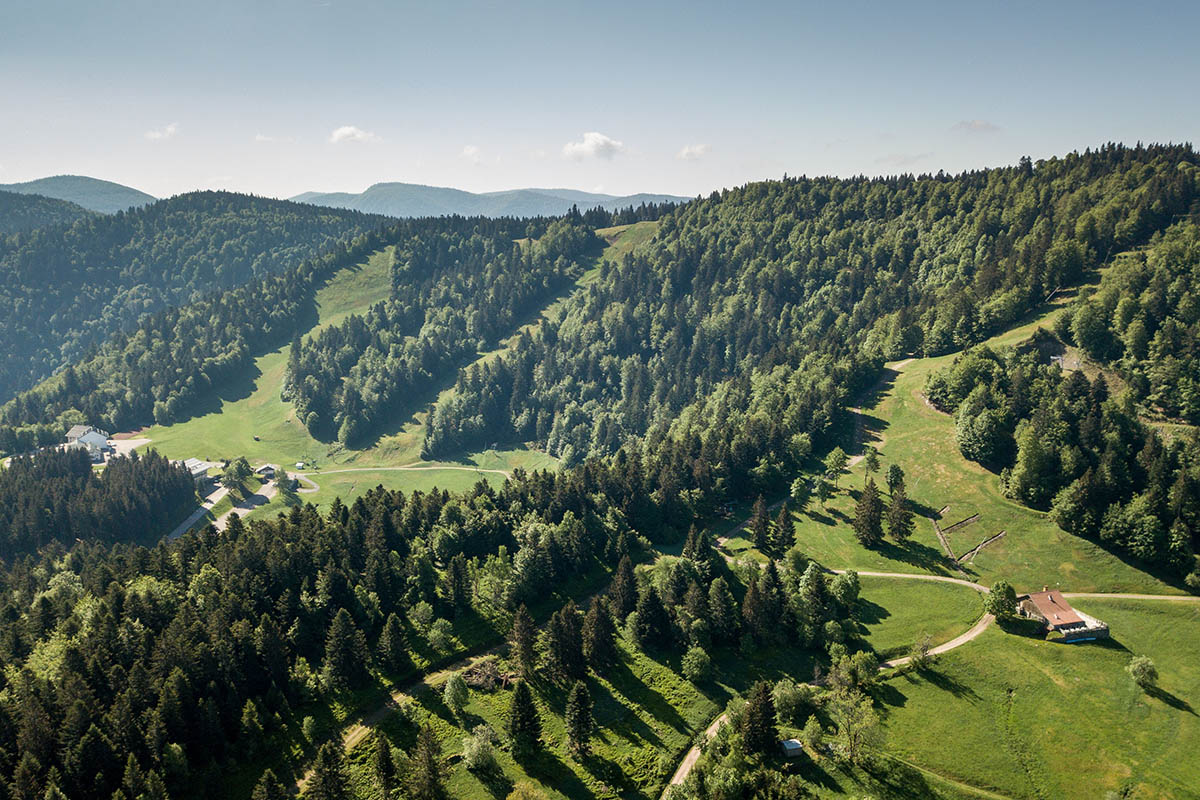 Located in Ventron, at the heart of the Vosges mountains in a preserved natural area, the family-friendly Ermitage Resort is the perfect place to unwind and reconnect with nature, whatever the season.
Comprising two excellent hotels, L'Ermitage and Hotel Les Buttes, not to mention three superb restaurants, Ermitage Resort has all you need to enjoy a relaxing, stress-free stay surrounded by beautiful scenery.
"Many of our guests lead busy, stressful lives where they are surrounded by noise and pollution. Here, it's the complete opposite! They love the calm of the environment," begins Thibaut Leduc, director of Ermitage Resort. "And preserving that is very important to us."
Family history
The resort has been in Thibaut's family for generations and has a fascinating history. In 1922, Thibaut's grandfather Emile Leduc, a famous skier, came to settle at the Ermitage Frère Joseph (The Hermitage of Brother Joseph). Emile and his wife Marie raised their family here, and their 11 children grew up to become stars of national and international skiing, developing and managing the station at Ermitage Resort with equal success. The resort is still in family hands to this day, something which makes Thibaut extremely proud. "This place is so closely tied to our family. My grandfather is buried right behind my office. And my son has just begun working here, so now we're in the fourth generation. We have protected the resort and always kept a long-term vision."
Ermitage Resort is carrying on a tradition of calm and comfort that began in the 18th century, with the establishment of Frère Joseph's hermitage and chapel. The chapel was built in 1757 by residents in honour of the kindness of Frère Joseph, who retired here in the forest.
Outdoor activities
While activities such as alpine skiing, cross-country skiing and snowshoeing are still popular at Ermitage Resort during the winter months – there are slopes with ten pistes, from green to black, that also include beginner's slopes – guests come all year round to enjoy a variety of pursuits. Or, as Thibaut points out, they sometimes prefer to just take it easy. "Often, our guests just enjoy doing nothing," he grins. "It's the perfect place to just sit and contemplate, or listen to the birds, the sounds of nature…"
One of the advantages for families is that there are very few cars at the resort, so children can be left free to explore. "They love our cabin in the forest," points out Thibaut, adding that there are an array of discovery trails for children and adults alike.
Guests can choose between the charming, family hotel, L'Ermitage, and the four-star Hotel Les Buttes. L'Ermitage features 35 spacious rooms, all with their own personal touch and excellent amenities. Guests can enjoy free access to the invigorating spa at the neighbouring Hotel Les Buttes, which boasts a covered pool, sauna and steam room. Hotel Les Buttes offers a range of tranquil rooms and suites, which are ideally suited to couples, groups or business travellers.
Gourmet delights
Dining at Ermitage Resort is a mouthwatering experience, and guests can choose from three wonderful restaurants. At L'Ermitage, diners can enjoy French classics made using seasonal, fresh local produce. This is accompanied by local wines and a magnificent view overlooking Ventron and the Vosges. Meanwhile, at Restaurant Les Buttes there is a 'Maître Restaurateur' at the reigns, with gourmet dishes such as Lorraine beef and foie gras, quail fillets and veal mignon delighting foodies in a refined yet welcoming setting.
Just two kilometres from Les Buttes is Restaurant La Ferme de Riant, which is housed in a former mountain farmhouse and provides a convivial setting for family, social or professional events. The venue is famed for its lunchtime buffets, and is a particularly popular choice for family get-togethers and professional events. "As well as offering exceptional views in a beautiful environment, the chef will take you on a gastronomic journey," enthuses Thibaut.
Ermitage Resort is also renowned for its musical evenings, which have attracted an array of leading musicians over the years, including Charles Aznavour's pianist. "We welcome many amazing artists, and they all feel at home because they've often been doing concerts here for 20 years," reveals Thibaut.
Wonderful all-year round
Surrounding the resort, you can discover landscapes, forests, villages and the rich cultural heritage of the Vosges National Park. "It's beautiful all year round," beams Thibaut. If you enjoy water sports and fishing, you'll adore the many streams, rivers and lakes. And in summer, you can make the most of the resort's electric bikes or mountain bikes, or enjoy a guided hike where you can learn more about the environment. While it would be easy to spend the whole day relaxing in comfort at Ermitage Resort, there are many local highlights waiting to be discovered, such as the Chapel of the Hermitage Frère Joseph and Vosges Textile Museum.
One of Thibaut's top local tips is the nearby Mille Étangs plateau, whose name means 'A Thousand Ponds' in French. "It's a real hidden gem," he smiles. "Not many people know about it and everyone who goes there is amazed by its beauty."
Musical programme 2020 Saturday 4 April Love songs Trio 'Sonans' With Shigeko Hata (Soprano), Odile Abrell, (Harp), Jean-Michel Tavernier (Horn). Saturday 16 May Eternal Beethoven With Olivier Gardon (piano) and Yvan Chiffoleau (cello) as part of the celebrations of the 250th anniversary of the birth of the composer. Saturday 6 June From Bach to Bernstein, music from films and comedy Saxophone quartet Jean-Yves Fourmeau With Jean-Yves Fourmeau (soprano saxophone), Pierric Leman (alto sax), Stéphane Laporte (tenor sax) and Joël Batteau (baritone sax). Saturday 27 June Buenos Aires connection, from tango to tango nuevo Caliente Quartet With Lysandre Donoso, (bandoneon), Michel Berrier (violin), Eric Chalan (double bass) and Cédric Lorel (piano). Saturday 5 September Jazz feeling Thierry Amyot (trumpet, Wilhelm Coppey (piano), Florian Coppey (double bass), Alain Dumont (drums). Saturday 26 September Discovering brass through the ages Magnifica Brass Quintet With Michel Barré and Grégoire Mea (trumpets), Camille Lebrequier (horn) Pascal Gonzales (trombone) and Benoît Fourreau (tuba). Saturday 17 October Emotions With Philippe Depetris (flute) and Pascal Polidori (guitar), 30th anniversary tour. Web: www.ermitage-resort.com www.ermitage-vosges.com www.hotel-les-buttes.com
Subscribe to Our Newsletter
Receive our monthly newsletter by email