Erasmus Pavilion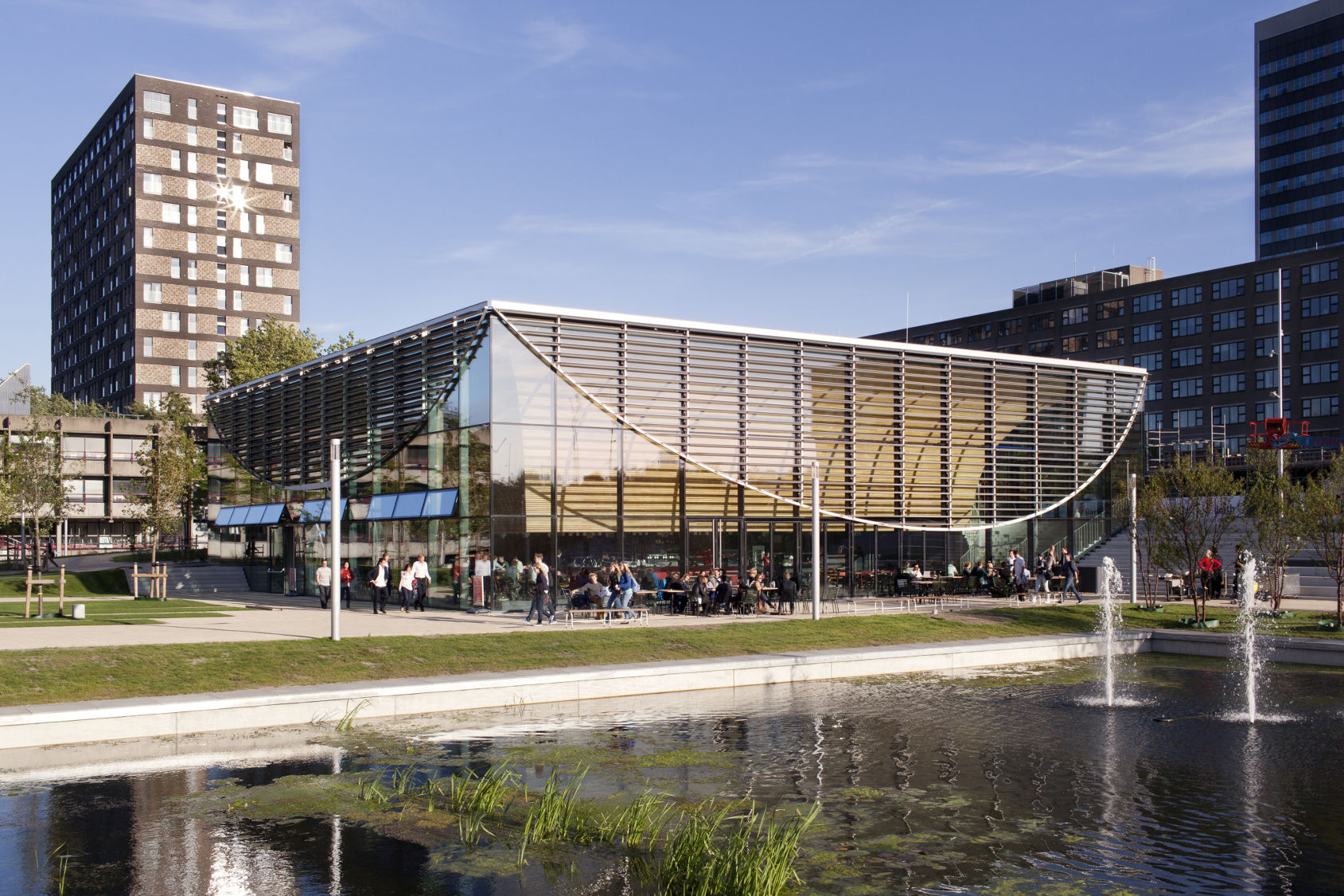 Welcoming the world
TEXT: FRANK VAN LIESHOUT | PHOTO © ERASMUS PAVILION
From coffee and cake to concerts and conferences, Rotterdam University's hi-tech Erasmus Pavilion is buzzing with culture and energy.
An international crowd of students, teachers, professors, business people and Rotterdammers all find their way to the spectacular Erasmus Pavilion. "This place is alive with music, culture, ideas and seriously good food," says marketing manager Amanda Wijgerse. "It's the beating heart of the University campus, where people from all over the world meet up, study, go for a meal, see a concert or take part in a conference."
The modern wood and glass building has received many plaudits for its attractive appearance, open aspect and sustainable design with solar panels, geothermal heating and dry toilets. The building houses a restaurant, study facilities, two meeting rooms and a 200-plus-seat theatre, all under one roof. "Any company or organisation is welcome to book their event at the Pavilion," Wijgerse explains. "With smart partitioning we can cater for anything from a small seminar to a full-on business conference, and with its retractable seating system our theatre can accommodate lectures and conferences, but also parties, concerts and performances."
The catering is also top-notch. "Our Italianinspired restaurant serves Fair Trade coffee and handmade cakes, wholesome sandwiches, homemade pizzas and delicious pastas, burgers and salads – all at under ten euros a meal!" adds Wijgerse.
The Pavilion is situated in the middle of beautiful Kralingen with its leafy streets, city forest and lake, yet is easy to reach by public transport and only a short drive from the arterial A16 motorway, for swift connections to Schiphol Airport, Amsterdam, Utrecht, The Hague and Antwerp.
Subscribe to Our Newsletter
Receive our monthly newsletter by email