Dovox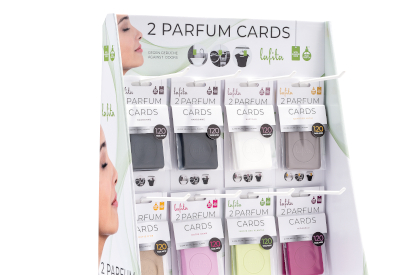 Simple and innovative household products
TEXT: KARIN VENEMA | PHOTOS © DOVOX
When Dovox co-founder, Gijs Donders, came up with the idea of perfume cards, people would laugh at his 'silly cards'. Now, six years later, millions of perfume cards have been produced and can be found in retail outlets all over Europe. Dovox's technology, that inserts perfume into plastic cards, is unique, as are all of the different scents you can choose from.
"I have a knack for recognising trends," says Donders. "Being an entrepreneur at heart, it only felt like the right thing to do to follow up on this simple idea of perfume cards. We offer top quality by specialist production, and we are the only company in the Benelux that uses this technology."
The Dovox perfume cards last for over 60 days and can be used in the car, around the house or anywhere else in which you might want to introduce a pleasant aroma. Far removed from standard smells such as pine or vanilla, the sophisticated selection of perfumes offers more than ten luxurious scents at an affordable price.
"I am a real fan of the Dovox products. I try them all myself and give them to family and friends. When they speak highly to me about them, I know that the product is good," says Donders.
More recently, Dovox has started producing moisture absorbers that can be used around the house, in the car, garage and so on. This, again, is down to a specialist, dry production process that Dovox has come up with on its own.
The Dovox products can be found in many supermarkets, discount shops and other household chain shops. "Last time we went skiing, en route I saw our products beautifully displayed in a large German shop. I was glowing with pride! We are conquering the world with Dovox," Donders concludes.
Subscribe to Our Newsletter
Receive our monthly newsletter by email