Dinner Hopping: A one-of-a-kind culinary journey
Text: Kate Harvey | Photos: Dinner Hopping
Some of the most romantic sights of a city are best enjoyed over a gorgeous meal. That's why the culinary experience Dinner Hopping has combined the two; with a dinner tour of Luxembourg's finest restaurants in its original American school bus. Whether you opt for a lunchtime of sightseeing, or an evening of candlelit dining with live entertainment, you'll leave with fond memories of the Grand Duchy.

Sit back and relax… while dinner is served
The Dinner Hopping craze has arrived in the picturesque city of Luxembourg, and this 'restaurant on wheels' is the perfect way to enjoy the tastes of a city in just a few hours.
The concept is simple. Guests are welcomed with complimentary drinks from the charming Dinner Hopping staff, and as soon as the bus departs, the fun begins. You'll make three extended stops around Luxembourg City while your starter, main and dessert are brought on board by the restaurant's own waiters. You'll see the most beautiful streets of Luxembourg City and its surrounding areas in a truly extraordinary way.
Dishes from all over the world
Dinner Hopping partners with some of the best chefs in the city to serve up something different. Get inspired by an American style menu with barbecue and Cajun spice, exotic Asian cuisine, and even a French gourmet menu curated by popular Luxembourg chef, Jan Schneidewind. The feeling of enjoying your meal at the heart of a picturesque city – course by course, restaurant by restaurant – is something really special.
A lively atmosphere on board
Not only does Dinner Hopping give you a taste of Luxembourg's culinary delights, but you'll be kept company by a live entertainer. Depending on the tour you book, you might have a magician or a singer come along for the ride.
Every first Friday of the month, Dinner Hopping also offers a series of Special Tours. Usually revolving around a certain theme of drink tasting, they will host a bespoke gin tasting session on 5 June 2020.
The bus seats a maximum of 28 people, where you can eat alongside couples and groups of all ages in an ambient atmosphere. Make the trip what you will: romantic, fun, or even a way to make new friends as you try a new dish at every stop.
Have the bus to yourselves
Looking for a fun after-work alternative, or a way to celebrate a birthday or corporate event? The school bus can also be booked privately for groups of at least 15 people. Book your table online, where you'll also find the calendar with the upcoming tour dates.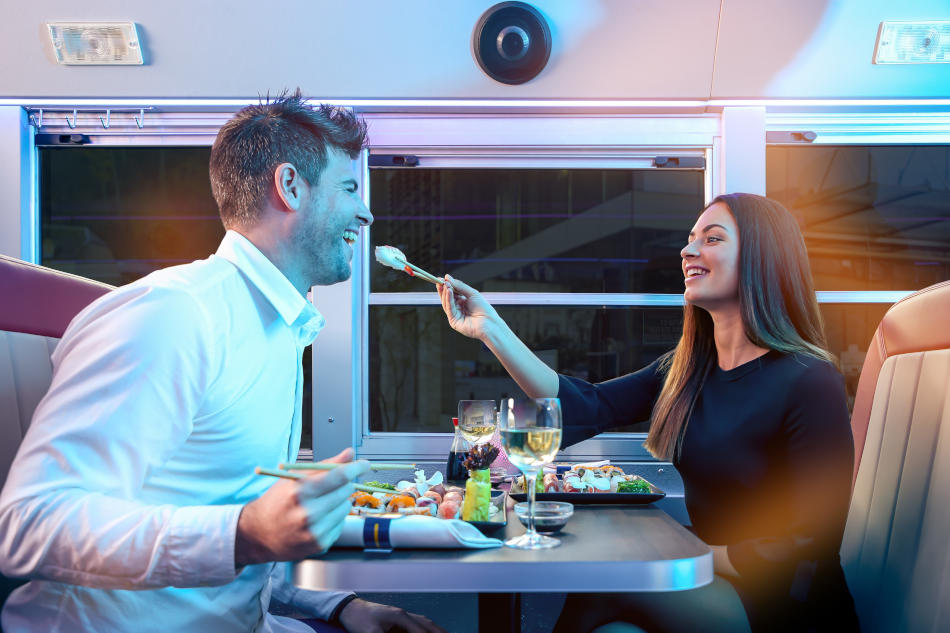 Web: www.dinnerhopping.lu Facebook: dinnerhopping.lu Instagram: @dinnerhopping.lu
Subscribe to Our Newsletter
Receive our monthly newsletter by email