De Rode Vosch & De Zwarte Vosch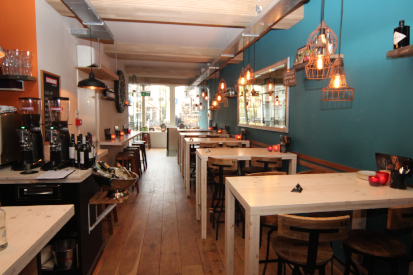 Authentic, honest and above all – delicious
TEXT: BERTHE VAN DEN HURK | PHOTO: DE RODE VOSCH & DE ZWARTE VOSCH

The Dutch city of Utrecht has everything to offer. Especially since entrepreneur Mark van Kessel opened his Australian restaurant De Rode Vosch.
De Rode Vosch
Australian and maybe a little homesick? Or have you been in Australia and in the mood for a little bit of nostalgia? Or never been there and want to know what their cuisine is like? Located in a monumental building at the centre of the city, De Rode Vosch has everything to provide a great evening.
"I noticed that the Australian cuisine was missing in Utrecht," says the owner. "It was not as famous in the Netherlands and that had to change. Australian food is characterised by the wide range of meat and fish prepared on the barbecue. At De Rode Vosch we use the lava grill to give it that typical flavour."
All dishes are the size of an appetiser, therefore, you can taste several dishes during the evening and share them with friends, family or colleagues, preferably combined with an Australian wine, beer or cocktail. The comfortable atmosphere, the professional hospitality, the high quality of food and the typical 'no-worries' style are characteristic for De Rode Vosch.
As an extra touch, De Rode Vosch gives a free welcoming drink and a little snack for those who can prove they are either Australian or have been in Australia by showing their passport stamps.
De Zwarte Vosch
De Zwarte Vosch provides the best food from the Spanish cuisine; tapas, pinchos and there are several typical Spanish wines and beers. It is a bar where, just like in Spain, you can try pinchos, a luxurious two-bite dish from a display case.
As they work with different importers from Spain and have several Spanish chefs, everything is authentic and fresh. There is no better place at which to imagine yourself in Spain than De Zwarte Vosch in Utrecht.
Both venues are also ideal for private dinners, a graduation or promotion drink, a birthday party, a workshop, or meetings for up to 25 people. Some meetings and conferences need more capacity and, therefore, the owner also runs De Witte Vosch and De Zilveren Vosch – professional locations for tailor-made congresses, conferences and meetings.
www.derodevosch.nl
www.dezwartevosch.nl
www.dewittevosch.nl
www.dezilverenvosch.nl
Subscribe to Our Newsletter
Receive our monthly newsletter by email