Da Vinci Restaurant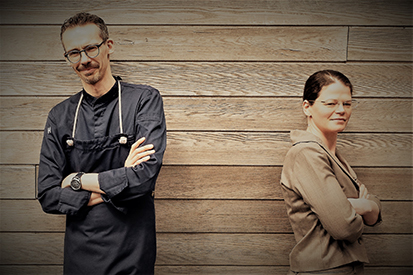 With a homely ambiance and tasty culinary delights, the Michelin-recommended Da Vinci Restaurant is still going strong. For the summer season, make sure to try some of the delicious courses which are made with homegrown vegetables and herbs.
Da Vinci Restaurant is a true gastronomic experience in Sint-Gillis, East Flanders. The culinary team is made up of chef Jurgen Brouillard and his wife Miranda Vereeken, who takes care of the operations. Running in its 11th year now, the fine-dining restaurant has been recommended by the Michelin guide for six years and is a highly recommended venue according to TripAdvisor.
Brouillard explains that they work with two menus, inspired by French and international cuisine. "We only use fresh ingredients according to what is in season and everything is made here, including the sweet treats that go with the coffee," he says. "Vegetables and herbs are important for us and we actually grow some of them in our own garden and greenhouse."
During the week, Da Vinci serves a menu of two to three courses and on weekends, guests can choose a menu of four to five courses. "Our inspiration comes from everything around us; nature, holidays, markets, magazines and so on," explains Brouillard. "Some of our combinations you probably won't see every day. Yet we want people to recognise what they eat." Amongst its tasty delights on offer, is smoked fish with asparagus – and why not try the lamb neck that has been cooked for 24 hours, combined with rhubarb and sheep's cheese? Next on the summer menu is; beef tartare with structures of parmesan and homemade tomato bread, exclusive baby lobster with black summer truffle, Duroc porc, and a dessert in which cherries and beetroot prove to be a perfect food pairing.
Da Vinci has many returning customers and Brouillard elaborates on the secret behind the success. "It's just me and my wife here. It makes for a familiar and homely atmosphere and our guests say that they feel at home away from home. Many come to meet us and talk, not just to eat at the restaurant, and that's why we have been able to grow. They tell us about what is going on in their life, both good and bad, and this relationship with our customers is incredibly important,"
One TripAdvisor comment about Da Vinci sums it all up; "Behind the front door is a very cozy interior in which every tiny little detail is cared for. A look at the menu and you know: this will be good."
Subscribe to Our Newsletter
Receive our monthly newsletter by email