Comfort food with a twist
TEXT JENNIFER DEWAR | PHOTOS : PAULINE LECLÈRE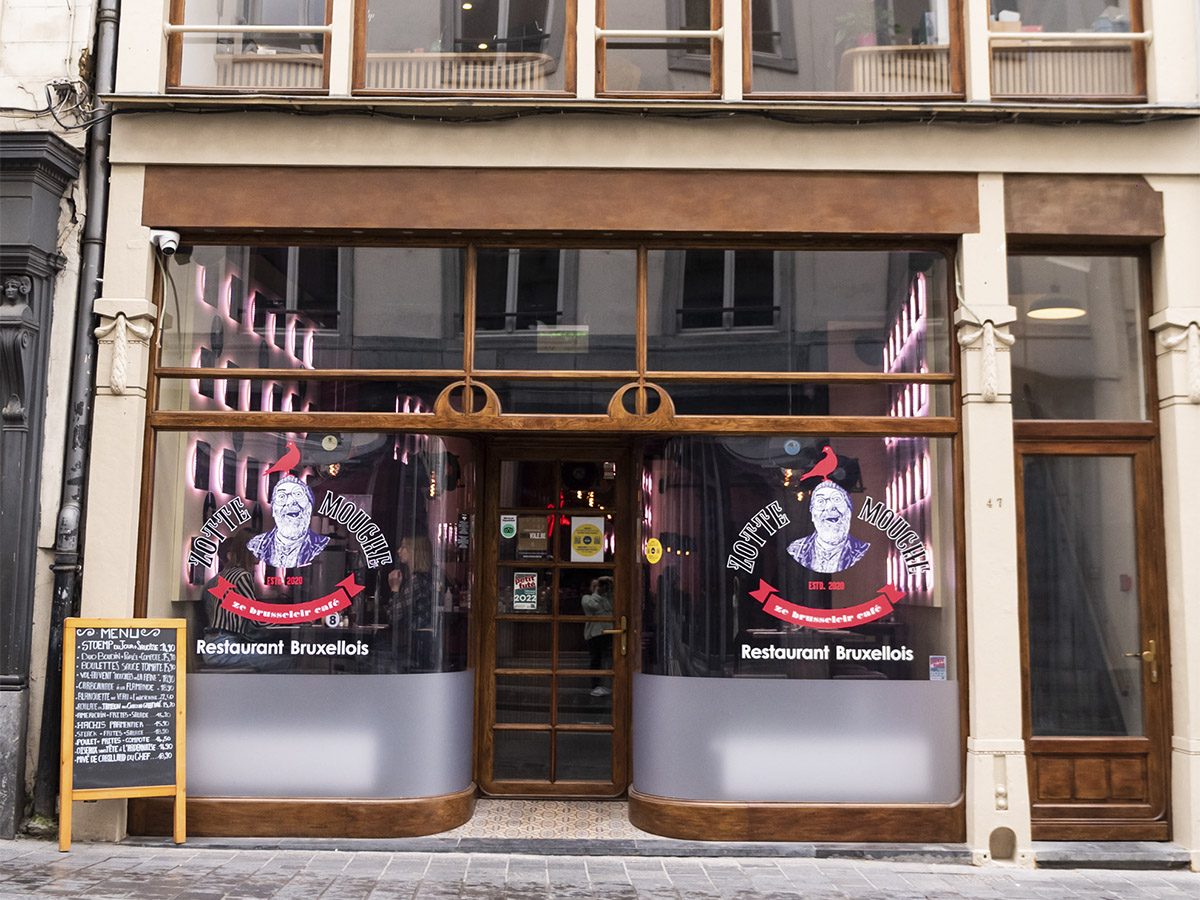 If you're looking for traditional food in a relaxed environment, then there are two restaurants which are an absolute must when you're in Brussels, both situated on Rue de l'Ecuyer in the heart of the city. Zotte Mouche pays homage to Belgian classics, while its sister restaurant, Ricotta & Parmesan, is a love letter to Italian cooking.
As soon as you walk into Zotte Mouche, it's a feast for the eyes. Housed in a beautiful and elegant building, this typical Belgian bistro has a retro vibe with vinyl covers fixed to the walls and light shades. Tunes from 'la chanson Française' often reverberate through the restaurant, along with hits from the '60s to the '90s. Tables and stools are fashioned from old beer barrels, and the walls are covered with interesting things, such as a Belgian version of The Last Supper painting. There's a long bar too, which makes the place great for socialising, while the restaurant's disco nights make for a fun night out with friends, family or colleagues. There are regular DJ sets throughout the week and even a tea dance during the day on Sunday.
The Zotte Mouche is all about Belgian food classics, transporting you back to yesteryear. Feast on 'blanquette de veau', 'boudin', Flemish stew, meatloaf, fondue and meatballs in tomato sauce. All traditionally made with the best local ingredients. The drinks menu is also special, with a wide variety of Belgian beers on offer from local breweries, plus a great cocktail menu.
Sister restaurant
Further along the road, its sister restaurant, Ricotta & Parmesan, has been a staple of the Brussels dining scene since 1999 and is open every day of the week. The décor is warm and inviting and conducive to a relaxed dining experience. Famous for its wood-fired oven pizzas and traditional Italian food (including 15 varieties of pasta), guests are transported to something akin to a simple trattoria in Italy, with a focus on good old-fashioned dining that 'nonna' would be proud of. There's an emphasis on sharing dishes (or 'antipasti') such as charcuterie, and simple, authentic Italian cuisine (such as spaghetti vongole) using fresh high-quality ingredients and served in generous portions. There's also an extensive wine list.
You can also get Ricotta & Parmesan's delicious food delivered straight to your door. The restaurant is signed up with Deliveroo and UberEats, so their dishes can be brought to your home or hotel. Gift cards are also available if you want to give someone a special treat, and if it's your birthday, you can profit from a €25 discount (with a minimum of four people in the group).
Turning a vision into a reality
The man behind these two Brussels classics is restaurateur Renaud Waeterloos. Trained at Michelin-starred restaurants and as a sommelier, he wanted to create something which was more customer-centric. Waeterloos comments: "For Ricotta & Parmesan, my first restaurant, I wanted to break the rules of how a restaurant should look to create a more relaxed, homely environment. We used mismatched chairs, exposed brickwork, family photos on the walls – a feeling of an authentic trattoria."
The opening of Zotte Mouche was something he had been thinking about for over 15 years. His dream was to create an ambience which combined traditional Belgian gastronomy with the Roaring Twenties. "Often people want to have a fun night out, not just eat," Waeterloos explains. "So, I created a restaurant that combines fantastic food with great music and dancing." Again, Waeterloos was influenced by his own family: "I have a great nostalgia for music in the period from the '60s to the '80s and wanted to try and create an old bistro vibe, something like the restaurant my mother worked at."
Both restaurants are very much influenced by Waeterloos's family, and particularly, his grandmother's cooking. Waeterloos: "Our dishes are all about tradition and good flavour. Don't come to our restaurant if you're dieting!"
When asked to reveal the secret of his success, he replies: "The customer, the customer, the customer. If you provide quality products and make people feel welcome, you can't go wrong."
www.zottemouche.be
www.ricottaparmesan.be

Subscribe to Our Newsletter
Receive our monthly newsletter by email