CIRCL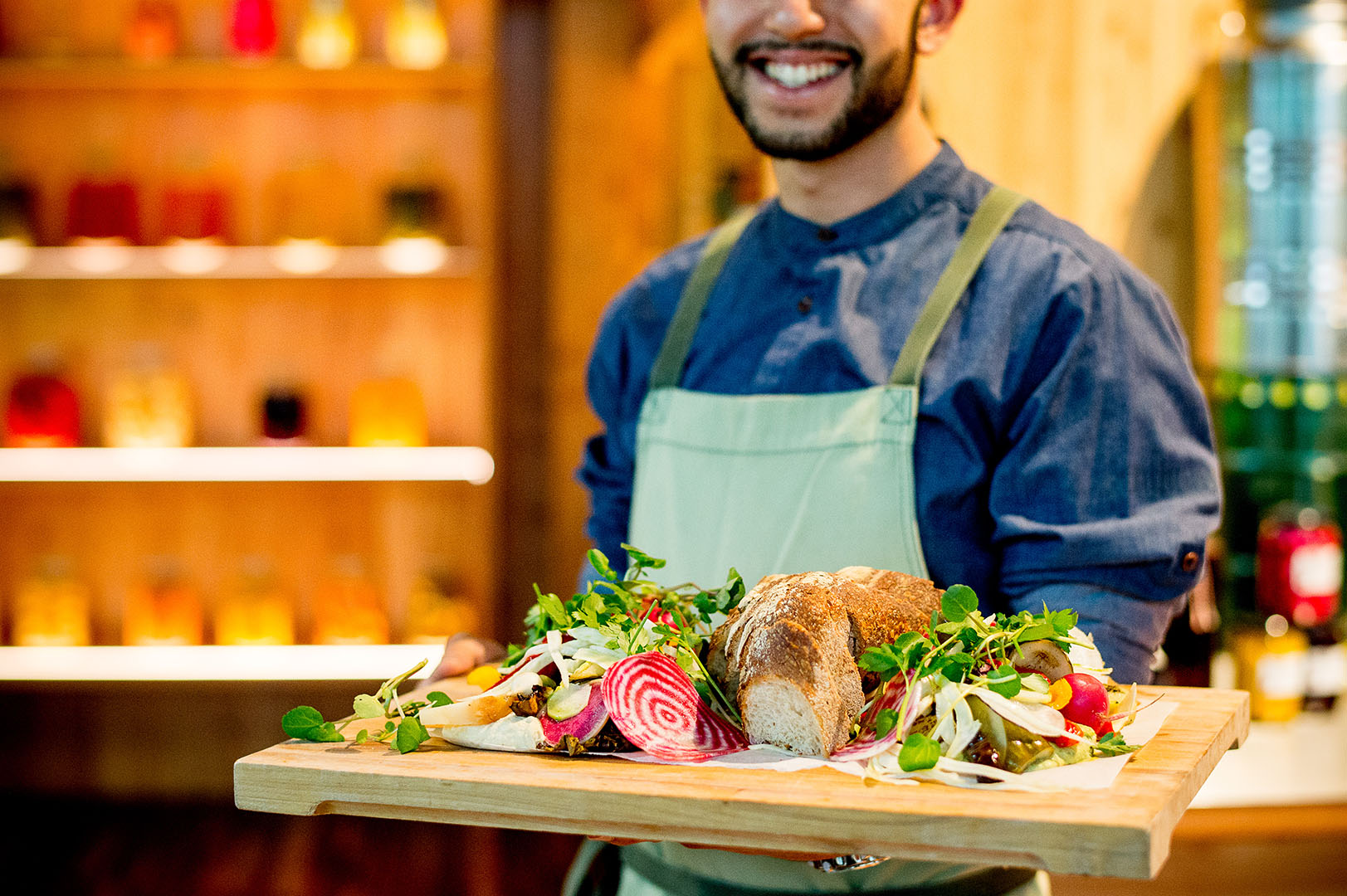 Sustainable lifestyle and circular cuisine in Amsterdam's business hotspot
TEXT: EVA MENGER | PHOTOS © CIRCL
Located in the front garden of the ABN AMRO headquarters, circular platform CIRCL brings people together and encourages others to take steps towards a more sustainable environment.
"Everybody is talking about sustainability, but there's a big difference between saying it and showing that you care," CIRCL director Merijn van den Bergh tells us. "We wanted to make a positive impact on our surroundings, and that's how CIRCL was born." Van den Bergh was involved with the CIRCL project from the very beginning. As director, he is responsible for the way in which people operate and collaborate across the organisation, and it is his main goal to ensure that circularity is at the heart of everything they do.
A learning curve
Key pillars of circularity are collaboration and utilising your environment, both of which are clearly visible within CIRCL. The building is made from materials found in old offices, and natural sources such as groundwater and outside temperatures are utilised fully through smart technologies. "For every problem, we aim to find a natural solution," Van den Bergh explains. "When starting out in September 2017, this was something everybody really had to get used to. No one really knew what circularity was, so there was a huge amount to learn and to discover."
Now, almost two years later, the team has started to understand how the building works and what it has to offer. "It's much more serious now," chef Rudolf Brand adds in agreement. "The first phase was all about testing the waters, exploring what we could and couldn't do. We needed to find out first hand how the concept of circularity was going to impact on a professional kitchen and, in return, how cooking fresh food every day could align with our wider philosophy."
Honest about food
Starting out as a chef with CIRCL, Brand didn't know what circularity was, or how it would affect his cooking. "It took me a while to get used to such a different way of working, but in hindsight, I'm incredibly proud of how much we achieved at those early stages," he tells us. What's most important to him is that his food is sustainable, sold for an honest price and doesn't produce any waste.
Brand: "I firmly believe in transparency. Customers deserve to know where their food is coming from. We work closely with an organisation called Instock, who fight food waste by distributing food surplus from local supermarkets to restaurants in the area. From blemished fruits and vegetables to one-day-old bread: we use whatever they provide us with for delicious soups and salads. Another example is the billy goat, which, in the Netherlands, is usually exported, but has become one of our favourite ingredients to work with. We want to show that these often forgotten foods are worth paying attention to. They are delicious!"
Rudolf Brand and Merijn van den Bergh.
A local hub
Apart from promoting sustainability and circularity, CIRCL is also very much a gathering place for people in the area. Located in the heart of 'De Zuidas', one of the country's most important business districts, it's where professionals can sit back, relax and enjoy a truly delicious meal. Of course, everyone else is welcome too.
Van den Bergh: "As uniting the community is very important to us, we also organise conferences, workshops and exhibitions, for which we work closely with organisations such as The School of Life and Pakhuis De Zwijger (a Dutch independent platform for creation and innovation). With these events, we hope to encourage people to start thinking more and more about how the circular economy can be implemented in our daily lives. But they're fun too, we promise!"
Whether you're looking for a unique meeting room, inspiring events around sustainability or simply a really good meal: CIRCL is where you want to be. Visit their website or get in touch to find out more about their interesting vision.
Subscribe to Our Newsletter
Receive our monthly newsletter by email