Chalets de la Trinité: A year-round delight
Text: Martin Pilkington | Photos: William Dieudonné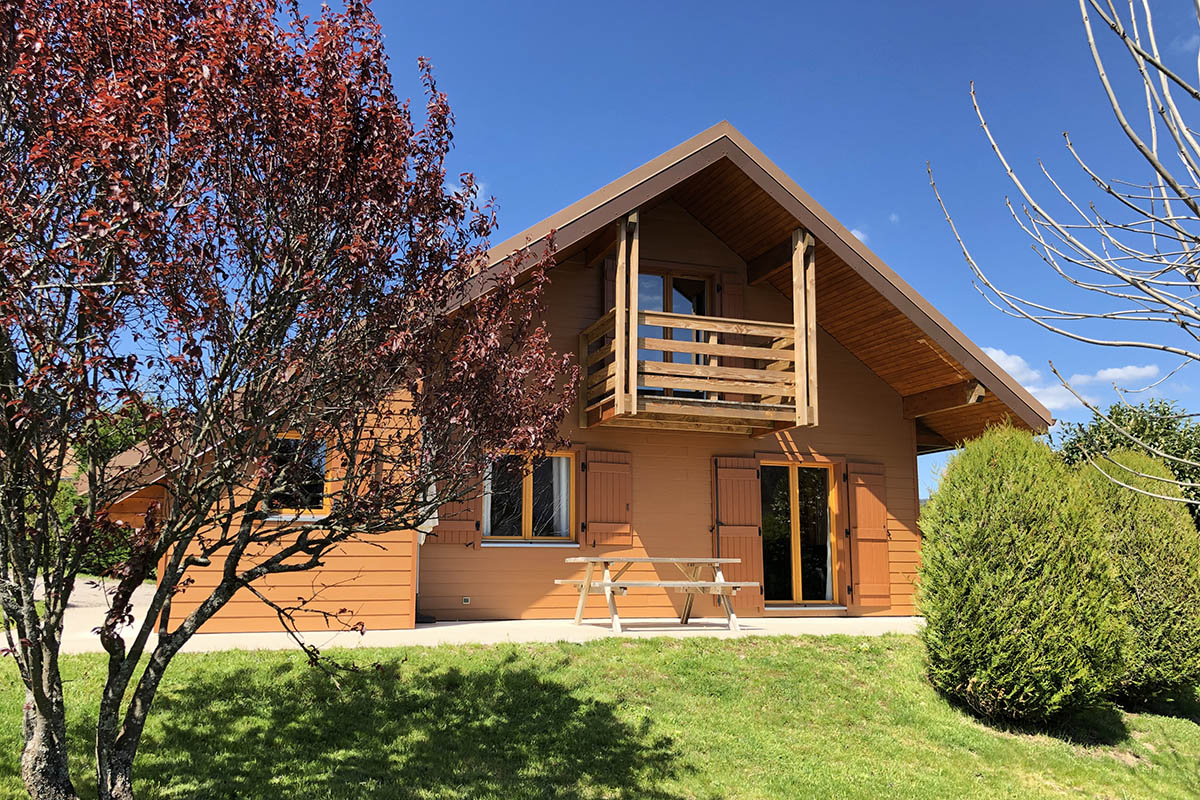 With stunning mountains and lakes almost on its doorstep, the stylish Chalets de la Trinité in Gérardmer attract visitors all year round, whether that's to exploit the landscape's sporting op-portunities, or just to bathe in its beauty (and eat patisserie!).
Easily reached from the Benelux nations thanks to its accessible location and excellent motorway links, Gérardmer in the Vosges area of France's scenic north-east is a magnet for winter sports en-thusiasts in the cold months; and in the warmer ones, it's great for discovering villages, vistas – and vineyards. It's hard to imagine a better base for such breaks there than Chalets de la Trinité, four kilometres from the nearest ski station, and one kilometre from Gérardmer's facilities.
Family run
When manager William Dieudonné says the chalets are a family affair he isn't kidding: "My grand-father started the business in 1997," he says, "and my mother has been running it for 20 years now. She's also behind the design and décor of each of the chalets, which my father builds!" M. Dieudonné senior is being kept busy: two new chalets were added in 2019, and three more are planned for 2020, which will make eight in all.
Mme Dieudonné has created an uncluttered contemporary look and feel to the chalets, each with its balcony and/or terrace from which to take in breathtaking views: great places for a family to re-lax, or friends to meet up – for a short break or a long one, no matter the season.
"People tend to associate this area with the mountains, but we've got fabulous lakes, too, like Xonrupt and Gérardmer's own, great places for learning to sail and to rent motorboats. They're wonderful spots for walks in the surrounding forests, too," says William. "But in the winter it's the skiing that's the biggest draw – and skiing is a great way to take in the best of the scenery at a beautiful time of year – it's no coincidence that this area has produced some of France's best cross-country skiers."
Gastronomy
All that activity merits some epicurean reward, and the Alsace region has a wealth of gastronomic delights to tempt you, not least traditional baked goods, where the influence of its Germanic neighbours blends deliciously with French culinary genius. On the sweet side, there are things like pain d'épices, filling but subtle, or kouglof, brioche-like, dotted with raisins and often laced with brandy; and the savoury tarte flambée – a sort of pastry pizza loaded with bacon, onions and cream: you won't be able to stop at one slice.
"As far as food goes, this area is probably most famous for choucroute," William advises. "Maybe because there are lots of artisan pork products available to chefs and cooks. But I'd tell anyone coming here to look out for the many different things made with locally grown bilberries and Mira-belle plums – cakes, pastries and the deceptively strong 'eaux de vie' that make the perfect end to a meal." For cheese lovers there's the famously forthright Munster to experience, among a very long list of others.
You can try many such regional specialities in restaurants and cafes in and around Gérardmer, of course, but it's tempting too, to buy them in local traiteurs, delicatessens and bakeries, and either put together a picnic to be sampled in the fabulous countryside, or enjoyed back in your home-from-home – and decidedly well-equipped – chalet, sitting at ease around the dining table with your comfy bed just ready to fall into when the day's exertions take their toll.
Colmar and wine
"It's very easy to fill a week, two weeks, or more, within just a few miles of this place," William en-thuses, "but if guests feel the need to venture further, we have Colmar about 90 minutes away by road, famous for its untouched old buildings and beautiful canals; and for wine lovers, the vine-yards of Alsace are a must-see. Turckheim is the nearest to us, but there are innumerable produc-ers along a 170-kilometre trail for the true enthusiast!"
Culture too
As if that wasn't enough, William points out that Gérardmer has many cultural cards up its sleeve: "29 January to 2 February will see the 27th Gérardmer International Fantasy Film Festival, and through the year we have events for motorcycle enthusiasts, a Christmas market, big fireworks displays, culinary happenings… and every two years – the next is April 2021 – there's the Fête des Jonquilles, the daffodil festival, a major thing here in the Vosges."
This is somewhere that's good for the body, the mind, and the soul – with some great cakes to treat yourself with, too. Chalets de la Trinité is the perfect place at which to rest your head and prepare for another day's exploration (and indulgence).
Subscribe to Our Newsletter
Receive our monthly newsletter by email