Caspian Tradition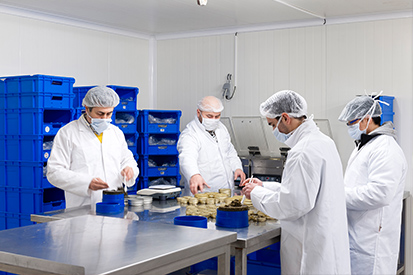 The 'black gold' of gastronomy
TEXT: LIDIJA LIEGIS | PHOTO © CASPIAN TRADITION
If you are looking for a special treat for Christmas or another festivity, order a sample of the finest caviar from Caspian Tradition. The company sells 14 different species of sturgeon roe, ranging from the highly coveted Beluga caviar, to the gold-coloured Oscietra, which comes from sturgeons living in natural lakes. Another popular choice is Imperial Gold, a Sino-Russian hybrid, which the company describes as "exceptional this year".
Based in Brussels' Waterloo, Caspian Tradition is Belgium's largest and most prestigious caviar firm. Husband and wife team Arya and Ahmad Razavi founded the firm in 1995; Ahmad's family has vast experience in the field, having worked in the caviar industry for 40 years. Caspian Tradition's in-depth knowledge of caviar and the constant presence of the Razavis is behind the firm's success. Arya and Ahmad Razavi work closely with their producers in the field, and they are firmly committed to supporting sustainable caviar breeding.
Over the years, the caviar industry has undergone profound changes and traditional wild caviar has become a forbidden commodity. Wild sturgeon fishing for export has been banned in the Caspian Sea, yet the firm has managed to negotiate this shift by exploring caviar breeding of all origins and thus preserving the Caspian Sea species.
The company strives to meet the highest international standards, importing, packing and distributing the luxury commodity from its high-tech centre in Waterloo. It exports 90 per cent of its produce, serving an international clientele from across Europe, and as far afield as Singapore, the UAE and New Caledonia.
A range of luxury gastronomic products
So what distinguishes Caspian Tradition from other caviar sellers? Not only does it provide premium products, but Arya and Ahmad Razavi personally travel around the globe to select the finest caviar for their customers. Since its founding, Caspian Tradition acquired a German company which specialises in importing Japanese sushi products, and in 2011, it acquired Brussels' La Maison du Caviar. Both acquisitions lead the company to expand its product list to include delicacies such as foie gras and smoked salmon. Other products include lumpfish roe, salmon and trout roe, king crab, truffles, saffron and pistachios, to name a few. Arya Razavi advises first-time buyers to try Imperial or Oscietra, as they have "a light and nutty flavour which appeals to all tastes".
Caspian Tradition has its own fish farm on the Caspian Sea's shores, and the Beluga caviar it produces has a guaranteed authentic taste because the sturgeons are raised with water from the Caspian Sea. The different varieties of caviar come from the best fish farms globally, with Iranian specialists playing a key role in the production chain by selecting first-rate caviar from different species and origins in accordance with its ethos of sustainable development and ecology preservation. Caspian Tradition scrupulously selects and prepares the caviar in the country of departure, and then experts in its laboratory test and condition it to guarantee the impeccable quality.
A profound expertise
The Waterloo laboratory includes top-of-the-range equipment and highly-trained staff working to stringent hygiene standards. These are comprised of multiple double-door fridges, work rooms and cold rooms, complying with European rules. It holds a Self-Checking System Certificate from the Belgian Ministry of Health, and the lab has all the tools to ensure a product's origins can be fully traced and each batch can be identified by reference numbers.
According to Caspian Tradition, a key tip for serving caviar is to avoid metal utensils as much as possible, especially silver which causes the caviar to take on an oxidised flavour. Teaspoons made of mother of pearl are ideal. Always try to serve the caviar cold, for example, by placing the box on a bed of crushed ice. If you prefer it accompanying a warm dish, try to isolate it – for example, if using it as part of a potato dish, consider covering it with a layer of lightly whipped cream, to isolate the caviar from the hot potato.
The company places prime importance on the storage and handling of the caviar; it is an incredibly fragile and delicate product that should be consumed as soon as possible once opened. So how can you tell if the caviar you are sampling has been well preserved? A little trick, says the team, is a test of the nose. Crush a few grains on the back of your hand, at the base of your thumb and bring them to your nose – the caviar should have no smell.
Subscribe to Our Newsletter
Receive our monthly newsletter by email