Callistino Coffee Roasters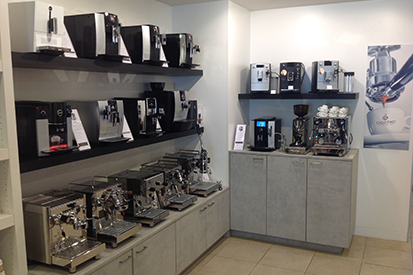 Coffee. For many people it is the way to get their day started. But it is so much more than just an energiser. "A perfect cup of espresso can really make your day," says Melissa Ruberecht, one of the few female roasters in Belgium and founder of Callistino Coffee Roasters in Brasschaat.
Ruberecht has always been inspired by Italy; its culture, its products and its cuisine.No wonder she started a company called Corbello, to import all these amazing products 23 years ago, including espresso machines. "You have to keep in mind that in that time coffee, and more specifically espresso, wasn't as big as it is today, especially here in Belgium. The right coffee beans to create the best espresso didn't really exist," she explains.
That has changed of course; there are many different local coffee roasts now. But surrounding countries are a bit further ahead when it come to the coffee culture. "To be honest, I am a bit jealous of the Dutch coffee culture," she confesses. "They really value coffee, not just as a starter for the day but also as part of dinner. And it has to be good. Here in Belgium, we tend to take coffee more for granted."
So, in 2005, Ruberecht decided to roast her own coffee beans. "I just wanted people to enjoy real Italian espresso, bought a roaster and started roasting the beans here in the shop. I went back to school to become a master roaster, to be able to offer the best quality beans in the country."
And so Callistino Coffee Roasters was born. It now sells 14 different kinds of coffee: four melanges and ten original roasts, each with its own roasting profile. "The beans are slow roasted and the roaster is air cooled, which keeps the aromas better preserved. As for the rest of the process? That is of course my little secret," Ruberecht smiles. Callistino Coffee Roasters has been awarded with the Handmade In Belgium award.
Coffee is personal
But what makes an espresso perfect? "It's something very personal and depends on all kinds of factors," Ruberecht begins. "There are some ground rules though, like making sure that the beans are fresh, and not kept in a cupboard for several months. A preheated cup is important, as is making sure that the espresso has a perfect crema layer. But the rest, like how big or small the espresso is and what kind of roast to use, is up to you. Personally, I favour small espressos of 40 millilitres."
The roaster is in-store, so anyone curious about the roasting process is more than welcome to visit the Callistino Coffee Roasters shop in Brasschaat, just north of Antwerp. "Here, we roast on a regular basis, as we are not just roasting for ourselves. Our coffee and espressos are enjoyed in offices and small coffee bars around the country," Ruberecht elaborates. "Instead of using vending machines, our corporate clients want their staff to enjoy their day at the office. A good cup of coffee definitely helps."
In the store, there is also a small bar, where customers can taste the coffees Callistino Coffee Roasters has to offer. Ruberecht: "This way, we can help you find what you want. We can also advise you on what type of espresso machine fits you, semi or fully automatic machines."
Ruberecht wants to make Belgium a great coffee country. "This is why we have launched a range of coffee for Nespresso machines. There are seven different flavours, or colours, in biodegradable cups." The whole process is also in-store, so when you visit you not only can watch how the coffee is made, but also the entire filling line.
Making people drink great espresso made with honest products and perfectly roasted coffee beans is what it is all
about for Callistino Coffee Roasters. "I made my hobby into a job: spreading my love for Italian espresso all over Belgium and beyond."
Subscribe to Our Newsletter
Receive our monthly newsletter by email